I was thrilled to be signed up for the Tour de Ljubljana.
31 stations, approximately 15 kilometres of cycling, and a new way to discover the sights of a city we had originally fallen in love with at first glance.
I was assured of one thing. To finish first. Yes, so maybe I 'made up' the competition to do on my own, but that didn't mean I wasn't excited to do it.
Ljubljana has adopted the popular trend of offering city bicycles for hire. We love that several European cities are providing these – the bicycle program promotes fitness, a cleaner environment, and in the first hour of use in Ljubljana, they are free to use.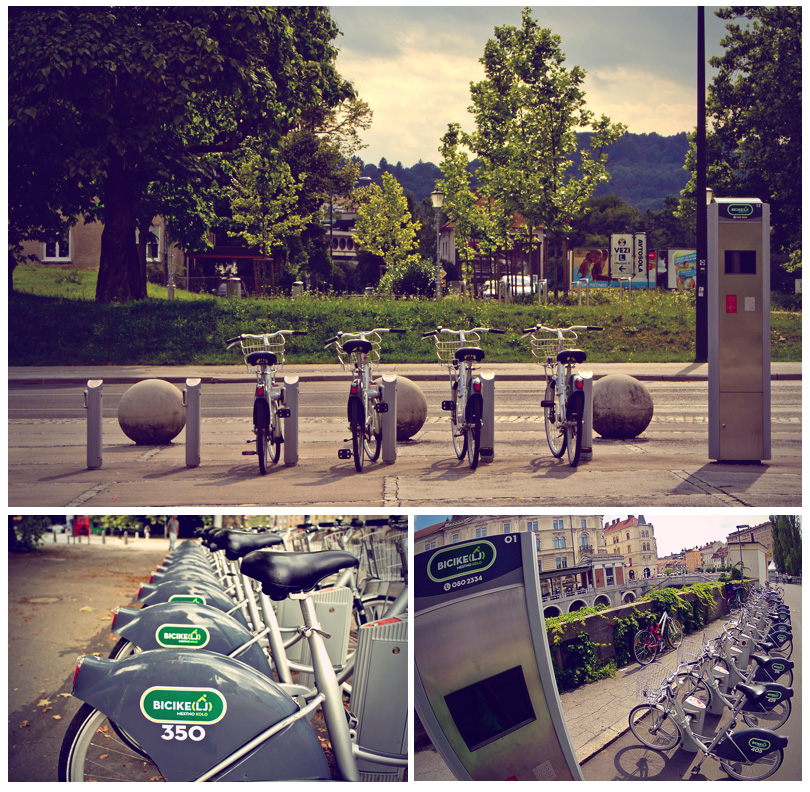 I expected a busy day of sight-seeing, and just to be a little tired when all was said and done. Armed with a GoPro video camera strapped to my forehead, my other camera slung over my shoulder, a map of approximately where the stations were, and a whole bunch of energy, the race was underway.
I breezed from station to station. Nothing was too difficult to find. The city has set up most stations in convenient locations (apart from a few cleverly tucked away behind some bushes). There were stations at the entrances of Ljubljana's most popular park. Numerous throughout the city center, and various stations among the major arteries leading into the city.
Despite the lack of challenge in that regard, my day was full of surprises.
— I was asked to take a photo of a newly married couple. They did not have a photographer and the camera they gave me was his Blackberry. Sometimes you just gotta keep it simple.
— I became a helping hand a various stations showing people how to unlock the bikes and then how to relock them back up. I suppose I was earning my 'expert' status!
— I was asked numerous times what was attached to my head and if I was making a movie. Since my Slovenian language skills are basically non-existent, I didn't know how to explain that I was trying to create a time lapse, so I just nodded my head and said "ja". One fellow was so excited and gave me the 2 thumbs up and exclaimed "SLOVENIJA"!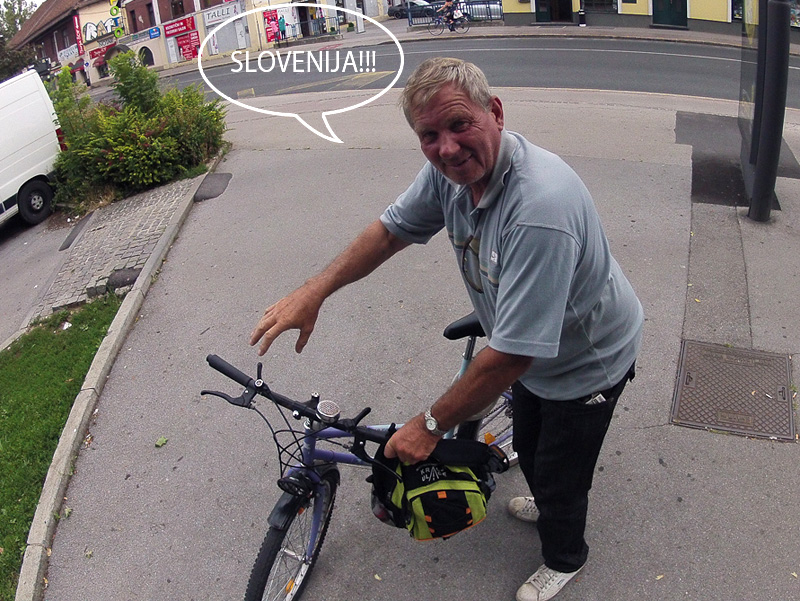 — While taking a photo at one of my last stops I didn't notice a guy standing over me and he completely took me by surprise. I just blurted out "Hey, how's it going?", not thinking that he may not understand me. Armed with a skateboard in his arm, he said nothing but just stared at me, he likely wondered what I was doing in his neighborhood with a camera strapped to my head. It was my first time in the city where I felt a little unwelcome.
What I thought would take me a little over two hours in fact took me five. I returned to our apartment with a full camera and was plenty exhausted.
When I initially announced my intent to complete the Tour, Dalene thought I would be bored with my day. She jokingly asked: "Maybe you can get hit by a car, or mugged? That would make it interesting."
I laughed, and was wondering that a bit myself at the start. But overall, it wasn't about finding excitement. It was about exploring and seeing new things. About finding beauty outside of the obvious places, where people sometimes don't think beauty exists. All the while working a little for it.
I found it alright. While searching for 31 stations and doing 15 kilometres of cycling.
And becoming the winner of the first (unofficial) Tour de Ljubljana.
See almost everything I saw! The following is a time lapse of some of the gorgeous streets of Ljubljana. No car crash or mugging, to Dalene's disappointment.