I was in a funk.
And I couldn't even really pinpoint why, except to say that it was probably just a combination of many things. I had a bit of blogger burn-out, I supposed – I couldn't be inspired to write anything about anywhere, guests posts and the like were piling up.
Add on the stress of working on a new business plan, a couple of unsatisfying course assignments, a few consecutive cool and rainy days keeping me huddled inside, and I just wanted to shut it all down. Curl up in front of the fireplace with a book and turn off from the world for a day.
So, I did that. But it didn't help. I sunk a little deeper into the funk with the disappointment of its endurance, and couldn't see how I was going to break free of it.
"Let's go for a drive today," Pete said from the foot of the bed as I rose late, the drowsy affects of a sleeping aid requiring a few seconds for me to register his comments. I truthfully wasn't in the mood, I couldn't be bothered to do anything, but he was eager. I got up, I dressed, and he drove.
The wonderful thing about where we are staying in central Ireland is that we are just a short drive to nearly everything on the island. Pete had mapped out a route that would take us through the Wicklow Mountains near Dublin.
We both snickered when we saw them. After growing up near the Rockies and spending almost a year in the Andes, the Wicklow's have quite a feeble claim on the word "mountain". But it was still a treat to drive through the Sally Gap, as the landscape brandished a shockingly different scene than what we were used to. We emerged from closeted narrow roads of bulging shrubs and overhanging trees to an unusual blanket of dry, sparse grasses. And after days of cool, rainy weather, clouds lifted and blue skies emerged. We stopped to snap several pictures along the way, and turned our faces upwards to welcome the warmth of the sun.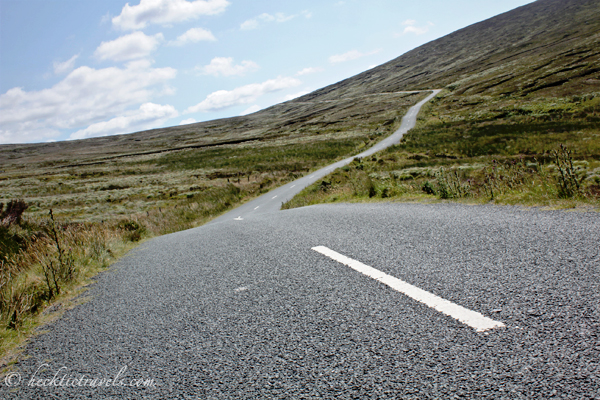 After enjoying the much heralded view of Guinness Lake, we turned west and back into the forest. We came upon Glendalough, ruins of churches and the like that date back to the 11th century and sit in a glacial valley near two lakes. The grounds were crawling with tourists, which on any given day I would normally shirk away from, preferring a more private exploration of a given attraction, but we were eager to stretch our legs. And the tourists ended up being a big part of our entertainment on the stop. While we crept along and waited patiently for our chance to take pictures, teenagers took turns kicking soccer balls on the grassy parts and huddling around the cemetery for group pictures, flashing the peace sign with one hand while the other arm snaked around a grave stone.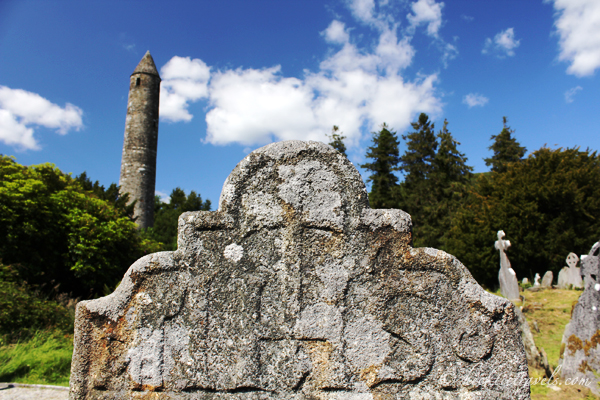 We both laughed at their antics as we sauntered back to the car. I sank into the seat, turned the volume up on the new Death Cab album, and we continued along the loop towards home.
After banishing all talk of website changes and photo editing, I allowed only good music, fresh air through the open window, and reflections on the day to sooth my soul. I silently wrote this post in my head as Pete guided the car along stretches of pavement through familiar tunnels of lush, overgrown trees. It was my first bit of writing in days, made possible by the brilliant sun and blue skies, this charmed life that I love, my all-knowing and ever-thoughtful husband, and the open road.