It occurs to us often that our decision to leave Canada is terribly ironic.
There is no denying that so many people around the world can only dream of the life Pete and I were given – the loving upbringing in a warm home with fresh water and food to spare. A stable government that provided a good education and the means to pursue any career of our choosing.
And on our travels we've met people who emphatically shared their dreams with us to one day live and prosper in a country like Canada. Yet there we were, with our homes slung on our backs and holes in our clothes, having given up our well-paying jobs and cozy place in the suburbs with no desire to return to the comfortable lifestyle we once had.
Along the way we have been asked: "Why would you leave Canada?" That can be a hard one to explain sometimes.
*****
On our first day back in Canada, this irony of our travels came full circle.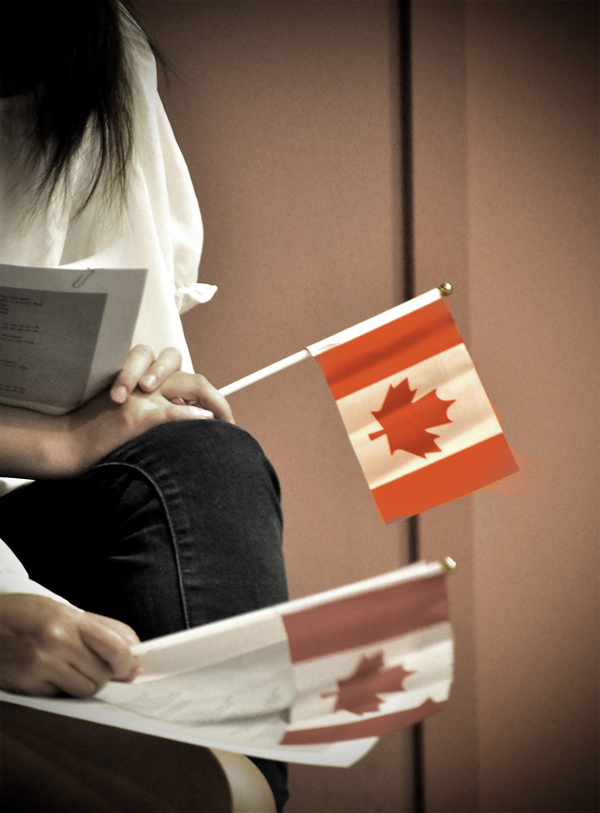 I sat with my family in the front row of a small theater in downtown Calgary. Around us were teachers and executive staff of Bow Valley College, and behind us were hundreds of people representing dozens of nationalities. They all had something in common – they came to Canada in search of a better life. And that better life started at the College, where they were all students of the ESL (English as a Second Language) program.
My sweet departed sister worked at the College and after she passed, I proudly worked beside my family and many of her friends to develop a scholarship in her name. Every year, a deserving recipient receives a bursary to help offset the cost of his or her education.
This was my third time at the ESL end-of-the-year award ceremonies, and each was a treasured experience. There was always much laughter and ample enthusiasm throughout the crowd. It was a time for the students to be proud of their accomplishments over the previous year, to be recognized for their efforts, and to celebrate and remember the fun times they had.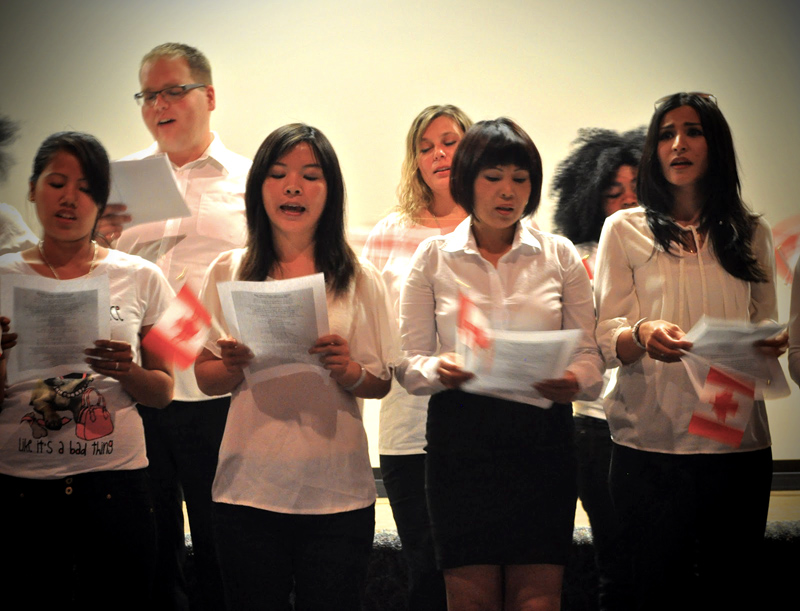 My younger sister Teri rose to make the scholarship presentation on behalf of our family. (I've tried to do it twice before, always stumbling through tears and muddling words. Teri is much more eloquent and poised and she delivered a beautiful speech).
And as she read the profile of this year's recipient, the petite young woman standing beside her wiped away tears. Teri spoke of the plights of Neelam's life in Pakistan – how she lost her father at a young age and then her mother, how she came to live in Canada with her two younger sisters when she was 18. To be with family, to pursue a better life as her own in Pakistan crumbled.
Their chosen guardian, an aunt, was not kind to the girls and they soon moved out. Neelam continued to raise her sisters on her own – acquiring two jobs and working thirteen hours a day for three years to make ends meet.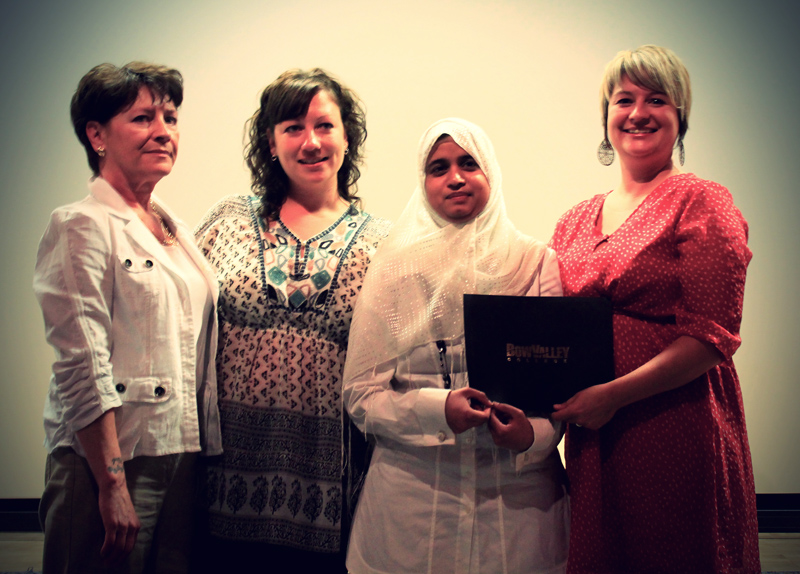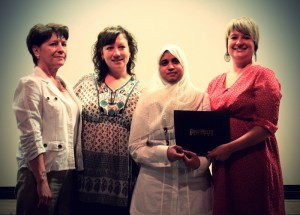 From her self-written profile: "Neelam wants to be successful in life and wants an education. Her goal is to take Accounting or Business Administration. She says that she has been young, alone, and has survived by herself and worked a lot. She can do anything. Her role model is her mother who always taught her to never lose hope. Neelam never has."
She is happily pursuing a life that we left behind, and in an obvious contradiction, I look forward to one day continuing my own travel-education by visiting her departed Pakistan.
Always keeping in mind, however, to be grateful for the maple leaf in my passport that allows me to travel so freely. For had I never left home, I probably never would have truly appreciated how fortunate I am, and the impact of Neelam's story wouldn't have been so profound for me.
And maybe that is the greater irony.
*****
Many thanks to my sister Teri of oneartfulvoice.blogspot.com for use of her photographs.