"Hello, Mr. Peter?  I need to go to the hospital now," Jolien said in her soft but excited voice.  I don't know how many times we've asked her to drop the Mr and Miss from in front of our names, but it apparently was not enough.  However, now was not the time for a reminder.
It was after eleven in the evening and we had just gone to bed when the phone rang.  We quickly got ready and drove to the bottom of the hill, navigating along severe bumps and around haggard shanties until we came alongside hers.  From behind the hanging sheet that was her door, she stepped carefully into the dark and around the trunks of large cashew trees; her mother provided stability with her outstretched arm.  Once mother and daughter were safely in the truck, Pete navigated the bumpy road into town as fast (yet, as gently) as he could.  Jolien lay with her head in her mother's lap, loudly moaning from the strong contractions that were consuming her every five minutes according to the dashboard clock.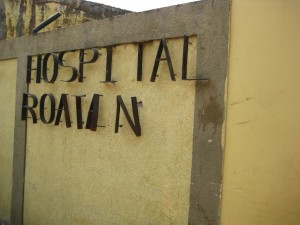 This wasn't the first time that we visited the hospital on this tiny Honduran island.  A few weeks prior, we had gotten a call from Jolien just after midnight, asking for a ride.  She was sure that her baby girl was on her way, and took us up on our earlier offer to be her ambulatory care.  We stayed with her until the wee hours of the morning, but that time it was not to be.
The state of the hospital was no less shocking to see this time around. Once through the padlocked and guarded entrance, we slowly led Jolien down the fractured cement and dirt path to the emergency room.  Inside we found many mothers with small, sick children and a teenage girl clutching her left arm.  A nurse recorded Jolien's blood pressure and weight before leading her to a bed behind a yellow and white curtain, set brightly against the cracked and dirty pale blue walls.  She shared her little suite with a man seated at the foot of the bed, hooked up to an IV.  A cockroach scuttled across the floor near my feet.
A young doctor came in several minutes later and uttered a grunt of disgust when he saw Jolien. Here she was again, after he had already sent her home earlier in the day and given her instructions not to return until the following morning. The fact that her contractions were close and she was obviously in considerable pain did not seem to register with him.

We walked Jolien out to the open air, dimly lit corridor and sat together on a hard wooden bench and debated our options. Do we make the drive home (almost an hour, round trip) and return at seven a.m. as instructed? Of course we offered to make the trek both ways with her, but the thought of her being so far away from any kind of care made us all nervous. Our anxiety was compounded by the fact that at that point, several other ladies surrounded us and all told a story about different doctors sending laboring women home until it was almost too late. Apparently, they wanted nothing more to do then catch the babe at the moment it came out, and then release the new moms less than a day later.
In between contractions, Jolien took to walking up and down the dusty corridor, while the local ladies all offered her encouragement when the pains would come. One lady instructed her to stand with her feet spread, hands on her knees, and push through the pain. "Push down on, push down on," she coached in her island English. Jolien continued this for a few minutes, and then sat back on the hard wooden bench to rest.
After nearly a half hour of rocking, crying and squirming, Jolien began to tremor from the pain that wracked her body. Her mother Francine went back to the emergency room and spoke with the doctor. FInally, they agreed to get her on a drip to help with the pain. But after that, she would have to leave and come back the next day.
Francine and I each gave Jolien one arm to lean on as she rose from the bench. A strong contraction came through just then, and she pulled both of us near to the floor as her legs gave way. She groaned, regained some strength and stood, but could not bring her feet to move.

Jolien moved forward slowly with us then, carefully side stepping the cracks in the uneven floor and the pile of discarded equipment outside the emergency room door. The nurse casually motioned to a plastic chair just behind the desk, and proceeded to fix Jolien with an IV, obviously annoyed by Jolien's constant writhing. The disinterested nurse, making no effort to help, instructed Jolien to return to the bed that she was once on. Francine helped Jolien settle into the bed as she continued to shudder with convulsions. Pete and I watched on helplessly before returning to the corridor.
Francine followed a few minutes later, shaken with concern for her daughter. She expressed her sincere gratitude for our patience, and said that the drip should take no more than an hour. We assured her that we would wait to give them both a ride home afterwards, and to return in the morning, if that's what needed to happen.
Time passed quickly through wonderful conversation with Francine.  After going back in to check on Jolien at 2:30 am, she returned to tell us that the drip had finished, but Jolien had protested the return home and they were going to stay. While Pete helped Francine program our cell phone number into hers, I went in to say goodbye.
Apparently, Jolien didn't have to put up much of a fight to stay. The doctor had since left, and the only nurse on duty sat reclined in a plastic chair, a bed sheet wrapped around her head to impose the darkness required for napping. Jolien appeared achingly tired. "How are you doing?" I asked gently.
"I'm doing a little better. I just can't take that road," she whispered.
"Of course, " I responded. I leaned in to kiss her smooth forehead, her rich black skin glistening in the enduring warmth of the day and her obvious strain. "Take care of yourself, and please get your Ma to call us if you need anything." She weakly smiled back at me and turned her head into the pillow as another contraction began to take over her body. I squeezed her hand and left.
Pete and I said goodbye to Francine and made our way to the entrance where we waited for the guard to unlock the door and let us leave. We were both exhausted, frustrated with the state of the hospital, and fearful for Jolien's well-being. But there was nothing left to do but hope and wait.
**********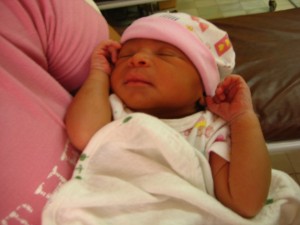 Twelve hours later, I held the 6 lb, 4 oz baby Julie carefully in my arms. It had been a long time since I held a baby this young, and never had I held one so small. She lay completely still and content, but it wasn't long before I had to return Julie to the bed with her mother. The heat radiating from her little body was making mine a sweaty mess in the steaming hot room. Pete, having returned from his errand of getting both Jolien and Francine some warm food (neither of them had eaten anything), then took his turn. He slowly lifted little Julie with great care, and obvious joy. Before that day, he had sworn off holding babies less than six months old (scared of his own clumsiness), but this time he couldn't resist the tiny bundle.
I sat on the empty bed beside Jolien's and strained to listen as she recounted the events of Julie's birth. Cell phones rang ceaselessly around us in the small room with four other patients.
Her story instantly made me livid and fearful for what could have happened the night before. Less than three hours after we had left, an emergency cesarean was ordered when it was discovered that Jolien's blood pressure had skyrocketed and Julie's heartbeat could not be heard.

It was likely that the baby, or Jolien, or both, would have perished.
And there Jolien was, immobile and still cringing from pain, reporting that the doctor insisted she go home the following day.
Somehow she said it all with a broad smile, as she watched Pete rocking slowly with her daughter. Somehow the scars would heal, and the pain would be forgotten. Somehow, Jolien and Julie survived it all. Somehow, in this medical hospital, they just may have gotten lucky.