The Gimped Girl, called so because of an obvious limp earned via a torn achilles tendon several months ago, considers herself quite fortunate to be married to a considerate Boy. The Boy has made her long and painful recovery much easier – taking on the tasks that would be difficult given her gimpyness, and not complaining at her frequent requests to stop and rest.
The Boy, however, has a slight impediment of his own, and navigating through streets in new places is somewhat difficult for him. Stubbornly opposed to wearing his glasses, he squints at street signs and quickly gets turned around the wrong way. Luckily for the Blind Boy, the Gimped Girl had laser eye surgery a few years ago, and thus has taken over the role of navigator.
She is his eyes, and he is her right foot.
And together, they adventurously take on the world. As of late, however, the duo found themselves slightly out of sync in Dublin due to their encumbrances, which made their exploration of the city unusually arduous.
This was the first time that the Gimped Girl found herself severely bitter at her shortcomings. Of course there was much griping immediately following the injury, which left her couch ridden in British Columbia and avoiding beaches for the first part of her stay in Roatán, and the forced lack of exercise has left her a little "fleshier" then usual. But she's taken it all in stride, and tried her best to be patient with her own limitations. The Girl hoped that upon arrival in Europe, she would be ready to bound along cobble-stoned streets with the pain of injury being only a distant memory.
Dublin was her first real test, and she failed.  She was justly frustrated.
This is not to say that the Gimped Girl was left parked on a sidewalk bench the entire time, but outings were few and short. Following the pairs lucky stumble across the Pride Parade, they wandered around a short radius of historic Dublin, ambling through the historic Trinity College, and across the courtyard of the Dublin Castle.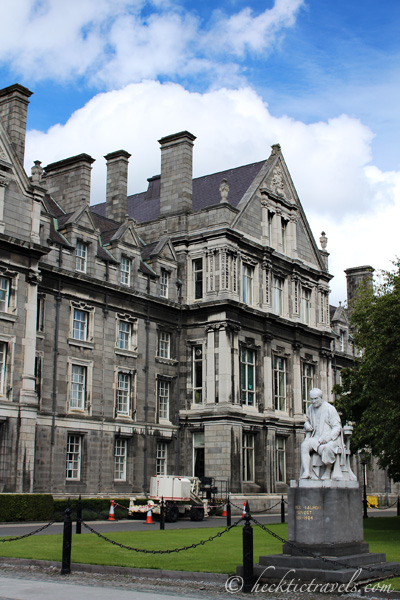 Trinity College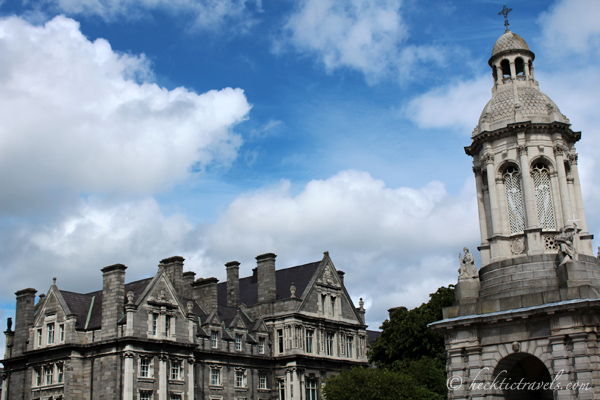 Trinity College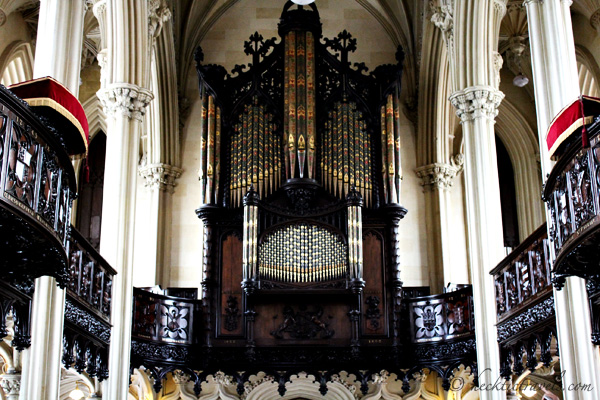 Inside the chapel at Dublin Castle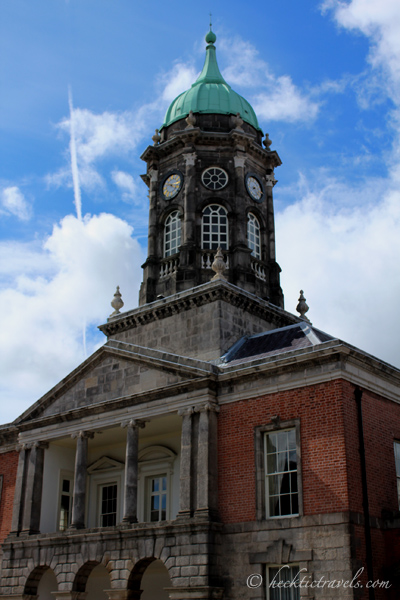 In the courtyard at Dublin Castle
In a couple of short hours though, including many rest stops in between, the Girl could go no further as the pain had become too much to take.  Her limping had impeded their journey to the point of being a slow moving hazard on the busy downtown sidewalks.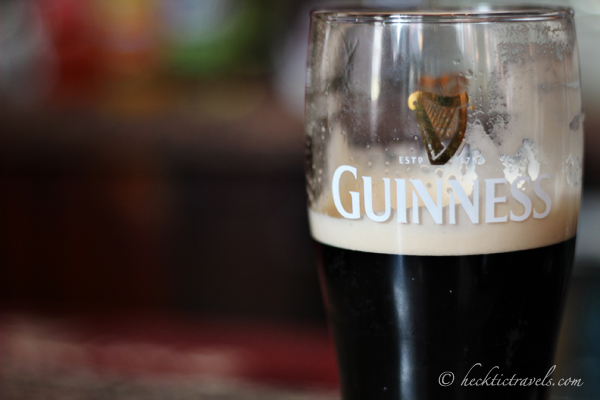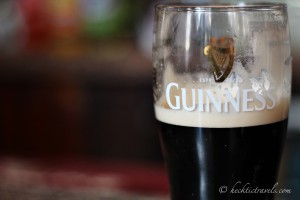 Lucky for both the Girl and the Boy, consuming lager provided for a perfect reprieve from sight seeing, and yet was still part of their exploration of Irish culture.
The following day, the couple tried again. This time, their itinerary included a train ride to and from a small fishing village on the coast named Howth, home to one of the oldest occupied castles in Ireland. It is a charming town with a lot of draw for tourists (and hence, a lot of tourists), with it's open air markets and beautifully rugged coastline. The Girl and Boy also happened to be there during some sort of bagpipe demonstration, and no matter where they walked to, were never out of ear shot of the melodious sounds. It provided a perfect soundtrack to the sights and attractions.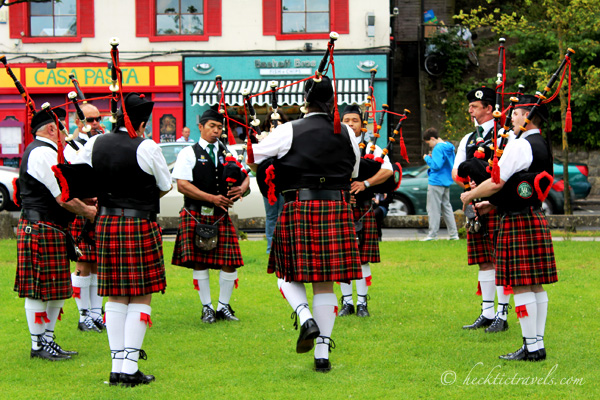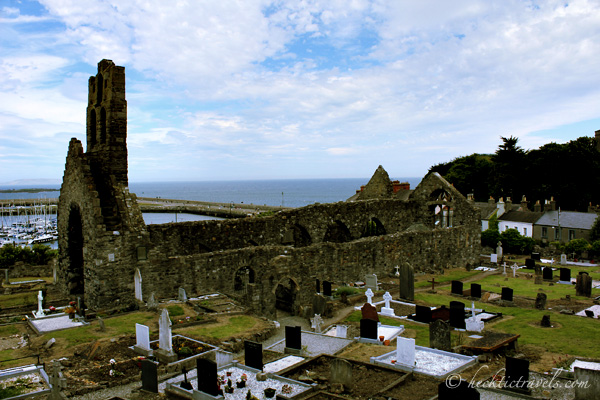 St Mary's Abbey in Howth

However, they never made it very far. The Gimped Girl's gam was aching thanks to a long walk to the train and likely without adequate rest from the day before. They disappointedly never made it to the Howth Castle, which was a significant reason for their travels there in the first place.
Wincing and nearly in tears from the pain that consumed her, the Gimped Girl leaned hard on the Blind Boy during their final walk back to their lodging in Dublin. She gave in to rest for their third and final day in the city. While she sat with her foot up and a good book in hand, the Blind Boy endeavored to venture out on his own.
(You can probably guess where this is going).
Blind Boy did his best at navigating the windy streets of Dublin. Without his eyes and chief navigator, however, he found himself turned around and aimlessly wandering. He put many miles on his shoes, seeing some of the top sites, but also stumbling around empty parks and deserted streets. All of the time The Boy wished his eyes were with him, yet was grateful that she did not have to endure all of the walking (and that he did not have to hear her complaining about it).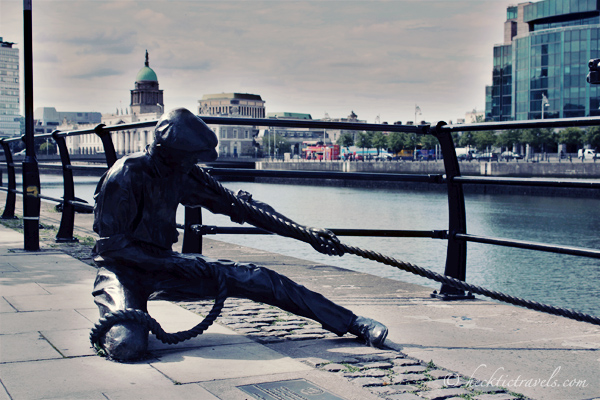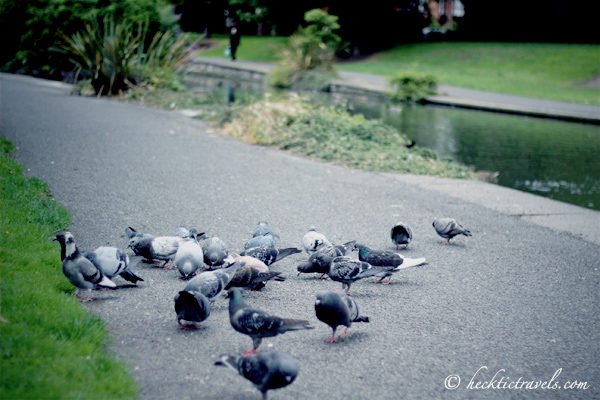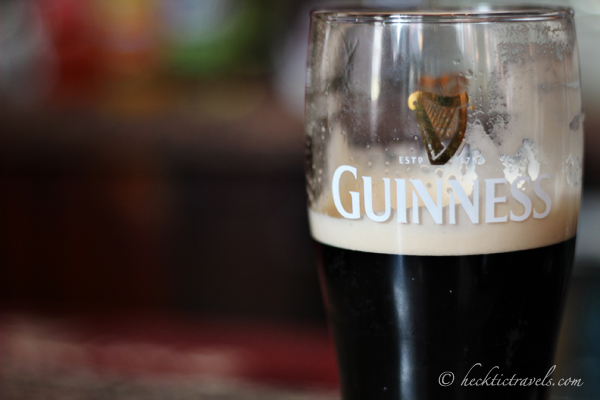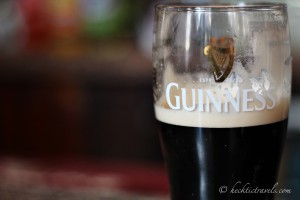 And thankfully, of course, consuming lager is a perfect reprieve from aimless wandering, and is still part of an exploration of Irish culture.
All's well that ends well with the Gimped Girl and the Blind Boy. They made it out in one piece, and with each day, the Gimped Girl's gimpyness gets a little less, and the Blind Boy's navigation skills will sharpen more when on his own.  Dublin will remain to be explored another day.