It was in the airport in Houston, during a quick layover on our way back from Honduras to Canada, when I shared a random thought with Pete over lunch. We were sitting in a 50s style restaurant and the wait staff were all dressed in candy-striper-type uniforms. There were shiny swivel stools at the bar and the most prominent items on the menu were homestyle burgers. I believe I was even sipping on a chocolate shake at the time.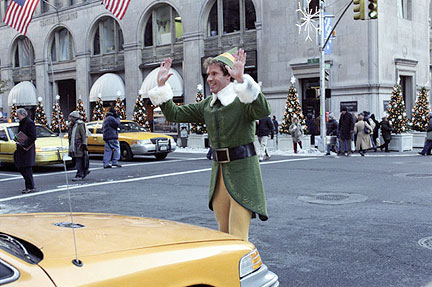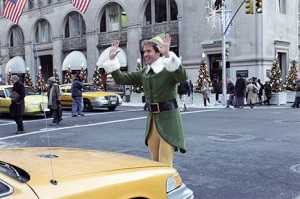 For some reason, the whole scene reminded me of my favorite Christmas movie – Elf. Instead of seeing passengers racing by, dragging rolling suitcases behind them, I envisioned a busy sidewalk of holiday shoppers carrying bags of goodies with lights twinkling in the background. I thought of Will Farrell's character fumbling around the Big Apple, getting hit by cabs and hopping from one white stripe to the next in a crosswalk. And especially his excitement at finding a crappy diner that claimed to have the "world's best coffee."
A bit of a stretch to connect those two scenes, I realize now (I blame the sugar content in the milkshake). Importantly though, it caused me to proclaim:
"I want to live in New York for awhile."
This might just be the most obvious statement ever (who doesn't want to spend time in New York?) but I knew I didn't want to do a tourist fly-by, running around the massive city and taking snapshots of all the big sights. Not that there is anything wrong with that (believe me, I want to do that too), but if there was any place in the world I wanted to explore in depth for awhile, New York was it.
At the time, we were flying home for a quick stay in Canada and then jetting off to begin a housesit in Ireland. I expected the dream of New York to be shelved for quite awhile.
Fast forward four months. An email received from Trusted Housesitters with new available listings immediately caught my eye.
6 weeks in Manhattan.
Hello Opportunity, my good friend. Thanks for knocking! Come on in, have a martini.
I think I waited about ten seconds before logging on to submit my application. In fact, I don't even think I checked with Pete on it. I just did it. And the home owner just responded.
Within a couple of days, all details were ironed out and we shared a virtual handshake on Skype. We bought our tickets from Atlanta to New York and suddenly, Pete and I were over the moon to be NYC-bound.
And now, we're here!
It's not the most convenient place for us to be, seeing as we departed Morocco to get here and then when it's finished we'll be bound for Turkey, but we don't care.
We're in the reported "Greatest City In The World". (And also planning some great side trips – like these places to visit in Maryland.)
For 6 weeks.
Rent free.
Bonus: We're taking care of several cute kitties who need cuddles.
Color us excited. And priveleged. And looking for your suggestions on what to do while we are here (I want to see a lot of comments on this one, people!)