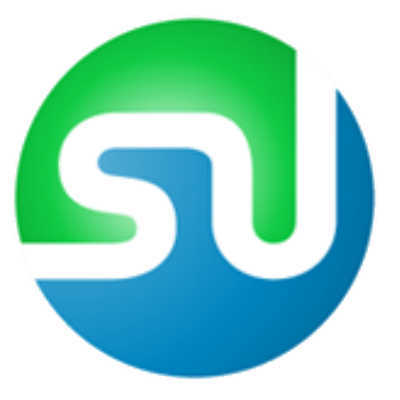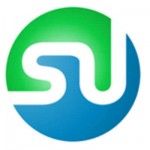 If you are an avid web-surfer you probably have heard of StumbleUpon (SU).  In a nutshell SU is a massive database of reviewed websites, articles, photos, videos, music, and you name it that has been created by web surfers.   SU can either be used to surf the web based on your own personalized interests, or to promote your own website.  Regardless it is a great tool to utilize.  Hopefully this page will help give you an insight into how to successfully use it.
Registering and Set-up
Firstly, you will need to go to www.stumbleupon.com and join for FREE.  Joining is easy and you will be asked in the registration to check off some of your interests.  Need not worry, you don't have to select everything at this moment. You can go back and adjust these at any time via your settings.
There are several ways to stumble.  You can download a handy SU toolbar for any browser from here http://www.stumbleupon.com/addon/ or you can you just go to www.stumbleupon.com, enter your login and then start stumbling your interests.  Note that it will probably prompt you to install the toolbar mentioned above (handy so you don't always have to go to the SU homepage).
Stumbling
This is where things get fun.  Click the stumble button located in the toolbar it looks like this:

This action will take you to a randomly selected webpage that is based on your interests.  Click the "Stumble" button again and it will bring you to another random webpage.
You can also select the drop-down box that says "All Interests" and narrow down what you want to stumble.  For example you can select "Travel" and then click the stumble button and you will be directed to travel related pages in the SU database.
To Like or Dislike
When you stumble onto a page you have the option to give it a "thumbs-up" or "thumbs-down" depending on what you think of the page.

Thumbs-Up (you like it!!)
It's really easy, Click the "I like it" button and it will be logged as one of your favorites.
Thumbs-Down (you don't like it)
Click this if this page does not sit well with you.  Don't be afraid to click here. You aren't going to lose friends. In fact SU encourages you to use it.  What it does is allow SU to more accurately understand what your interests are.
There are 4 reasons listed in the dropdown why you would give a thumbs-down rating.  These are:
Not For Me – simply this website is not related to your tastes
Report Spam – sometimes sites get through the filters SU has in place.  Let them know!
Duplicate Content – you've seen this before somewhere else.  Some other site has scraped this content and is using it.
Block a Website – you don't want to ever come across this site again
Discoveries
Somebody has just emailed you a great article or video via email.  You happen to have the SU toolbar open and you click the "I like it" button.
If nobody else has liked or disliked this, you will be "Discovering" a site for SU and taken to the discovery page.  If you are curious whether or not a page has been discovered or not, click the cloud button on the toolbar.
If it has been discovered it will bring you to the SU information page.  If it hasn't it will give you a message letting you know that it has not been discovered.
Here you will be asked:
Is this site safe for work? IE is there any nudity contained within?
Categorize the discovery – what is the best category that this would fit under?
Leave a review – leave a short one-liner what this article is about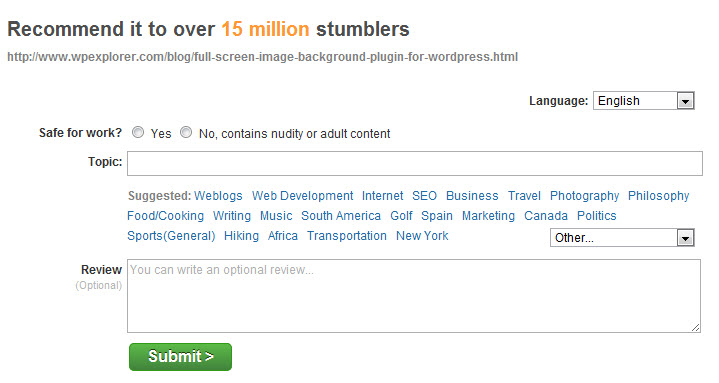 **An example of a SU discovery** 
Once this is submitted the now discovered article is available to the over 15 million SU users.
Creating an SU Community
Like any social media platform, you need to have connections.  Since there are 15 million SU users, finding some should not be that difficult.
Go to www.stumbleupon.com and login or simply click your favorites on the right hand side of the toolbar.

You should be now on your profile within SU and on the right hand side of the page it will lists your followers and following.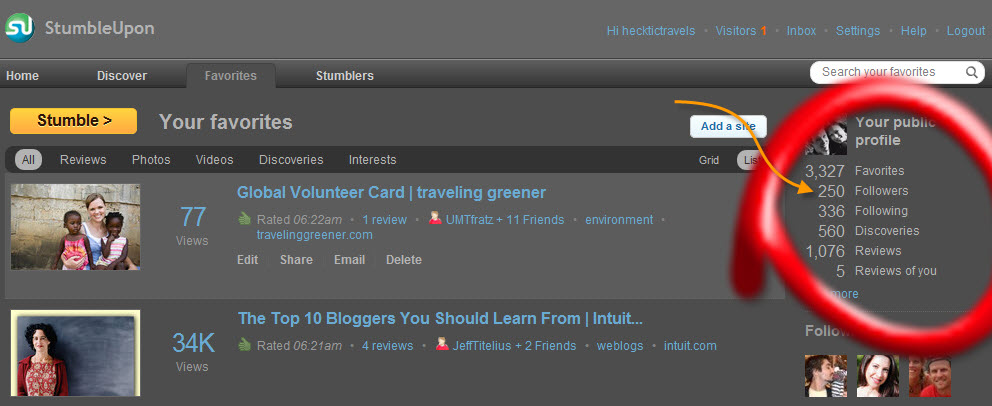 If you have nobody set-up then these fields will be empty.  If you know somebody who is using SU you can search for their handle.  When you click on a profile.  This will bring up a listing of the favorite sites and you can choose whether or not the user's favorites are inline with yours.  If so you can click the follow button and keep track of what we are liking.
It is recommended to build up your following status.  The more people you follow the more likely it is they will follow you in return (at some point).  And the more people who follow you in return, the more SU connections you will have to share your favorites with. Are you seeing the link yet?
Note that building a following can take a while because people generally will not follow you back until you have "liked" a few hundred websites and can see that your tastes are similar to theirs.  So be patient and good things will come of it.
Sharing
On the SU toolbar there are a number of options to share articles that you have marked as your favorite in SU.

You can share this across various social media platforms such as Facebook, Twitter, Linked In and of course with other SU members.  Click any of the buttons while on the article you wish to share and it will automatically bring up a screen in which you can link it to your other social media accounts and instantly share said article.
Sharing with other SU users is another story.  SU users do not want their share inbox to be flooded with articles from one user, so etiquette is to send 1-2 shares every other day.
You will see on your stumbleupon toolbar how many stumble inbox items you have here.

Click this and you will be brought to a page that somebody has shared with you.  Don't forget to give it a thumbs up or down, and a review!
StumbleUpon Keys to Success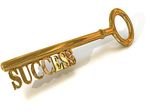 If you have your own website StumbleUpon can be a great tool to promote your content.  There are however guidelines which we have followed and have made it very successful for us.  If you don't follow these, the SU police (that's what I call them) can punish you and punishment is generally your content is not shared with the other users. But following these simple steps can ensure success:
DO's
Share your website's content – liking one's own stuff is considered spammy, but sharing your own content once it has been discovered is a great way to get some hits and reviews.  BUT remember to only share your personalized content every couple of days
Review, Review, Review – We have heard that the kiss of death for a page or an article not to get the recognition it deserves (views) is to not have a review.  ALWAYS leave reviews on discoveries.  Pages that have already been discovered check to see if there is a review left behind.  The more reviews, the better. If there isn't one take the 10 seconds it takes and leave one.  Not only does it give other readers an idea what the page is about, but there is a reason that SU tracks your reviews.  It enhances your reputation as a "quality" stumbler.
Thumb's Down – Make sure to give "thumbs-down" to articles or pages you don't like.  Again, this can help SU determine the quality of the sites and other stumblers, and help your own status
Build Your Community – find other stumblers that are similar to you.  Look at your favorites and click on the views.  It will then bring up a listing of all the stumblers who have liked the page as well.  Click on users and on the right hand side you can see how similar the user is in relation to you.  Add them to your following if you choose so.
Stumble – make sure to click that stumble button and surf the web. It shows SU that you are actively stumbling your interests. It doesn't hurt to change up your interests every once in a while either.
Allow Shares – Make sure to keep the "Allow shares" option checked on when you add a stumbler.  This will allow this user to share articles and pages with you and if they add you back, vice-versa.

DO NOT'S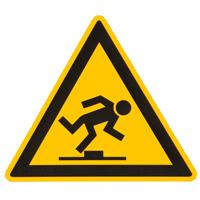 Discover Your Own Content – No matter how good you think your own article or webpage is, don't do it.  Let the other SU users discover this gem.
Be a Sole Self-Promoter– Build your reputation with your stumble followers as a good stumbler by sharing quality content other than your own.
Flood Share Inboxes – don't be pumping out 10 shares per day.  As a general guideline 3-4 shares per week is a good base.
Share Content With Users Who Have Already Reviewed – Check to see your users and see if anyone has already given it a like or not.  If they have reviewed, make sure to leave them off the share (again, don't flood the inbox).
So there you have it.  A how-to for StumbleUpon.  Nobody really knows how posts go viral within SU, but follow these guidelines and you will have some success with it.
If you have any recommendations that are not listed here that you believe make your StumbleUpon experience more useful, please leave a comment for our readers.