My musical skills are far from genius. I would say that they are even ingenius, except for some weird reason, that word is no worse than genius.
Ungenius? Anyways.  You get the point.
In elementary school I could rock out some London Bridge on the recorder, and knew a couple of equally badass songs for the ukulele, but I soon gave up trying to compete with my musically talented sisters who could play and sing in circles around me. Instead I put the instruments away and picked up sports equipment, becoming the tomboy that my parents had to drag around to different events.
Hence my musical ungeniusity that exists today. However, this has never stopped my dream of becoming a rock star…and I think I've finally figured out how to make it happen.
Anybody out there need someone that can play the Caribbean steel drums?
Okay, so maybe I still have some work to do, but what a fun morning Pete and I had at Steel Pan Alley – a free music school for the kids of Roatán. Organized by a former school teacher from California and run on donations, tourists are invited in to watch the kids play or get the full experience of learning to play themselves. We were anxious to get our hands on the sticks and see if we had any chops in us.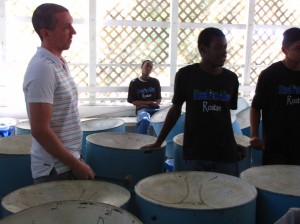 Pete, having been a drummer in his teenage days, took on the more difficult position at the Bass pans while I took my turn at the Double Second pans. Four students of the school and their fearless leader Deborah gave us quick instructions on a few popular songs, and before you knew it, we were groovin' like it was nobody's business.   With what other musical instrument can complete novices pick up and learn three songs in just an hour?  I don't believe there is any other.
See if you can guess these two popular songs we played?
1. Jam's about my pride and truth I cannot hide, to keep you satisfied.   True love that now exist is the love I can't resist, so jam by my side.
2. Jump up and down and move it all around. Shake your head to the sound, put your hands on the ground.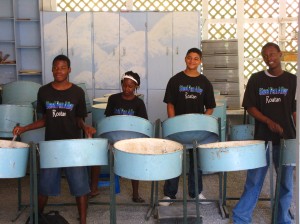 More interesting then my expected rise to stardom following this post (ha) is the history of the steel pans themselves. Originating in Trinidad, this unique sound was actually created by street gangs.  While the island was under British rule, the governing Brits forbade all types of indigenous music and thus it went underground and continued via these raucous teenagers. At first the gangs played only on tunable sticks of bamboo wood and would meet with the other street gangs to compete.  Trying to "step up" the competition, one street gang had the idea to bang on steel drums. Soon, everyone was doing it, shaping the pans in order to create different notes and sounds.  Over 70 years later, it is still alive and well.   Actually, some of the bands that were around when it still going strong, and are some of the most celebrated musical groups in Trinidad.
Wonder if they have an opening for an experienced chica to play the Double Pans??
Visit our Facebook Fan Page to see more pictures!