I grew up in a very small town. So small, in fact, that it doesn't even qualify to be called a town – instead it is a hamlet. Two blocks long by two blocks across, I could walk clear across to the other side in less than a minute. Once a thriving farming community, it's bustle has all but entirely disappeared. When I was growing up there was a school, an active curling rink, a library, a grocery store and a hotel. These are now all closed and some torn down.
Urged on by our parents, my sisters and I all moved away for school and better jobs. It was never an option to stay there. We, in essence, did a small part in contributing to it's demise.
Such is the way of many small North American towns, losing their support and commerce to the box stores being put in the bigger centers down the road. Gone with the commerce are the jobs, gone with the jobs is the draw for young families to reside and keep it alive. My hometown may one day entirely disappear.
With this in mind, one of the things that Pete and I love most about Ireland is the vitality of its smaller centers. Scattered along the interior twisty roads there are plenty of them, some no bigger then where I grew up, but with a lot of life, charm and manicured beauty. Thanks to the government's "Tidy Town" initiative, where communities are annually judged on their aesthetic, each municipality shines. Buckets of blooming flowers are everywhere, fresh paint spruces up old buildings, the grass is always neatly trimmed. And they all seem so lively – every one of them has a pub (of course), at least a small grocery store and various other commercial entities.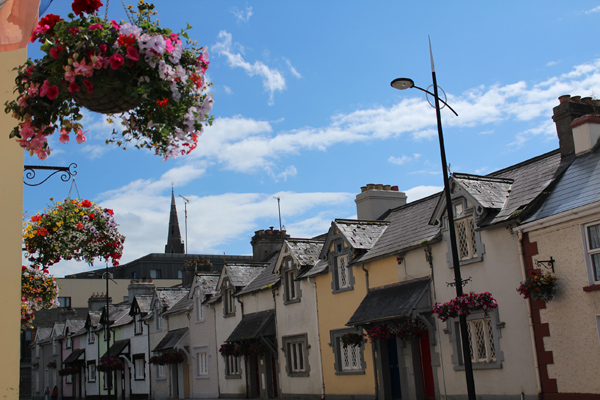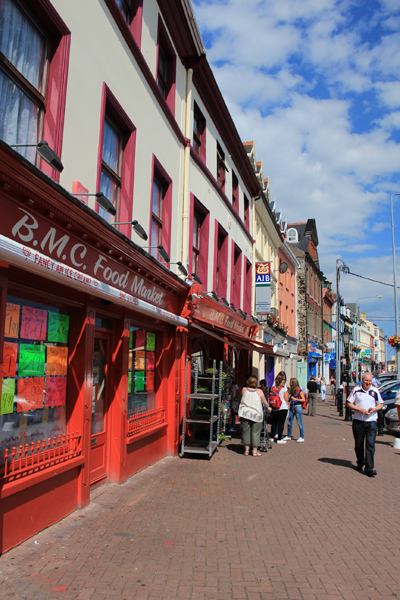 There is just one after another. We've driven around plenty in our exploration of the local country side, and marvel at how each looks as good as the last. For us, the bright colors, well preserved architecture and the appearance of a vibrant community is somewhat surprising and very intriguing. In discovering throughout our travels that we are more happily country mice rather than city mice, this whole area holds a lot of appeal.
But, how long will it last? With a hurting economy and the scarcity of jobs, will their small towns suffer a similar fate?
I always take note of the kids wandering through the streets, kicking at rocks and hanging around outside of the grocery store, or absentmindedly batting around a soccer ball in the park. I wonder what their dreams are, where their future lies, and if they are as eager to get out of their small town as I was.  Whether they know it or not, the fate of this intriguing part of the Irish landscape rests with them.