Words by Dalene Heck / Photography by Dalene & Pete Heck
So goes our nomadic lifestyle cycle – travel like mad, settle and work, travel like mad – that after our almost three week road trip around New Zealand, we found ourselves in desperate need of a settle and work segment. With two weeks to spare in Europe before returning to North America, we finally turned our attention to a country that we've always longed for but never ventured to: Portugal.We had lofty plans to work hard/play hard but found the work taking over. We made it out to explore only a couple of times and never strayed very far. (We didn't even take a port tour in Porto, for goodness sake.) Pete managed to carve out a few photo walks, but most often I only emerged from behind my laptop in order to eat.
We are not food bloggers or critics, and when I say that a pork cheek tasted like a well-spiced hot dog, that is as far as my culinary descriptive skills go. As such we rarely go searching for a story about food in a new place, but in Porto, a food story found us.
And it was all about sandwiches.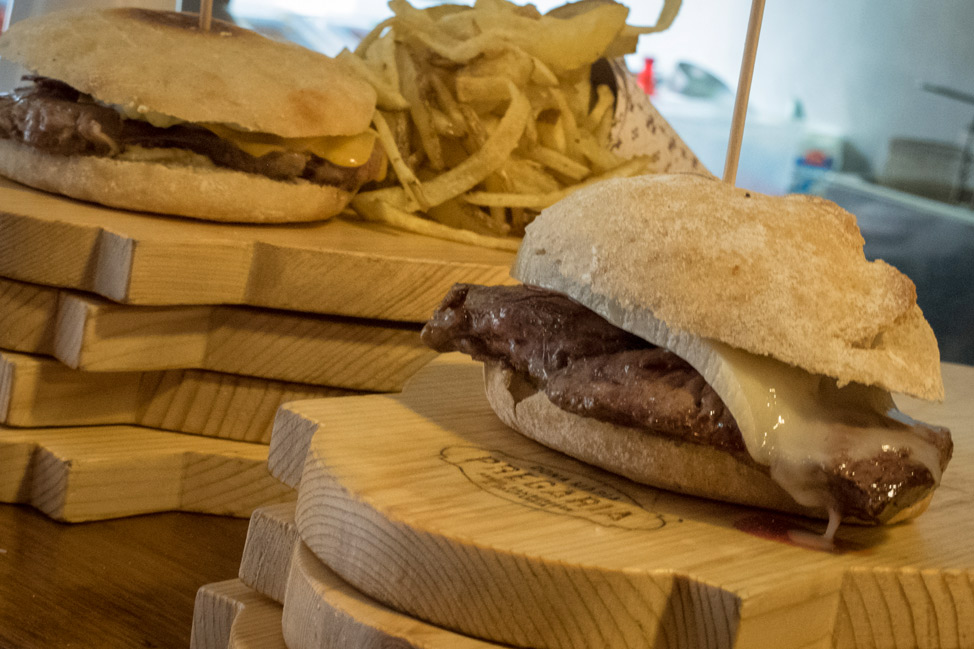 "Just eat the damn sandwich," Pete said as I sat snarling at the plate in front of me.We were a few days into our stay and all of my cravings for mountainous plates of grilled veggies were going unsatisfied. After three weeks of camping food, I was in dire need. But restaurant menus were lined with carbs and meat, and the salads were uninspired. Pete had clearly grown tired of my complaining and barked to just eat what was in front of me.
It was a dinner plate heaping with everything I didn't need: a pile of shoestring french fries cascaded over a rather sorry and simple looking sandwich. It had gotten a bit squished on its way home; the streaky brown steak could be seen spilling out one side, melted cheese another. The aroma, however, had me salivating. After popping a couple of perfectly soft but outwardly crispy fries in my mouth, I managed to get a handle on the sandwich underneath. I shot Pete one last snarl, and then took a bite.
Please excuse my language (remember, I'm not a food blogger so descriptive words fail me), but it was the best fucking sandwich I've ever eaten.
It was simple: marinated steak grilled to a perfect pink on a soft floury bun with aioli and melted cheese. Every bite melted away on my tongue in a burst of delicate spices. And each was followed by a low guttural moan of pure pleasure. (Sorry, is that TMI? Probably. But it's the truth.)
This wasn't an anomaly in Portugal as we soon found out that sandwiches are the specialty. From then on, there was less growling about the calories being consumed as we instead decided to embrace it. Sandwiches became our quest. We would work all day and venture out to discover Portugal's second biggest city via sandwich shops. (We'd worry about the few extra pounds later.)
This is what we found.
Sandwiches became our quest. We would work all day and venture out to discover Portugal's second biggest city via sandwich shops.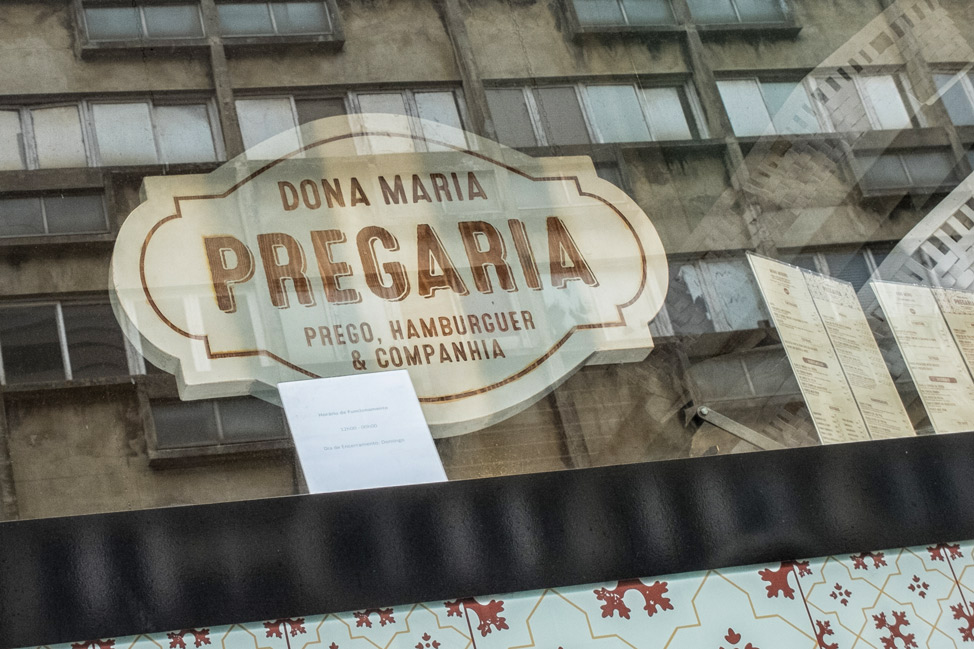 dona maria pregaria
This restaurant shall henceforth be known as the producer of all the guttural moans (the photo of two sandwiches near the top is the culprit). Order its namesake (the Dona Maria sandwich) to experience all of the goodness. Pete tried a couple of others, but neither compared.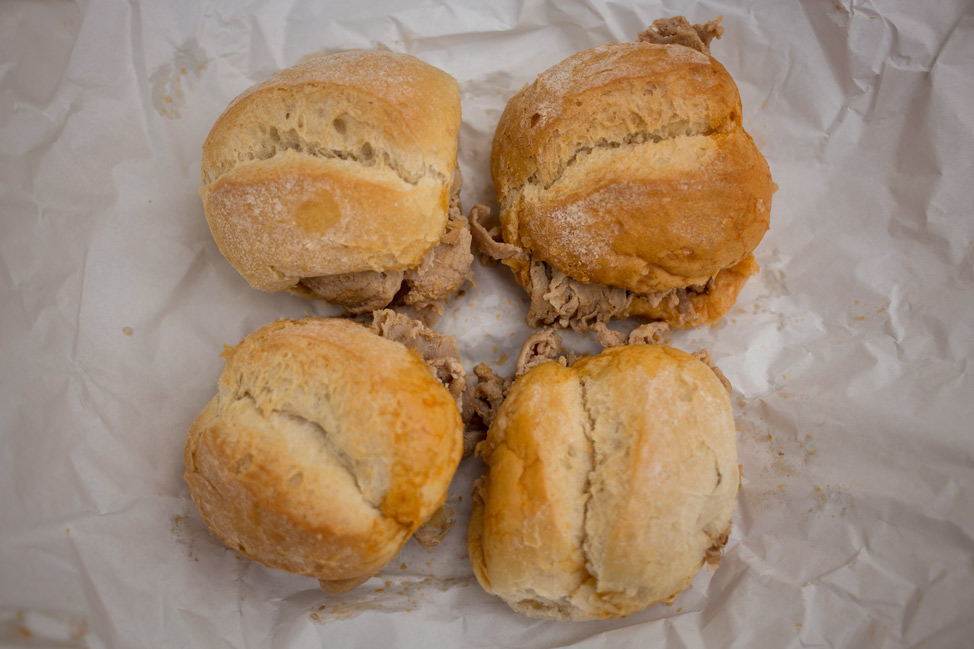 conga
They don't look the most appetizing, but the secret to their famous bifana sandwich is the sauce. It's all seasoned pork, all bread, and then a savoury, juicy sauce that soaks in. It should be eaten immediately while hot and the crust on the bread still has some crunch. And, for only two euros each on takeout, this is an insanely valued and memorable meal.
And not surprisingly, insanely delicious bifanas can also be found in Lisbon.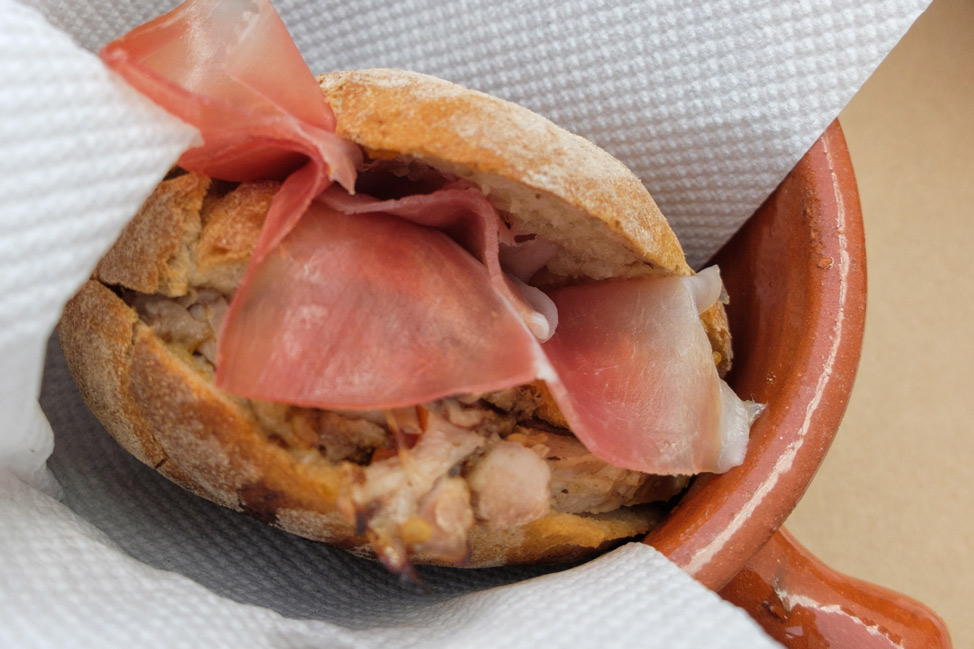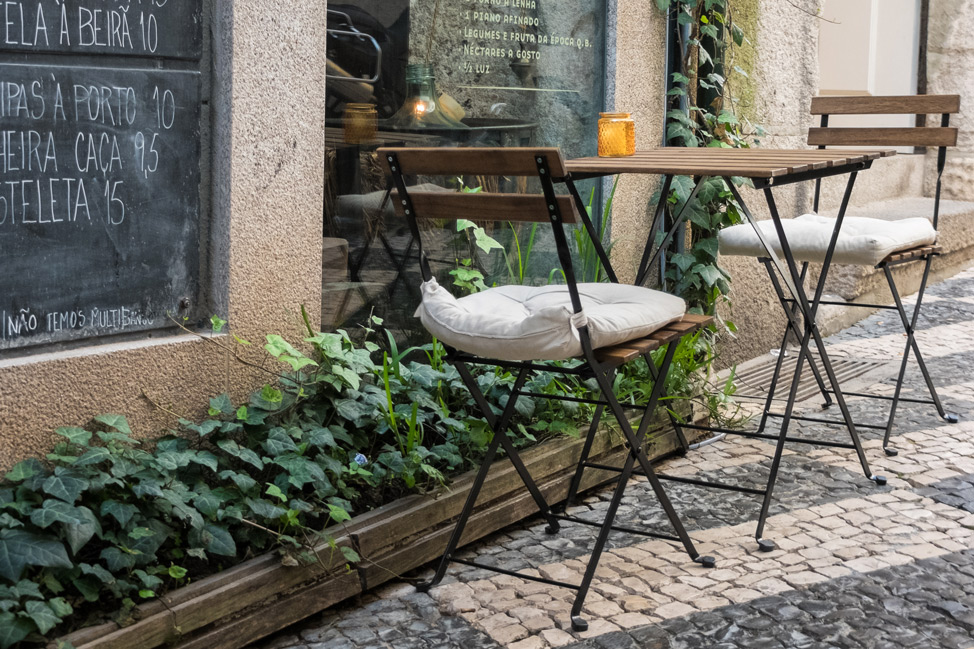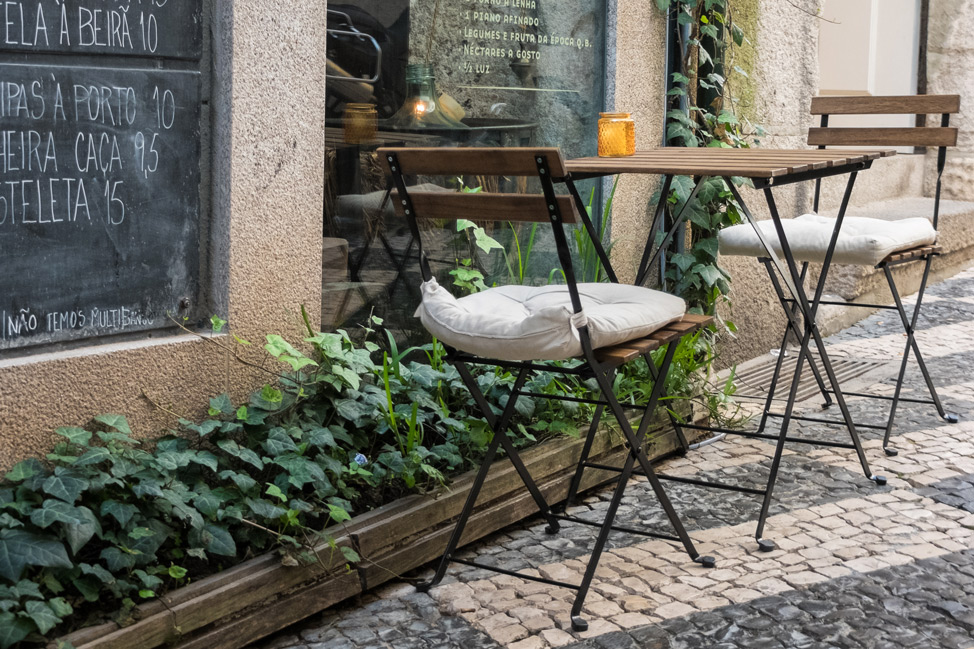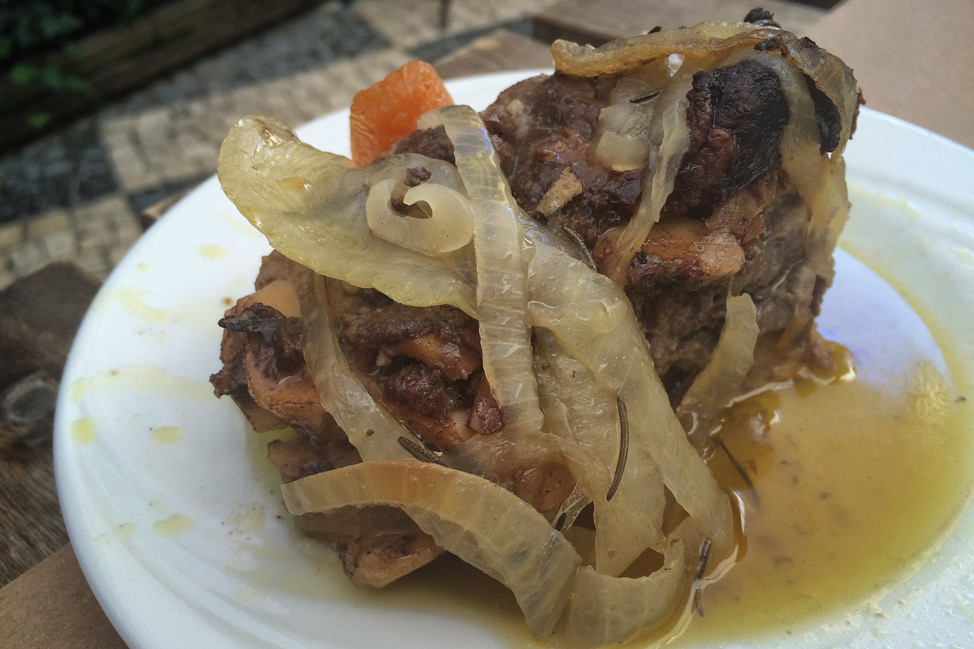 Flor des Congregados
Close to Conga and a little more upscale, this restaurant also offers the bifana, but it is not quite as good as Conga (despite the fact that there is also a thin slice of tasty ham included). But if you are in the mood for a pork cheek that tastes like a well spiced hot dog, this is also where you can find it.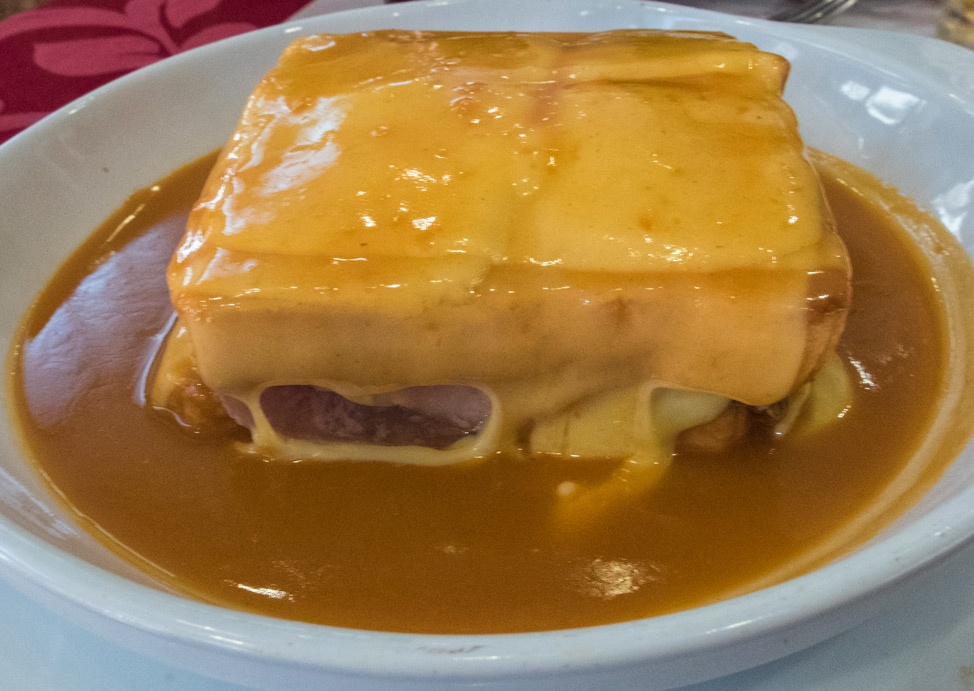 Cafe Ceuta
That monstrous thing above is the mother of all Porto sandwiches and should be approached with caution. The francesinha contains cured ham, two different kinds of sausage and steak slapped between thick sliced bread, smothered in melted cheese, and served in a thick tomato and beer sauce. As each restaurant has their own secret sauce, preferences vary by person. We found this one tasty, if a bit excruciating overall.
The best thing about our stop at Cafe Ceuta was the staff who enthusiastically spoke about the history of the sandwich in the city. Actually, that can be said about many restaurant staff we met on our quest – so many were very excited to talk about their food.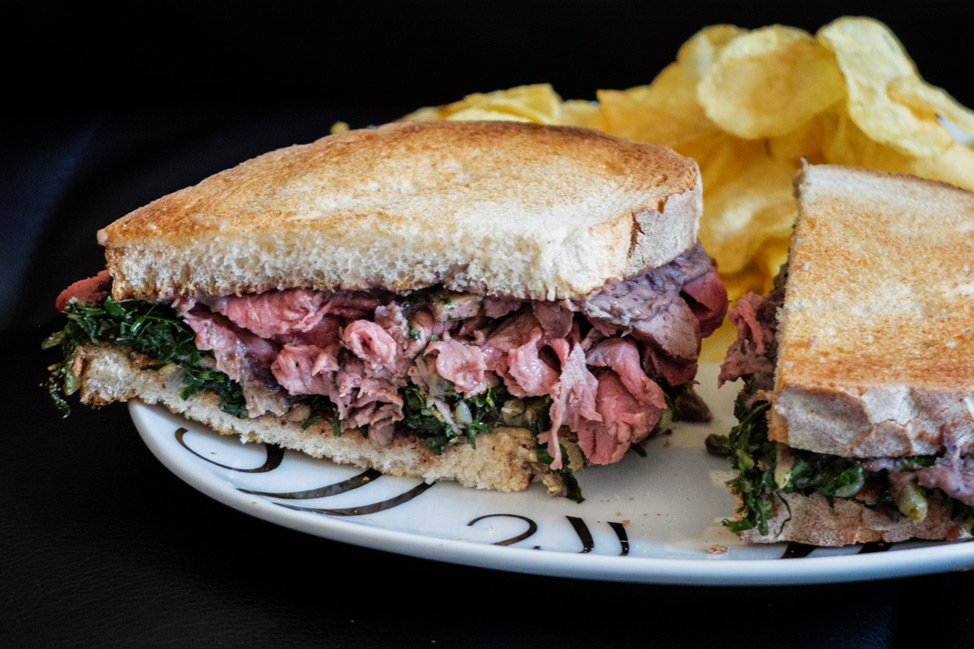 Sins Sandwich
The name says it all, right? Although this one had spinach in it (there's the veggies I was looking for!), this is actually Pete's sandwich and I went with the goat cheese burger instead. Mistake.
Stick with the sandwich.
where we stayed
We were so excited about this apartment in Porto – the hosts were so friendly, the space was beautiful, with every amenity, and very comfortable. BUT, we soon learned why there were ear plugs by the bed – there is a very noisy student bar just below. If you're a heavy sleeper, this is still a great option. If not, opt for another to get some good sleep
Traveling around the world and celiac? Check out these detailed gluten free restaurant cards (PORTUGAL).