The small island of Roatan is drastically divided.  On the west side, where we live, modernity has taken over.  There's scores of tourist amenities and shops, excellent shopping facilities; hell, there's even a Wendy's.  And on days when cruise ships come into port, there are thousands of tourists to fill the shops and take over the beautiful white sand beaches.  While some see it as positive progress of the local economy and an excellent opportunity to people-watch, there are others (like us), who prefer to escape to the quiet tranquility of less inhabited areas that have also escaped brand names.
The other (east) side of the island is largely undeveloped by normal tourism standards with only a few amenities catering to visitors.  There are several resorts tucked away on quiet beaches, but most of the action remains in the west end.  And while some people told us that it isn't even worth venturing to, others spoke of fine white sand with nary another soul in sight.
Just say the words "remote" and "beach" in the same sentence and we're in the car and ready to find it.  We set out without a map or a plan, just a desire to explore and discover.
Even though the island is only 33 miles long, making the journey takes longer then one might think.  There is only one paved road throughout, and it twists and turns up and down the hilly ridge that runs the length of the island.  It was slow going, but it was impossible to get annoyed – how could we not enjoy a drive that allows for panoramic views of the sea outside of either window?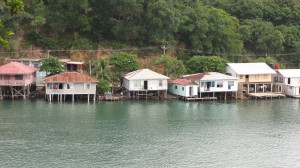 We decided to take a turn off the main road and visit the small municipality of Oakridge.  Set against the north coast of the island, houses and other buildings crowd the bay, those right at the coast are high up on stilts.  We drove through the town amidst the stares of many of the locals – one shouted at us asking if we wanted a boat tour, but others just waved and watched us pass.  We would have loved to get out and walk a few streets of the town, but each road down to the bay was at a drastic decline – not prime walking for someone with a healing achilles tendon.
We turned around and made our way back to the main highway, stopping first at a large fruit and vegetable stand at the edge of town.  It was there that a thought occurred to me, as I watched Pete tour the open shop and happily show off his Spanish – that it now feels like we never left Latin America at all, it has been so easy for us to slip back in and feel at home.  Pete returned to the truck with two bags full of various goods, excited that all of it had cost only 100 Lempiras (~$6).  And just as we turned to wave goodbye to the shopkeeper, she came running towards our truck with a handful of oranges as a bonus for our patronage.  In some ways, this is better than home.
Just past Oakridge, the paved road becomes gravel and full of potholes.  It only slowed us down, but surely didn't stop us, as we knew that prime beaches were still just a short drive away.
We made our way to Camp Bay, drawn by the promise of the remote beaches and the fact that there was an advertised restaurant nearby – we needed lunch!   We happened upon the Camp Bay Adventure Lodge, and settled in for the afternoon.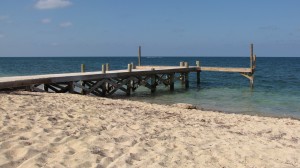 White sand, check.  Crystal Caribbean blue water, check.  Absence of all others, CHECK.
After some time spent lazing, we ambled a few feet off the beach and into the empty restaurant run by the Adventure Lodge.  We feasted on shrimp, chicken and the reputed best-key-lime-pie on the island, all the while enjoying the company of Mike, the owner.   He spoke of the increasing number of people venturing across the island to enjoy his little piece of paradise, especially on cruise ship days where the large crowds take over the west end.  He had big plans, and hopes, for his little place.
Mike also filled us in on other activities to do in the area, at which we vowed then to return to do.  For that moment, however, the empty beach still held a place for these bums, and we took up our spot in the sand for a couple of more hours before calling it a day and driving home.
With few expectations in mind at the start of the day, we enjoyed every minute of our east end exploration and will definitely return.  It is one of those rare little corners of relatively untouched space that defines "paradise" for these travelers.
Unfortunately, as the west end continues to fill up, the tourists and others will continue to spread east, likely bringing their Wendy's with them.  For me, that is a sad thought, but an inevitable truth.  As much as we want this untouched space to remain as is, that is also the appeal for everyone else.  They will eventually want a piece of it, bringing their comforts and conveniences with them.
And that's progress, right?  I am just happy that we are here now, able to enjoy it as it is.