After two weeks in class sessions and two weeks of in classroom practicum with LanguageCorps Asia (LC), I am now certified to teach English to Speakers of Other Languages (TESOL).

THE PROGRAM
Week One – Classes
The classes are what you expect for the first two weeks. The amount of material was fairly intensive and the amount of take home work in the evening was considerable.
Pros:
The time allotted for the program was sufficient
Assignments were fair and required students to be creative
I learned many new concepts and methods to teach English
Cons:
I think that the exam at the end of week one should really have been at the end of week two
The exam was open book and the instructor informed everyone what would be on the test making it too easy for students to pass
Daily assignments were graded but the grading system (A to E) seemed irrelevant and inconsistent. After inquiring about how to improve a "C" grade the instructor informed me that I had done everything perfect and there was no way to do so.
Overall the course material was good, but I would have liked to have seen a heavier focus on grading. This would have made it more difficult and challenging for students, and overall would have made it feel like it was really earned.
The Instructors
The instructors in Phnom Penh for the first two week program were a mixed bag. There were some who clearly had a passion for what they were doing. They made the classes interesting, and when a class is grammar or classroom management, something is necessary to keep minds from wandering elsewhere.
And then there was an instructor who obviously didn't want to be there. On the first day he mentioned that he felt as if they were back in America "driving in crazy traffic to come to job I don't want to be at". Not a very good first day impression, nor inspiring in the slightest.
The Setting
The main classes are at the PUC University Main Campus in Phnom Penh. If those were unavailable for any reason, they were held instead held right in the hotel.
Pros:
Classroom size was suitable for the amount of students
Good location to city center
Cons:
Poor location in relation to our hotel
Air circulation was poor making it uncomfortably hot at times
Week 2 – In Class Practicum
I had informed LC that I wanted to teach high school students or adults for my practicum weeks. So needless to say when I received my notice of what classes I would be instructing I was quite disappointed. I had a class of 11-15 year olds at an orphanage and 4-6 year olds at the LC campus. Fortunately another student decided to withdraw from the program so I quickly traded for his adult class giving up the class of 4-6 year olds.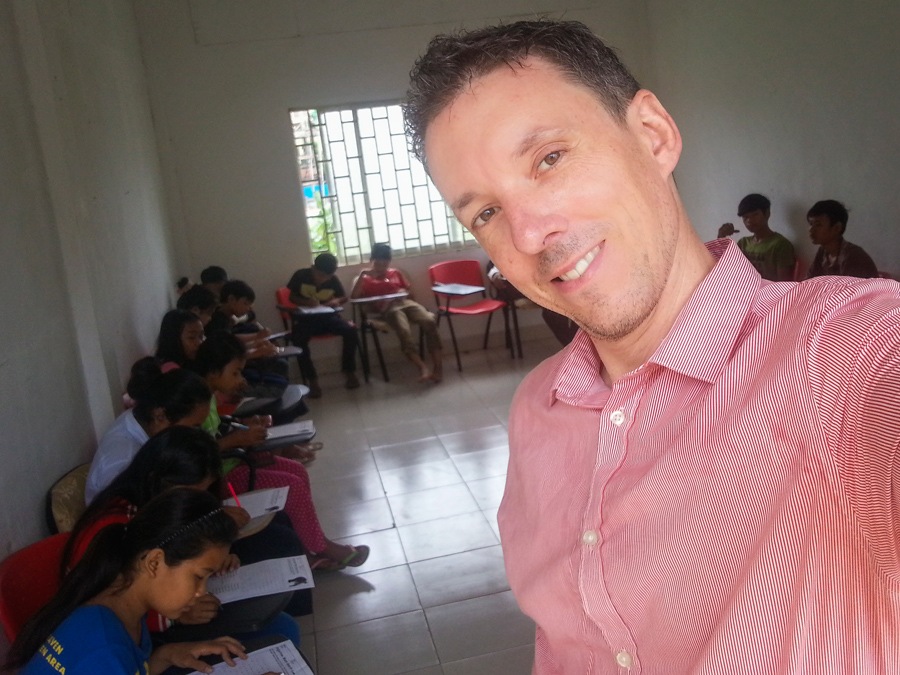 Pros:
The real-time experience adds an extreme amount of value and prepared me for what it would be like in the classroom
We were responsible for developing a lesson plan, teaching the class, and the post class self-evaluations
In class evaluations by LC staff were very valuable in terms of feedback and improvement
Cons:
There was a lack of lesson syllabus availble in the classroom. Certainly it made it more difficult to come up with lesson plans, and in terms of providing structure for the students it would be better to have an actual curriculum
OTHER ASPECTS OF THE PROGRAM
The Marady Hotel – LanguageCorps Asia HQ – Phnom Penh
Included in the LC program costs were our accommodations for the month.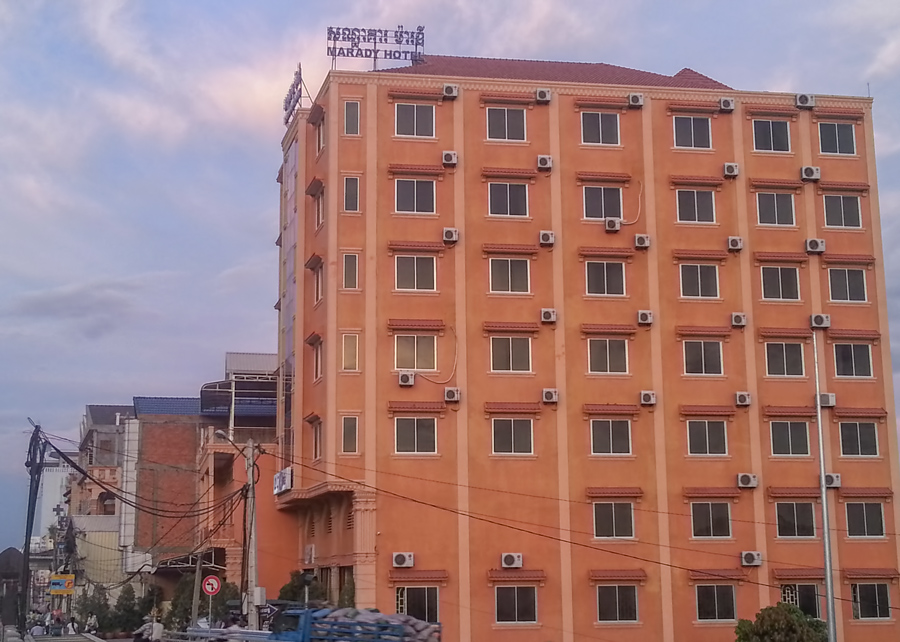 Pros:
The rooms were quite spacious and the beds were extremely comfortable
The office space and classrooms downstairs made good work areas to complete assignments and prepare lesson plans
Laundry service offered in the hotel was decent and very reasonably priced
Overall, the Marady staff were very pleasant and accommodating. They seem to always have a smile on their face and loved to practice their English
The gym on the bottom floor had good quality modern equipment and was a nice benefit to keep in shape for the month. Although we did not swim in the pool, many of our new friends really enjoyed it
The hotel restaurant overall was just "okay", and we tired of it quickly. More fresh fruit and vegetable options would have been appreciated
Cons:
The location of the hotel is awful. It is inconveniently located near the outskirts of town and away from the main attractions and other places to eat
The rooms were not completely clean. There were corners and areas which had clearly not been touched in months. The cleaning schedule was also very inconsistent and we sometimes went days without our room being cleaned
The wi-fi was decent but inconsistent (expected for Cambodia, as I understand), but only available on certain floors (not ours). We asked about the router on our floor during the first week and to our knowledge it was never even looked at
It is on a very busy street beside noisy construction of a new overpass. After two days we requested a room change to an upper level to escape some of the noise

The Administration
Pros:
Staff was overall very pleasant
Print outs for classes were readily available in time
The administration offered a job search program to help you find a teaching job. I did not participate as we were moving on, but it involved resume blasting and introducing yourself to schools. From what I heard from other students the opportunities were much better in Phnom Penh than in Thailand
Cons:
On numerous occassions I had requested missing pages of my LC text to be supplied and they never were. The reliability for these sorts of requests was very questionable
Dedicated tuk tuk drivers were consistently charging different and overpriced amounts to the centre. If they are at the hotel in part to serve the students, a fair and pre-negotiated price with them would have been appreciated to avoid the hassle.
Excursions
As a part of the TESOL program, LanguageCorps Asia offered some extra curricular activities. These included a trip to Siem Reap to see the impressive temples of Angkor, a weekend in Sihanoukville to get some beach time, weekly karaoke, and a welcome dinner. The admin also arranged an evening river boat excursion for an additional cost.
Pros:
Angkor Wat and Sihanoukville should not be missed. They are two of Cambodia's biggest tourist attractions and you have not seen either, I would make sure to go.
Karaoke night is fun and a good way to bond with other students outside the class
Cons:
Corners seemed to be cut in terms of cost or time. The sunrise at Angkor Wat was offered, and then taken away. We were given the excuse that the weather would be bad, but no weather reports confirmed this. Thankfully we chose to do it on our own time and expense.
The transportation from Sihanoukville was the split point for students going on to other countries for their practicum week. The bus bound for Thailand we saw was over filled and the students were extremely uncomfortable for the ten hour journey. LC should have provided a second bus, without question.
OVERALL THOUGHTS
My experience with LanguageCorps Asia was a mixed one. Although I am happy to have achieved my TESOL certification, I question the overall value of the program, as I get the feeling that they are simply pushing its students through. The grading should have been much more difficult, there should have been an exam at the end of the second week, and any exam should not have been open book. The more difficult it is to achieve the certificate, the higher quality teachers you will see graduate from the program, thus making the certificate of more value.
The hotel was below standards and the location was poor. This definitely had a negative impact on our stay.
The staff at the hotel were very kind and accommodating but the LC staff were hit and miss on simple requests, and at times I felt that corners were cut to save money.
The saving grace for this program is the high quality of some of the teachers, and I came away having learned a lot. However, given the other negatives in play, I still have a hard time stating that this program would be entirely worth the cost. Hopefully some improvements can be made.
***We were guests of LanguageCorps Asia to visit Cambodia and review their TESOL Certification program. As always, all opinions are our own.