From the moment we walked in the Grand Hotel Union in Slovenia, Ljubljana, it lived up to its 4 star rating.
The Grand Hotel Union, designed by Josip Vancas, is one of the most beautiful buildings in Ljubljana. The building was completed in 1905 and was one of the first hotels to have an elevator, central heating system and running water.  To this day, the hotel serves as a centre of cultural and artistic life for the locals and business visitors including presidents, royal families and celebrities.
The hotel is situated right in the heart of the historic center.  A mere 10 minute walk from the train station and we arrived.
To our surprise we were greeted in our room with an enormous fruit tray and the hotel's signature cake.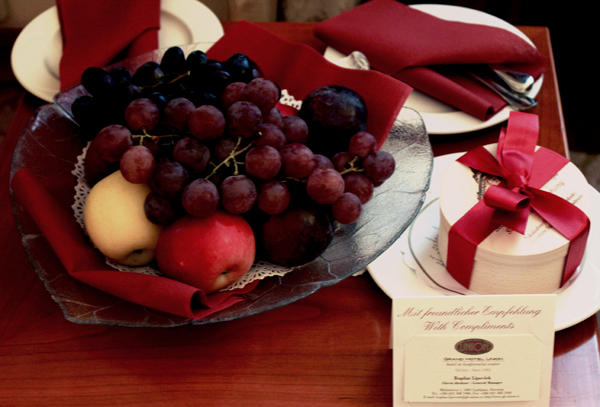 Our 3rd floor executive suite had all the amenities a guest could ask for.
Large screen television, bath robes, slippers, bubble bath, and a trouser press station to get out those travel wrinkles. Not to mention the extremely comfortable beds that were just what these tired travelers needed after a long journey from Croatia.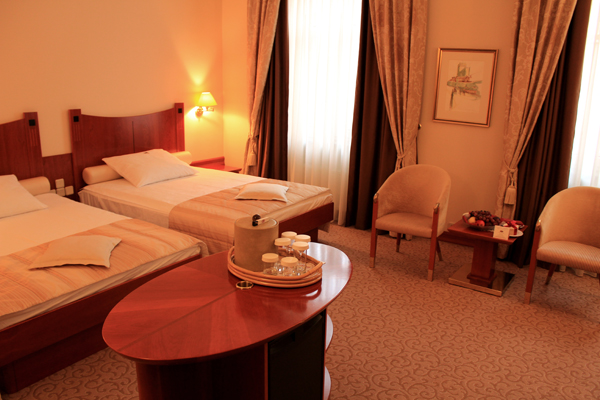 The staff at the hotel were exceptional and addressed all our needs with a smile on their face.
We took advantage of the the hotel's ninth floor fitness area which was equipped with a gym facility, swimming pool, sauna and massage facility.  And after a morning swim, the complimentary breakfast is overwhelming with the selection of food and drink available.
Overall the hotel met every one of our expectations and we hope to have the chance to stay here again.
** Our stay at the beautiful Grand Hotel Union in Ljubljana, Slovenia was complimentary thanks to the Slovenia Tourist Board.  As always, all opinions expressed are our own.