Vallee Bras Du Nord: a pure backwoods paradise where the alpine scent is so striking it overpowers even the strongest bug spray (which, believe me, you need by the bucketful).
It's a magnificent valley with cliffs, mountains and a pristine river running through it. After a couple of weeks touring through cities, we anxiously gulped in the fresh air and geared up for a day full of adventure.
It truly offers something for everyone – thank goodness – as not everyone is good at everything.
(Yes, this is obvious foreshadowing. Read on…)
Of the numerous activities to choose from in the region, our itinerary was set up with three: hiking, mountain biking and canoeing. We were free to do as much or as little of each activity as we wanted, and in all honesty, we didn't really care what we did. Pete and I were both happy to just be in a more natural environment and punish our bodies for recent overindulgences of poutine.
Punish, I did. (Well beyond what was intended).
It was entirely my own fault. As we made our way by mountain bike to experience some of their 100 kms of marked trails, I asked few questions about properly using the bike, and made no mention out loud about the fact I hadn't been on a bike in years, let alone on a track in the mountains.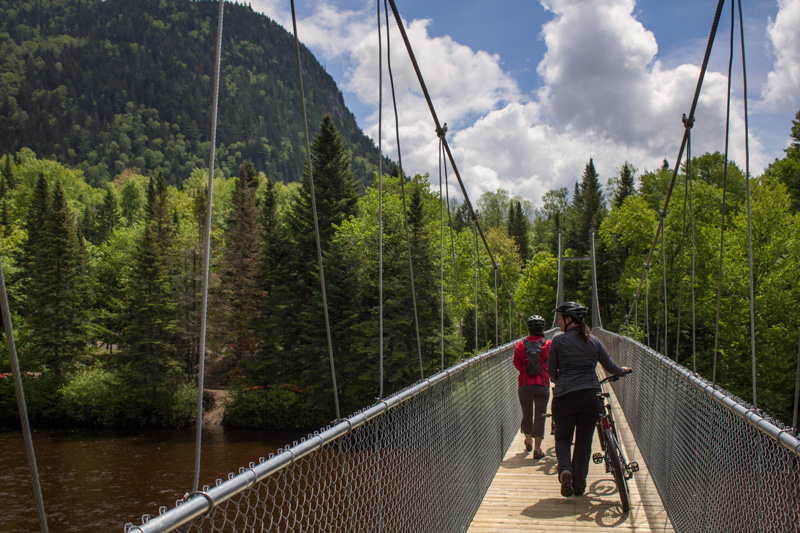 It also didn't help that my friend Michael had a serious cycling accident recently. I couldn't get his mangled face out of my head as I bounced over tree roots and dipped down little slopes, gaining speed on a muddy track. (Did I mention that I am also a serious tachophobe?)
I was totally uneasy, but kept it to myself. I tried to take it slow, but as Pete and our guide moved well ahead of me, I tried to gain some ground, and the inevitable happened.
I skidded off the track at a muddy section and hit a root, sending my body over the top of the handle bars and onto the soft forest floor below. Luckily, I wasn't on the edge of any hill. Even luckier, I somehow landed such that I didn't go head first into anything hard. I had to call for Pete to come back and untangle the bike from my legs. The results of my fall wouldn't be seen for a few hours as the bruising made its way to the surface, but I would come to find new ones as the next few days past, including impressions of bike parts etched into my legs.
Too shaken to continue, our mountain biking tour ended quickly. We forged new paths through the undergrowth and dodged the snaky maze of maple syrup tubes to quickly make our way back to smoother and wider road.
Not quite the best way to start our day, but the next part most definitely made up for it.
*****
When all else fails, get in a canoe.
(Have I mentioned how much I like to be on the water? Only a few dozen times, I am sure.)
Any day is made better with it, and the next part of ours was to navigate the Bras-Du-Nord river by canoe.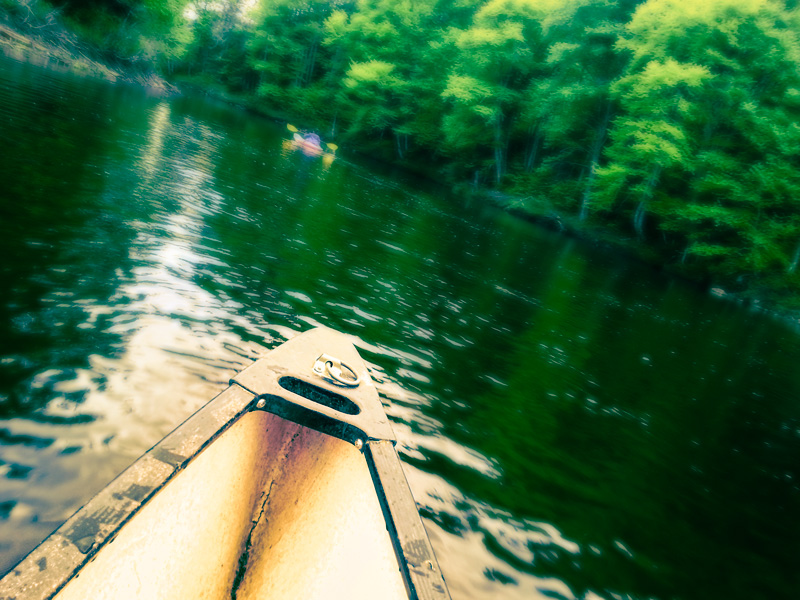 The first three kilometers were far too short, and we pulled ashore just 30 minutes later. Our grumbling stomachs supported the stop, and we did a quick hike a little further inland to spread out our picnic lunch near the Delaney Falls.
And next, a fork in the road.
Our itinerary suggested leaving our canoes at shore and undertaking a moderate hike back through the forest, but continuing along the river was also an option.
Hike for 3km or canoe for 17? Not only did I strongly desire continuing in the water, but my still-wobbly legs dictated it be so.
By the end of our voyage, my arms were almost as wobbly as my legs. I was bruised, exhausted, and ravaged by mosquitoes in places I had not thought to protect.
But true to my roots, I was grinning from ear to ear. Is there anything more aptly Canadian than a long paddle in a canoe?
There are few things that make me happier, and I will dub our day at Vallee Bras Du Nord a stunning success. Bruises and all.
*****
The Vallee Bras Du Nord is just a short drive north of Québec City and is truly a brilliant outdoor playground with so many options for activities, year-round.
Our journey to Vallee Bras Du Nord was courtesy of Quebec Region Tourism and Tourism Quebec . All opinions (and pure lack of athletic skills) are our own, as always.