A good travel blog post is supposed to be replicable – so "they" say – it should wax poetic about a dreamy experience and then tell the reader how they can duplicate it exactly.
This is not one of those "good" posts, as this experience is entirely unreplicable (save for two small loopholes in which you might be able to make it happen, but I will explain those later).
Therefore, this post is just full of good old-fashioned, rub it in your face, bragging. Please forgive us.
*****
It started with an invite to dinner from our two dear friends Jacquie and Scott in Calgary. In a running exchange of emails, they were teasing us with what *might* be on the menu:
Jacquie – If you happen to be free earlier than the dinner hour, feel free to come and do some pinching, poaching and smoking!

Me – I WANT TO DO ALL OF THAT!
The exchange continued with us trying to guess what foods would have us employing all of those techniques. We did manage to figure some of it out and became excited about the 'Canadian' themed meal, but we never could have guessed the extent of gastronomical goodness they had in store for us.
Although, it shouldn't have been a surprise really, given the famous culinary skills of our gracious host. We should have fully expected to roll ourselves away from the table, stuffed and sated, and elaborately gushing for days to come about what we had eaten. (Another friend whom we saw a few days later said: "We're just going to order pizza when you visit, just so you know, I'm not competing with THAT.")
Scott Pohorelic, our master chef for the evening, took over his first kitchen at the age of nineteen. For six years, he commanded the acclaimed River Café in Calgary where he helped shape a cuisine focused on regional and sustainable ingredients. He was named Calgary's Top Chef by Where Magazine in 2010 and was featured on the Discovery Channel's "Chef's Domain". Scott now works as a culinary instructor at S.A.I.T., helping to shape the next generation of cooks.
(So, yeah. Let the bragging begin!)
We started with (read: devoured) a peach and fennel salad, topped with hazelnuts, thinly sliced moose pepporoni, and slivers of sharp cheese. The dressing was made from Camelina Oil, fennel, choke cherry vinegar and guar gum.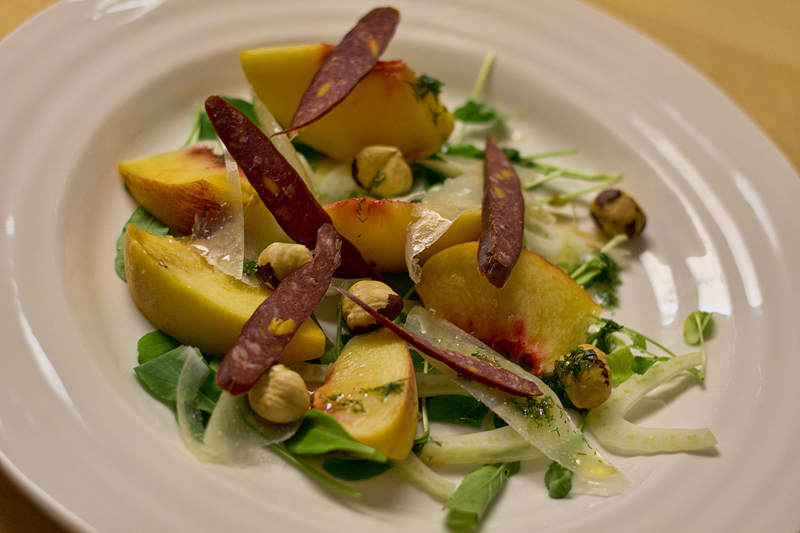 Next came the first dish representing one of the mysterious action verbs: smoked prawns atop Brandade (cured salt cod). To get the smoked effect, Scott heated wood chips covered in salt in a cast iron pan until they were ablaze. He then placed a funnel over the wood chips and directed the smoke up into a glass which he had cooling in the freezer. The glass was then placed over the prawns and Brandade for a minute to infuse another slight layer of savoury flavour. (Nevermind that it was also a super cool fog show around the table!)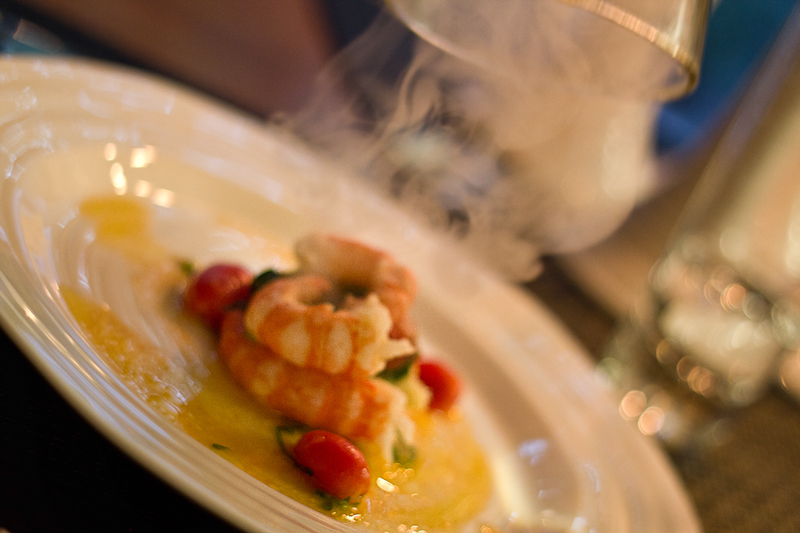 The other two action verbs led us to the main course of the evening.
This one we had guessed ahead of time, of course perogies need to be pinched! These were filled with cubed potatoes, caramelized onions, cheddar and parsley.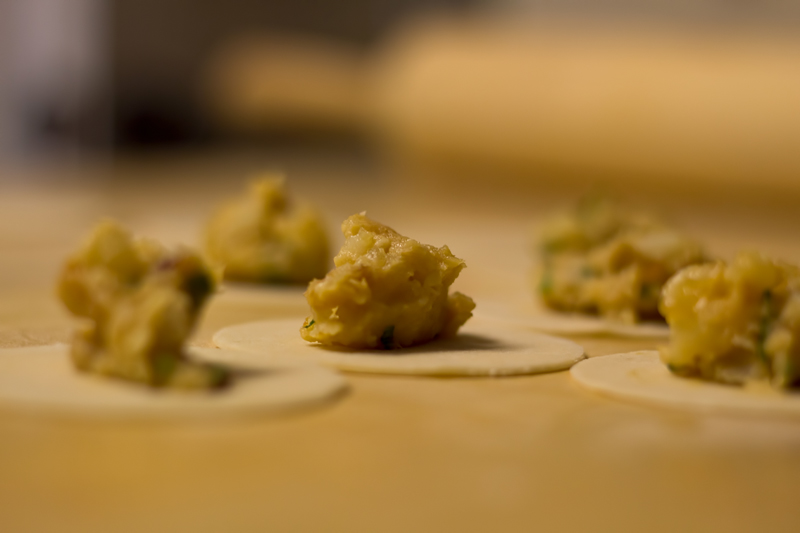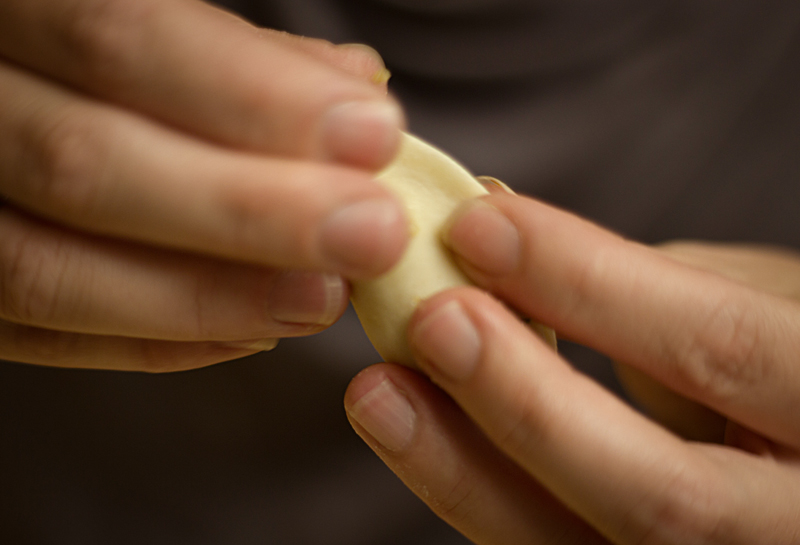 The poaching was entirely unexpected (because, really, who knew this was possible?): bison poached in butter, cooked sous-vide (a low temperature cooking technique that originated in France). The bison was initially seared to keep the juices in then submerged in butter. It was kept at 125 degrees such that the meat was medium-rare throughout, and completely bursting with flavour.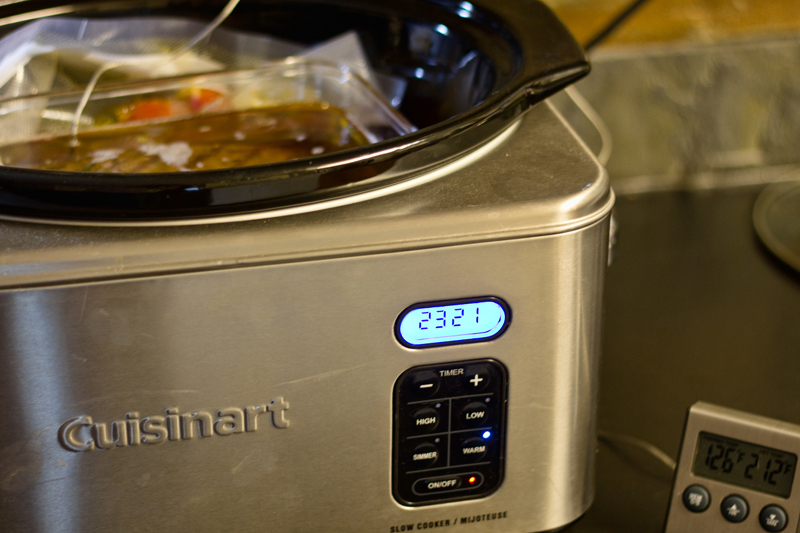 The bison and perogies were plated together with grilled cauliflower, fresh carrots, beans and chanterelle mushrooms, and topped with a sauce made from Saskatoon berries.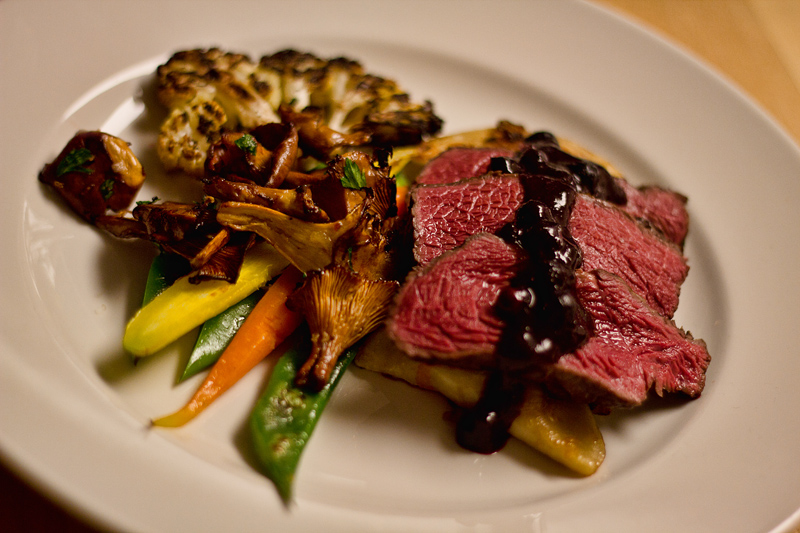 And to top off the tiny bit of room we had left in our stomachs: a white chocolate and coffee panna cotta topped with candied pecans, blueberries and brandy.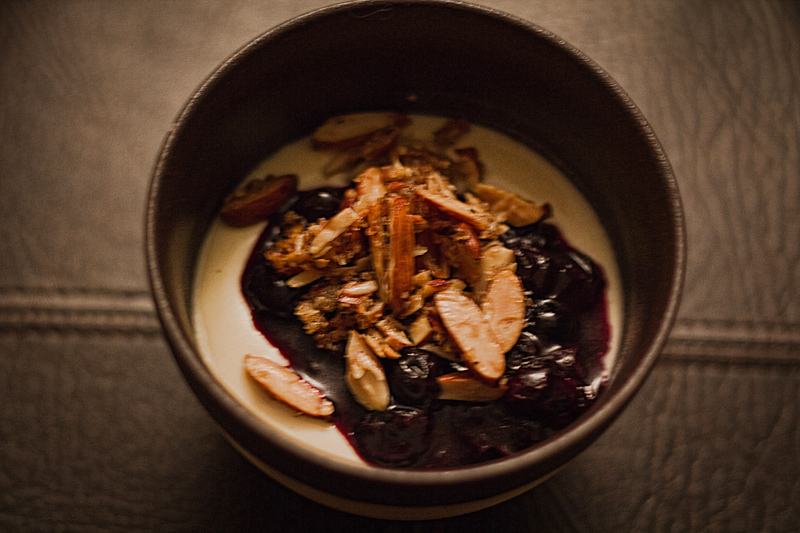 It was all, in one word: divine.
The food itself was magnificent, but the real treat was to spend such a wonderful day with good friends, cleaning hazelnuts, pinching perogies, learning, laughing, drinking.
During dinner, Scott commented that for as delicious as good food and wine may be, it is the company that makes all the difference. I couldn't agree more and I wanted to throw out a high-five in passionate affirmation, to reach across the table and give that man a hug.
But I was too busy eating to put my fork down.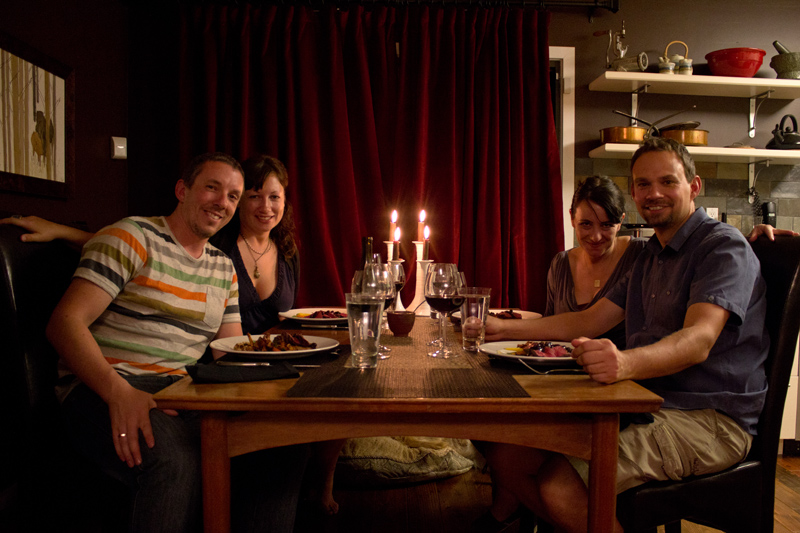 *****
THE TWO LOOP-HOLES
We've gotten to know Scott and Jacquie well over the last five years, and we are so thrilled to consider them good friends. Partaking at their dinner table is an incredible added bonus.
But for those of you who are just interested in replicating this evening of pinching, poaching and smoking with the Pohorelics if you're passing through Calgary (such an evening is highly recommended), there may be a way to sneak yourself in, if you show up at the door with a couple of things in hand.
1. Bring a cute cat
Not only are they lovely friends who spoil us with amazing food when we visit, they also happen to be the adopted parents of one of our cats. Leaving Oscar at their place before we went to travel had to be one of the hardest things we've ever done, but we are so happy that he is in such a great home (and we definitely scored some brownie points when them too, as Oscar is one of the sweetest cats ever).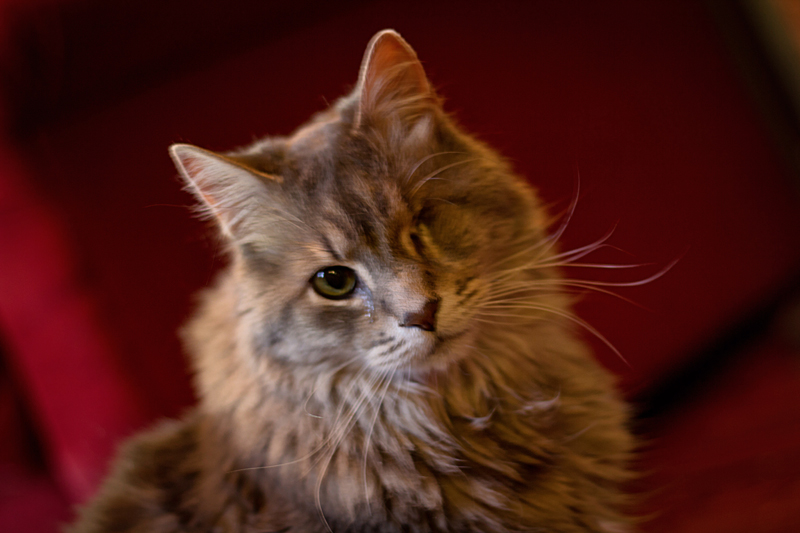 2. Bring your karaoke voice
Jacquie is a SingStar fiend! Show up ready to belt-out some tunes and I'm sure she'll let you in and ply you with food.
Excessive cleavage might help to.