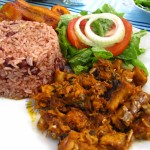 Iguana, anyone?
Not discouraged by his experience eating the Peruvian delicacy of Cuy (fried guinea pig), Pete tested his palate and his stomach once again.
This time? Chopped iguana stewed in coconut.
By Pete's excessive use of yummy noises, I would guess this culinary experiment was more enjoyable then the last. Or perhaps it's because the iguana wasn't wholly recognizable as an actual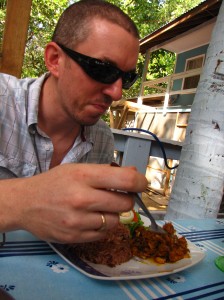 lizard, whereas the guinea pig was deep fried whole with eyes, claws and teeth all intact. Nevertheless, he successfully picked through all the bones and scaly skin (gross!) and finished every last bite.The taste and texture, he claimed, was similar to a stewed beef.
Tasty beefiness or not, I was having no part of it. In fact, my chicken even became a little harder to swallow, just from watching him pick through the iguana parts.
I swear, just like when he ate the cuy, a vow to become vegetarian was *this close* to escaping my lips.  I will definitely keep the title of local-cocktail-expert instead.
I did, however, decide to do one small part in testing out the local delicacies – I indulged in a milk cookie.  It was ginormous! And delicious!