We are excited to showcase some of the note cards that we currently have listed on Etsy.com !
A year across South America resulted in thousands of memories, and thousands of pictures! This first series of cards, entitled "Penguin Love", comes from one chilly morning on Isla Magellenas off of Southern Chile, where over 60,000 mating pairs of Magallenic Penguins live.  For an hour we both sat transfixed, camera zoomed in and snapping furiously.  If we sat still long enough, they would forget that we were there and come within a couple of feet.  They flirted and posed – they were natural models!
These pictures can inspire hundreds of different captions, and thus are left blank for you to decide!  They are printed on 12 pt. cardstock, are 3.5 X 5″ in size, and come with envelopes.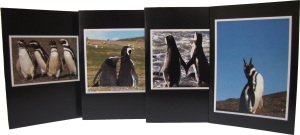 Enjoy spreading some "Penguin Love"!  Follow this link to purchase a set, or send us an email from the contact page.
More series will be coming soon!