A note about traveling in Sicily in off-season: At times, it's not easy. Trains are less frequent and with fewer direct routes.
A note about traveling with my husband: I have given him the loving nickname "Doomsday" (or "Doomy" for short) for a very good reason. He often believes that anything that can go wrong probably will, which means we arrive everywhere extremely early just in case of unexpected traffic jams or long line-ups. Which also means, even though the Eurail.com planning website says we have 45 minutes to make our connection across town in Palermo, we plan to take the earlier train which gives us a 3 hour layover, just in case….
**********
7:00am – Alarm went off. My mood was immediately foul, as I was pretty sure that I didn't get to sleep until sometime in the 3s thanks to noise outside, an uncomfortable bed, and a constant need to blow my nose.
7:40am – Bags strapped on and we begin our walk to the train station. I was cursing the unreliability of the local buses of Catania. Head down, feet moving, I surged on.
8:08am – We arrived at the train station. My left arm was numb and about ready to fall off – we've already admitted that we are not the most efficient packers, and a few consecutive cross-town walks were proving that point. Pete breezed through ticketing to reserve our first class seat for the first leg of our trip. Nearly a half-hour to kill before the train leaves, so glad we were up so early, Doomy!
8:43am – Train left exactly on time. Headphones in, I remind Pete that this is my "do not disturb" time because I am desperately in need of a nap.
8:48am – Pete shakes my leg, causing my eyes to pop open: "Look! Mount Etna!" He clearly forgot my message/warning from five minutes previous, and also that we were walking on Mount Etna the previous day. I know what she looks like. Grumble.
9:31am – Eyes popped back open with a jolt in the train, gorgeous green fields and fluffy clouds just outside my window. Pretty!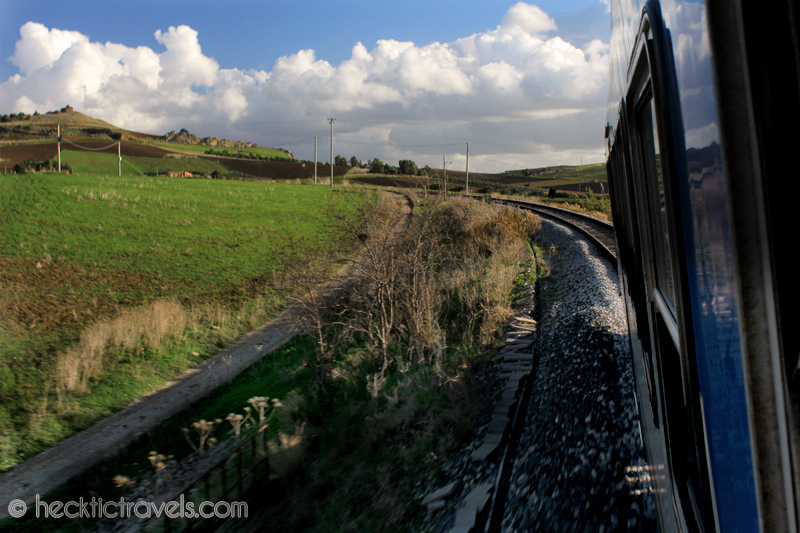 10:05am – Arrived in Messina. Found a table in a cafe and finally had breakfast. Proceeded to enter into a card battle of Shithead, and came to a 2-2 draw before having to get ready for the four hour train to Palermo.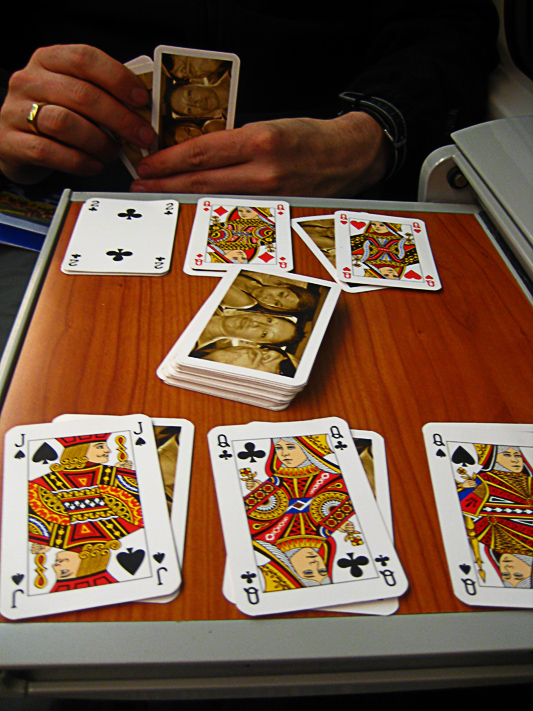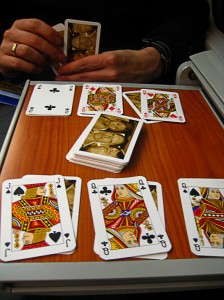 Also were approached by a nice Irish couple and exchanged information and maps as we were heading in opposite directions.
11:10am – Shithead battle resolved on the train. I won, Pete is the Shithead! For some reason he got upset when I adopt this as his new nickname.
12:23pm – Someone gets on with a large bag of fresh basil – the scent overpowers the train (and the not-so-pleasant smelling fellow sitting behind me). Yum!
1:01pm – Sleep evaded me, and so I settled into a series of games on my iPod, all of my latest obsession – Ticket To Ride. The point of the game is to get points by building many and long train routes across North America. See? I told you I was a train nerd.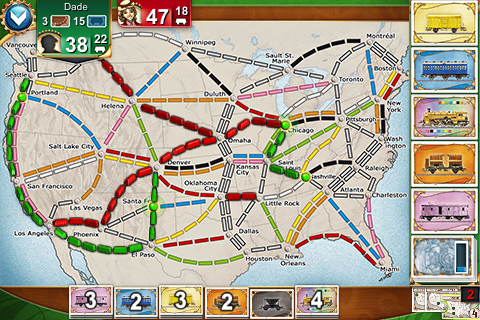 2:00pm – A horde of people get on at the Cefalu stop, there is standing room only. Any hope of sleeping or getting work done is lost. The train is hot and noisy.
3:15pm – Train arrives in Palermo and we find a bus to take us to the north train station. First impressions of Palermo are very good, a definite step up from Catania. But what is with all the teenage boys with spiked hair, tight jeans, and massive stud earrings? Did our train time warp back to the 80s?
3:45pm – Right bus, wrong bus stop – oops! Thankfully a passenger guessed where we wanted to go and suggested we get off at the next one. Pete commented: "That was easy. Look at the time! We probably would have made the earlier connection if we had planned for it." Thanks, Doomy.
5:00pm – Almost two hours still until the next train. Espresso helped keep our eyelids open, but delirium definitely started to set in at this point.
5:45pm – Deli sandwiches for an early dinner before getting on our last train. Delicious! Haven't had a bad meal in Italy yet.
6:15pm – To the platform early for Pete to take some pictures of the train.
6:40pm – Train took off, headphones were in. There was some dozing, some head-bobbing, some iPod-game-playin'. Scenery was reduced to random spots of light against almost total darkness. My back was sore and I felt icky. I needed a shower, and a bed. Time was ticking by oh-so-slowly.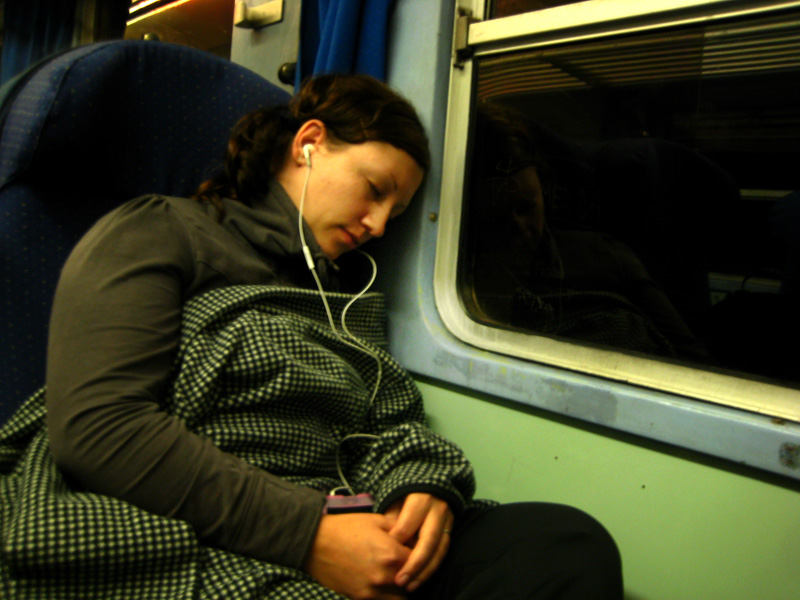 8:35pm – FINALLY! We arrived! We wearily lugged our heavy bags off the train and made the slow walk down the platform. From out of nowhere, I heard my name called, and turned to find the owner of our B&B waiting for us with a car. This was completely unexpected, and such a welcome surprise, I could have hugged her.
It was a long day, but our stay in Trapani was off to a tremendous start with this generous act of hospitality.  And as it always is when arriving in a new destination, the excitement of discovery was creeping in again. But that would have to wait until morning.