The thing about Christmas is…well, quite frankly, we're over it.
That may sound like a harsh proclamation to make, but it's the truth. Albeit, one we didn't come to lightly.
For the past few years around this time, we've found ourselves in far flung corners of the world – Argentina, Honduras and Spain – where Christmas is a much more muted event. Where decorations aren't brought out in October, where roads don't congest around shopping malls for the entire month of December. Where it exists in a more pure form of it's intent – celebrating the birth of a religious icon and spending time with loved ones.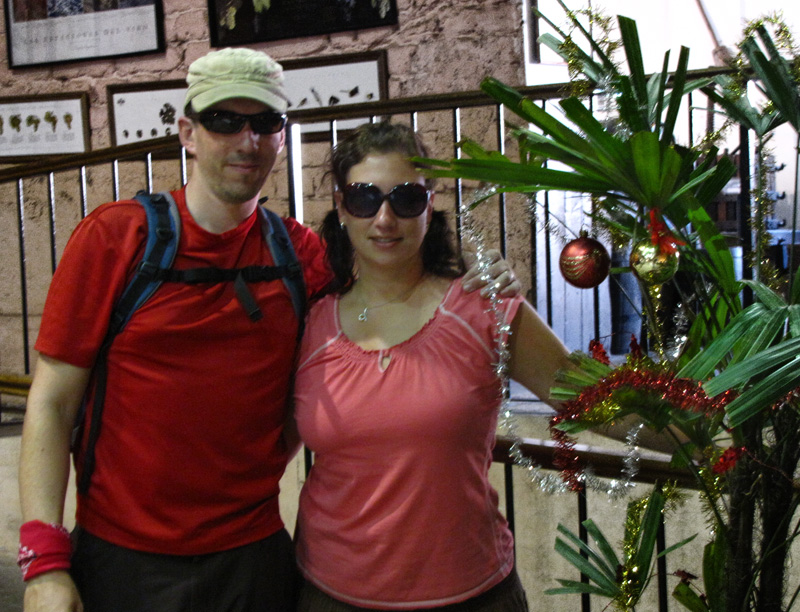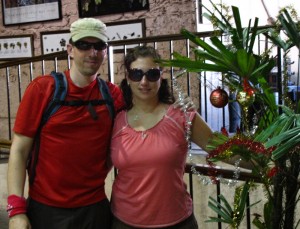 I didn't miss the spectacle of festivity as I thought I would – instead, we both found it quite refreshing. Not only for the break from hearing a heavy rotation of Elvis Presley carols, or the fact that we aren't religious in the slightest, but why should valued family gatherings be restricted to one time of the year anyways? (As avid travelers who visit family at odd times of the year, we have since come to create our own annual celebrations.)
Because the thing is, when Christmas is 'blown out' as it is in North America, when there is the expectation to create one perfect day in which spiritual homage and family love conquers all, gigantic pressure comes with it. We've previously spent oodles of money on celebrating that one day, and on useless 'things' in the name of giving and defining affection, when in reality most gifts were shortly forgotten or discarded. After the tragic events or our lives in 2007, both our families came together to drown in masses of gifts, spirits and fatty/salty/buttery treats, believing they would numb and heal us from what occurred in the twelve preceding months, but all I noticed were the two empty chairs. And the following year, when this hostess spent weeks preparing for a 'perfect' Christmas, hurtful comments by family members about the inadequacy of dinner ensured that I spent most of that blessed time hiding or crying.
Incidentally, it was that first Christmas that sprouted our idea to travel. The second ensured that there was no turning back. It was not out of any lessening of love for our family members, but instead the hard reality that our family, as we once knew it, would never be the same. It was time for us to make our own traditions.
So we hit the road. And when Decembers rolled around, we found ourselves in places that celebrate the season in a much more subtle way. A few red bows could be seen decorating a few trees, but it was far from the overwhelming customs we had known. (Also, it should be noted, that we were sometimes in places where the amount we previously spent on one Christmas meal could have fed a local family for several months.) We held onto a few traditions – we bought a bottle of Baileys to enjoy in our coffee, and we made sure to watch a couple of our favorite seasonal movies. We called home to recount with our nephew and nieces everything that Santa brought for them. But that was it. And we were happy.
Being back in North America for this December, and in a house just begging to be decked out in holiday decor, I tried. Or at least, I wanted to try – I wanted to see if I could recapture or rekindle the Christmas spirit of my youth. I wanted to remember those times as a kid when I would get swept up in the warmth of the season, bewitched by sparkling decorations and repetitive music.
Last week, Pete and I went on a tree-hunting mission. He had never cut down his own, but I had many times in my youth – this would be the start of the rekindling I had hoped for. We found one and then another and another, each time we quickly established a reason to dismiss it. Too thin, too tall, too short. After awhile it became quite discouraging – we were both irritating and irritated. We returned home.
I sat on the couch and cried, and couldn't explain why. All I knew was that I didn't care if we had a tree, I didn't care of decorations, or anything else that had to do with the holiday season. A swarm of humbugs encircled both of us.
Those previous stresses and ill memories obviously still lingered. Or, it was my subconscious way of rebelling against this return to a former lifestyle. All I know is that since I released myself of the pressure of decorating, purchasing, or any other typical Christmas traditions, there have been no more tears. Relief has been granted, a heavy burden purged from my mind.
Over three years on the road, three years of bucking tradition in all facets of a "normal" life, and we still struggle with releasing ourselves from certain expectations. And while we are happy for those that do find solace and joy in the season, we think we are finally okay with proclaiming that it just isn't for us. There will be no tree and no presents to unwrap – having learned long ago that demonstrations of our love and affection for each other need not be encased in a pretty bow. We'll sip our Baileys and enjoy watching Elf, we'll connect with our families, but that will be it.
And that will be our very merry Christmas.