So, there's this pile of "stuff" that sits in a storage unit, leased in our name.
The unit is jammed full, but it doesn't contain a whole lot compared to what we used to have. It's got a cozy king size bed, everything from our kitchen, and some favorite pieces of furniture we couldn't bear to part with when we decided to take the big leap to travel.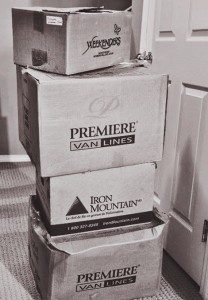 We kept it all for one big reason: what if we decided to come back right away? What if we hated Bolivia, we couldn't learn Spanish, or we got too homesick? We left with no idea that this vagabonding lifestyle would take hold and change us as much as it did, and leaving us constantly yearning for more.
And so we kept that stuff as our safeguard, shoved it all into a small storage place, and forgot about it. Three years later, everything is still sitting there, stagnant and useless.
We are now determined to ditch it. Save for some personal items, all of that 'stuff' has become a giant burden to the tune of $120 a month.
Before putting it all up for sale, we went through it one more time, pulling out those personal things that we wanted to keep. What we have left is piled in a corner on my sister's basement floor.
I do find it quite interesting what we decided to keep.
There are pictures, of course, representing us in another time, another place. Stuffed animals from my youth. Memorabilia from our sporting days: old curling sweaters and baseball trophies. My eighth grade report card.
Things that belonged to my sister. I didn't keep the solid wood side table that I purchased years ago, but I kept the similar one that was hers. I have no specific memories attached to it, but, it was hers.
Gifts. I didn't keep the wrought iron candle holder that I purchased years ago, but I kept the similar one that my aunt bought us as a wedding gift. Because it was from her. Things that we found in stores, that can't-miss-bargain, or those it-would-look-cute-on-my-bookshelf type items were so easily tossed in comparison.
But even the memorabilia and other "stuff" are all still useless, really, not serving their intended purpose and continuing to only take up space and collect dust. Somehow there is comfort in their existence though, this material connection to our past, even if we only look at it every few years.
So we're not quite possession-less, and this is as close as we'll likely get. The larger burden will hopefully soon be lifted, our final step towards total freedom taken.
*****
Many thanks again to my sister Teri at oneartfulvoice.blogspot.com for use of her photographs. Oh, and for storing our stuff!