There is one thing that Pete and I know for sure. When/If we decide to settle down at some point in our lives, it will be near water, and one of our first purchases will be two kayaks. A bed, a table – all of that will have to wait.  Must have kayaks.  Must get on water.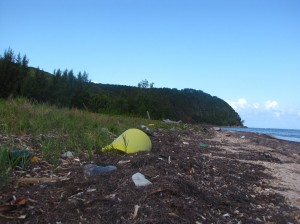 Perhaps though, we need to learn to be more considerate of everyone else in this world who may not think so highly of this activity.   Maybe next time we should consider that our friends might not fully enjoy rising at 6:30am, driving an hour to the east end of Roatán, and then paddling around the end of the island for a total of 8 miles.
Perhaps. Or maybe our dear friends will just have to accept this obsession of ours, paddle along happily, and NOT try to make a break for Cuba when we're not looking (sneaky girls)!
We all did have reason to groan though, as we stumbled back to our starting point eight hours after departure – sunburnt, bug bitten, and some of us feeling pain in muscles that we didn't even know existed. But despite all the pain, the pleasure of this unique adventure was sweet. Groans turned to grins as we relaxed beach side with cold beers in hand and reflected on all that we saw.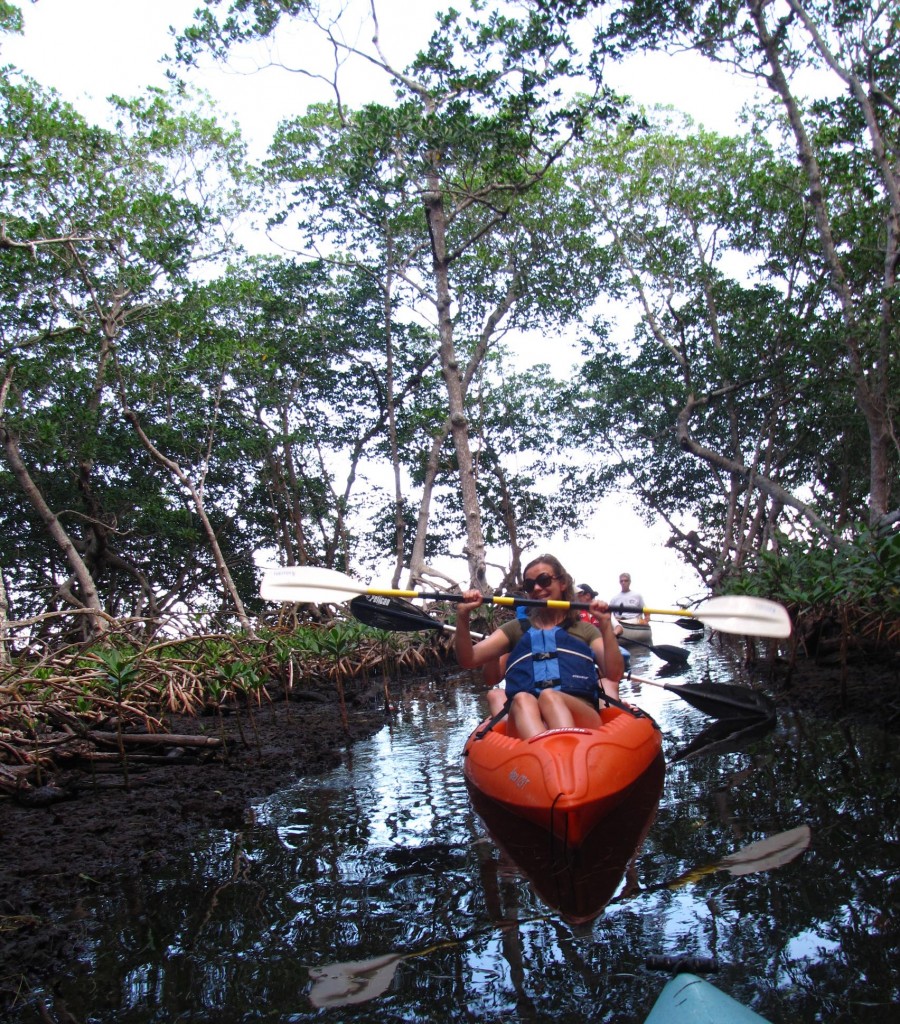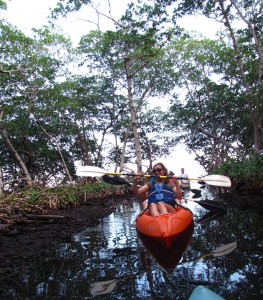 Our day started with a tough stretch of paddling, as our guide from the Camp Bay Adventure Lodge led us for almost 2 hour in the waves and against light winds to get around the corner of a bay and onto our first beach and rest stop. And unfortunately this site did not make all the effort seem worthwhile – as what we hoped to be our first glimpse of completely unspoiled white sand was instead littered with water logged garbage, likely having made it's way to shore from the reported huge garbage patch in the Atlantic, or alleged discarded trash from cruise ships. Efforts have been made to clean up the mess on this shore, only to have more return a short while later.
After a quick rest stop, we were eager to get off of the littered beach and back on the water to proceed to the main attraction – a tiny manmade canal through a mangrove forest. At parts it was barely wide enough for the kayaks to pass through, and the depth of water was such that we had to dig the paddle into the thick mud to propel ourselves forward, being careful to avoid several puffer fish that darted around the kayaks as we passed. The roots of the grey and haunting trees spread out all along the edges, and tiny tree crabs darted up and down their limbs.
The canal was constructed as the beginning step to build a much wider path to interior natural lagoons that the constructor had planned to make into a marina. After making the first cut through the trees and swampy water, the government shut down the plan. For environmental reasons? We hope so, as these mangroves are very important to the health of the massive Mesoamerican Barrier Reef that encircles the island. (Or was it to hold out for more money? Maybe.  Time will tell.)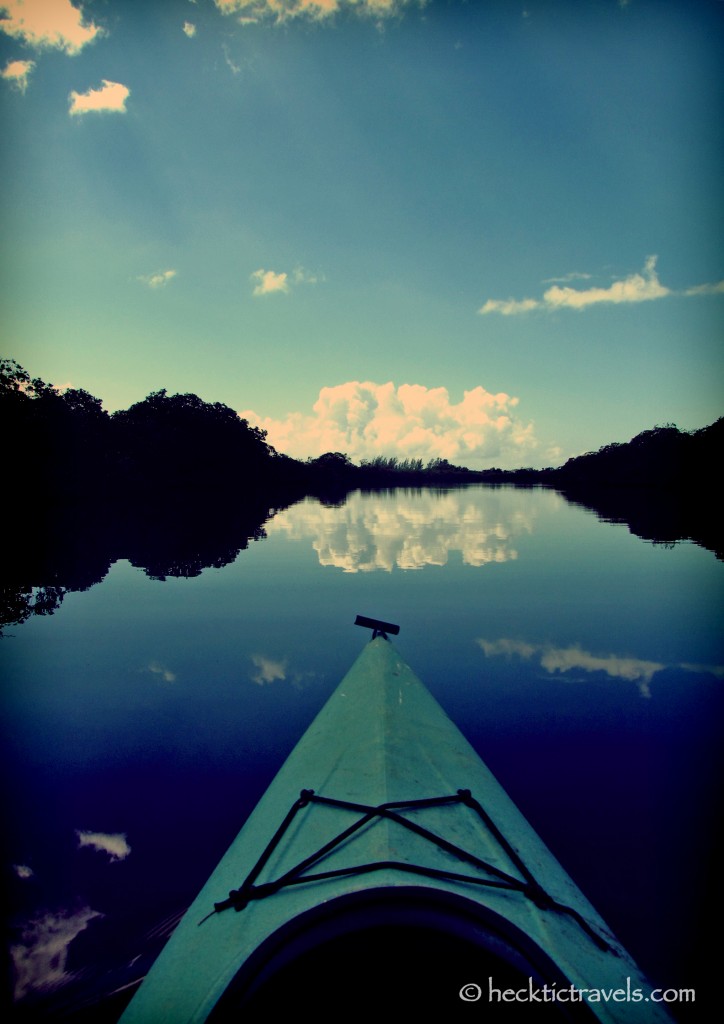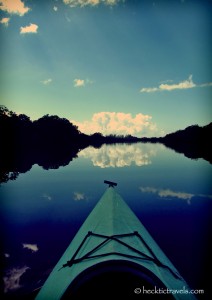 After squeezing our way through the slim passage, we came upon a beautifully still lagoon – offering the type of gliding that these two kayak enthusiasts hope for – where the only ripple in the still water is from our own path. The water became a perfect mirror to the sky above. We basked in the bright sun as we were out from the protection of the mangrove trees, and made our way slowly through the lagoon, skimming the edge to peer at cauliflower shaped jelly fish situated along the shallower bottom.  Once through the lagoon we headed back into the ocean water to find a beach to stop on for lunch.
I've visited a lot of beaches in my life, and this one was unlike any other I've seen. As it was on a tiny island just off of Roatan, it was undisturbed by any form of human traffic and as a result it was busy with aquatic traffic. We had to be careful with every step, as there was an unending stream of baby crabs along the shore. Without their own shells for protection, they lugged around whatever others they could find to be their home – many of them seemingly struggling to carry the burden of their too-large houses. So many parallels ran through our minds with reference to our lives before giving everything up to travel: Were the crabs trying to keep up with the crustacean-Joneses?  Did their excessive mortgages for such a big house not allow them the funds to travel?  Was that big home a bitch to clean?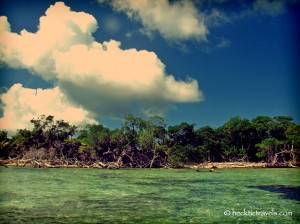 At one point Pete picked up what he thought was an empty conch shell only to realize that it wasn't so empty – a slimy tentacle reached out and touched his arm!  When he placed it back down on the edge of the water, the arm (leg?) emerged again to flip itself over and be back into the water. Kinda creepy, but totally cool, and worth about a dozen pictures on our camera.
Back onto the water after lunch, and this time we paddled just a small way off shore and jumped off the kayaks to enjoy some snorkeling on small coral heads. While it wasn't as impressive as our previous Roatan snorkeling experience, we still got to see a myriad of cool fish, including our new favourite – a small navy blue fish with brilliant neon blue polka dots – which we followed around for quite awhile.  ($5 to whoever can tell me the name of that one!)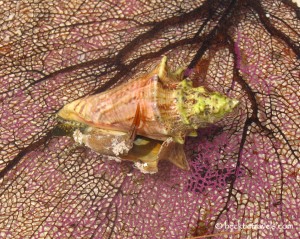 After about an hour in the warm bath water, we crawled back into the kayaks and began our way down the watery road to our starting point. Whereas our guide had told us this would be the easiest part of the route due to the usual accompanying winds in the afternoon, they had shifted to be in our face, making for a long trip after an already exhausting day!  Pete and I reveled in it, getting good bouts of exercise in with the paddles, and drifting along slowly when we needed a break.
Must have kayaks.  Must get on water. Another fabulous day on Roatán!