The clock is quickly tickin' down – less than one month and we are bound for the Emerald Isle.  We are excited to explore top Ireland attractions, live in some cooler temperatures (I am sitting in a pile of sweat as I write this), and of course, beginning a new culinary adventure.
Lately, we've been endeavoring to learn a little about our new home.  A careful balance must be struck when gathering information though – we don't really like to learn too much about a new place (preferring instead to experience it first hand), but we don't want to go in totally blind either.
So, in order to just find out what we are really dying to know, we decided to do most of our research by approaching several people who have already been there.  Not only do we want to learn about what to see/do/eat and other important Ireland facts, but we also want to confirm or dispel some of the stereotypes about the Irish.
Our Ireland Facts experts:
Question #1 – What is your favorite spot in all of Ireland?
Craig & Caz: After living there for a year and exploring all over that's a very tough question. We could mention a dozen things. And it depends on what your interests are.  But since you asked for one place, and Ireland is known for it's scenery, we will go for the Dingle Peninsula. We found the scenery driving around the Dingle Peninsular more spectacular and beautiful than the Ring of Kerry. And the town of Dingle is great too.
The reason the Ring of Kerry is more well known, I believe, is because the roads around Dingle Peninsular are narrower so the big tour buses can't navigate them, so they focus on the Ring of Kerry. But if you have time do both.
Jade & Bob: Our favorite spot would definitely be Howth. It's a small fishing village about 30 minutes by train south of Dublin. It's the perfect mix of coastline, gorgeous mountains and small town. Oh, and they had the BEST ice cream, believe it or not!
Christine: I'm a big city kind of girl, so I'll have to stick with Dublin. I loved the energy there, and the friendliness of the people is unbeatable. The countryside was absolutely beautiful though!
Suzy: Teelin in County Donegal is a nothing town, but it is where my family is from and somewhere so green, you can't believe it's real. There is only a pub and a few homes scattered about, but Teelin sits on one of the most spectacular vistas in Ireland, Slieve League. Slieve League is said to be the highest sea cliffs in Europe, but they don't receive the attention the Cliffs of Moher do.
Taryn: This is hard. The City of Galway 'cause it's walkable and cool and a university town and has a great central square, and it's a jump off point for Connemara. Connemara is a postcard, for reals. It's what you picture when you go to Ireland. But I also LOVED Belfast. It was just – cool, and less touristy.  It was being reinvigorated and has a really interesting story.
Ed note: I LOVE that everyone gave different answers!  We've got some serious exploring to do!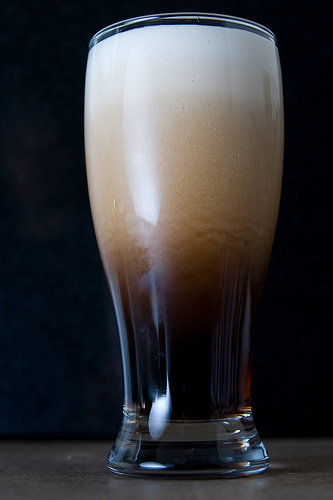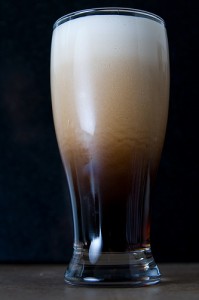 QUESTION #2 – We're Canadian, so we can usually hold our own in a drinking contest with most people. We're a little scared to go drink-to-drink with the Irish though. What can we expect during an evening booze-fest?
Craig & Caz: It's true the Irish love a drink, and a pub is basically their second home and rain, hail or shine you won't be without company. You can expect a cozy atmosphere with lot's of tales, plenty of good craic as they like to say, and if you're lucky enough some traditional Irish music.
Enjoy a few pints of Guinness, but our favorite is actually Kilkenny.
Jade & Bob: The thing is- the drinking never really starts and never really stops! I feel like people were drinking the whole day! Good luck- it seems like the Irish have it down pat!
Christine: Drinking with the Irish is a whole different beast. What can you expect?  To wake up feeling shitty.
Suzy: The Irish pub scene is a place that doesn't make sense but strangely does at the same time. I would park myself in pubs, only to find my fellow drinkers covered all ages. From babies to crusty old men, you can expect the Irish pub to keep you entertained even without all of the pints. Although, all of the pints help.
Taryn: Um, wow, for music lovers you're kind of out of the loop here. See: Irish Drinking Song by Dropkick Murphys (We'll drink and drink and drink and drink and drink and drink and fight). See also: Dublin Lullaby by Captain Tractor (We're gonna drink and fight and drink and fight and drink and fight some more). So belly up to the bar, but put tinfoil on your hockey gloves first there, eh?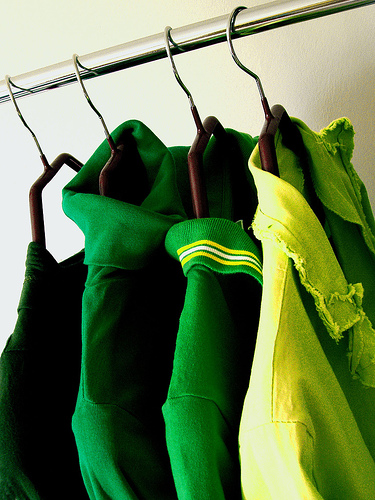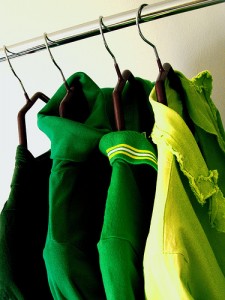 QUESTION #3 – Help us with our packing list…do we have to wear emerald green clothing all the time, or are different shades allowed?
Craig & Caz: Don't worry about the emerald green. Go with whatever keeps you warm and dry 🙂
Jade & Bob: Pack what you are comfortable in – if you are going into the countryside, I'd wear more kicking around clothes so you don't worry if they get dirty if you decide to stop and climb a mountain! For the city, I'd take it up a notch. Especially in some of the trendier areas of town, it seemed like everyone had really good fashion sense.
Suzy: I was in Ireland in March, but it always seemed like the Irish were wearing dark colors. I had this bright floral scarf that I always felt stood out in the sea of black. However you must pack a good trench coat, umbrella and scarves. That was my uniform in Ireland.
Taryn: Only Emerald or you'll end up the subject of the songs in (see answer to #3). You can borrow my emerald ballet flats and scrunchie to take with you.
QUESTION #4 – How many people named "Paddy" or "Mary" will we meet in a typical day?
Craig & Caz: One or two, with a few Sean's and Molly's thrown in.
Jade & Bob: I didn't meet anyone named Paddy – haha- but definitely a lot of Marys and Patricks!!
Christine: Haha, I didn't meet any Paddys or Marys during my week-long jaunt there!
Taryn: Eleventy hundred. But stay the hell away from "Paddy O'Mary". Dude was a scary bruiser.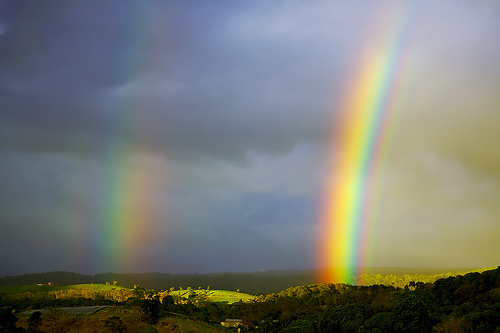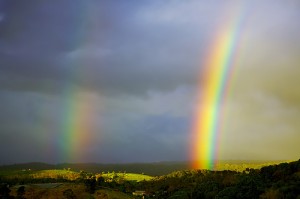 QUESTION #5 – Where is the best place to go for a leprechaun sighting?
Craig & Caz: Any pub in Ireland, most often spotted on St Paddy's Day. And ya gotta watch the little buggers, they'll keep topping up your pints and get you very drunk 🙂
Jade & Bob: Unfortunately we didn't see a pot of gold – anywhere – even though we were looking pretty hard! If you find one, please share with us!
Christine: Apparently Temple Bar. Met a friendly "lad" there who was short, red-haired and kept bringing my aunt and I (liquid) gold: beer!
Suzy: Somewhere over the rainbow. Driving through Ireland I actually saw a double rainbow. I tried to chase it to the end, but it disappeared before I could get to the pot of gold.
Taryn: Funny, a guy in a bar in Dublin told me he had one to show me and then started to unbutton….huh. So THAT'S why my hubby decked him.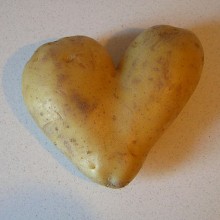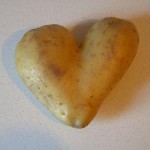 QUESTION #6 – During our two month stay, we are going to attempt to make as many dishes as possible with potatoes. What is your favorite potato-y dish?
Craig & Caz: Potato and leak soup.
Jade & Bob: Bob loves tuna on a baked potato and BBQ sauce on top! I've tried it before and it's a very interesting combo, for sure!
Christine: Beef and Guinness stew…mmm.
Suzy: You can't go wrong with fish and chips. I think I sampled a few dozen across the country. I seemed to crave potato wedges and the catch of the day on those gray, rainy days. If you can have a pint with it, I imagine any potato infused dish will suffice.
Taryn: Potato ice cream floats. Mash potatoes, freeze, drop into a Guinness.
Ed. note: Oh Taryn.  I miss you.  xo