With winter fast approaching, we knew we wouldn't have many opportunities to enjoy kayaking on the lake outside our front door, but we were eager to get out as much as possible.
At first we glided along unimpeded, poking around corners and discovering inlets to further waters. We were unfortunately forced to return each time not by tired arms, but by the cold. Small patches of ice started to creep in from the shoreline, as did our disappointment at our tiny window of opportunity.
Little did we know, however, that the freezing part would actually be the most fun. On what we knew would be our last time on the lake, we certainly made the most of it.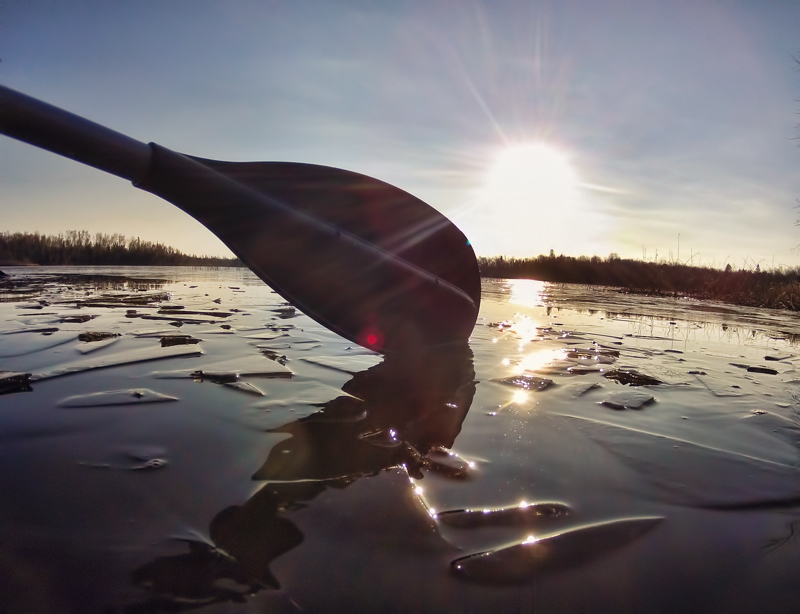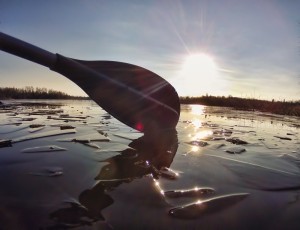 We smashed like riotous youths, driving small cracks in the ice and then pounding again until water burst through and chunks broke apart. We took running glides at it, paddling with force until at the ice edge, then letting the nose of the kayak break through. Over and over we did this, ignoring our own frozen extremities, until we had made ourselves a small lagoon off shore with which to tranquilly float.
It was quite peaceful. We gently scooped our paddles in to the sparkling brown water and swirled the ice around us to propel slowly forward. The tiny fragments tinkled like wind chimes as they bounced off of each other.
We found exquisite beauty in our rampant carnage glistening in the sun, and deep serenity in the quiet and still waters when we momentarily laid our paddles to rest.
BUT THEN WE WENT BACK TO SMASHING!!
(Yes, we are 12.)