–
HOT HOUSE-SITS
Here is a sampling of some HOT house-sits available around the world!
(Current as of March 15, 2020)
IN CONSIDERATION OF THE COVID-19 PANDEMIC, PLEASE BE MINDFUL OF THE MANY TRAVEL RESTRICTIONS THAT CURRENTLY EXIST WORLDWIDE.
SEE THIS ARTICLE FOR MORE INFORMATION ON HOUSE-SITTING DURING THIS TIME.
Dates: September 18 to October 16, 2020
Housesit a big house close to the city center of Caen while taking care of two cats and two turtles. You'll be staying in a big family-sized house with a beautiful garden where you can chill whenever you feel like doing so. Caen's downtown is just three km away, so getting groceries and visiting all the local historical places is going to be very easy.
"This post is in the owner's first language of French, please use the translate tool."

Dates: June 25 to September 13, 2020
Stay in a nice apartment with a beautiful terrace and enjoy amazing views of the Caribbean while looking after six rescued cats. The cats are free to stay outside or inside whenever they want. There is a lot of stuff to do on the island, this is a great place for water sports like swimming, scuba diving or snorkeling; if you like nature and rainforests, there are plenty of trails you can go explore.
"This post is in the owner's first language of French, please use the translate tool."
Dates: April 05 to May 15, 2020
Spend a month giving love to a lovely Golden Retriever in the outskirts of Oaxaca in a cozy house in the middle of nature. The dog needs her food to be cooked once every four days, to be walked once a day and to give her your company as much as possible. There are also some plants that must be taken care of as well. Oaxaca is one of the most important cultural centers in Mexico and has many interesting sites like ancient ruins, museums, markets, and shops.

Dates: April 27 to May 24, 2020
Live in a semi-isolated house close to the ocean accompanied by two friendly dogs: Victorino and Pablito. Just give them plenty of water, feed them and play with them and you'll be free to enjoy the place and chill around in a calm and peaceful place. There is an Isuzu Trooper you'll have at your disposal so you can explore the region more easily. La Amistad National Park is very close, so you can go explore and take short hikes while being in this Housesit.

Dates: May 01 to June 01, 2020
Enjoy mountains and nature in this beautiful property next to Prescott National Forest. This place is also a little isolated but you'll be in the good company of two dogs, cats, horses, and chickens. The job is to make sure everyone keeps well-fed, and walk the dogs. This house-sit is a great location for hikers, nature lovers, and people who like calmness in general.

Availability: April 06, 2020; Short Term: Six Weeks
Look after Gizmo and Leo the cats in Kuala Lumpur's downtown in a nice fancy large apartment with tennis court, swimming pool, and A/C. Just keep the house clean and tidy, take care of the cats and clean their litter box for a couple of weeks and you'll have plenty of time to explore Malaysia's capital city. The city is huge and has a vast history and has many landmarks like the Petronas Towers, Merdeka Square, and the National Museum.

Dates: April 29 to May 16, 2020
Visit the home of the Cirque Du Soleil and the second-largest French-speaking city of the world; take care of Jericho the cat and stay in a beautiful flat in a centric neighborhood in the amazing city of Montreal. The tasks include feeding Jericho twice a day with dry food, replenish his water, vacuum the couch, and water the plants. You will have plenty of time to explore the city and visit its main attractions.
Want to know why we LOVE this method of travel so much?
Then check out this collection of our best house-sits stories!
In order to help you get started…don't forget that we've bundled up
all our best house-sitting tips into a jam-packed eBook…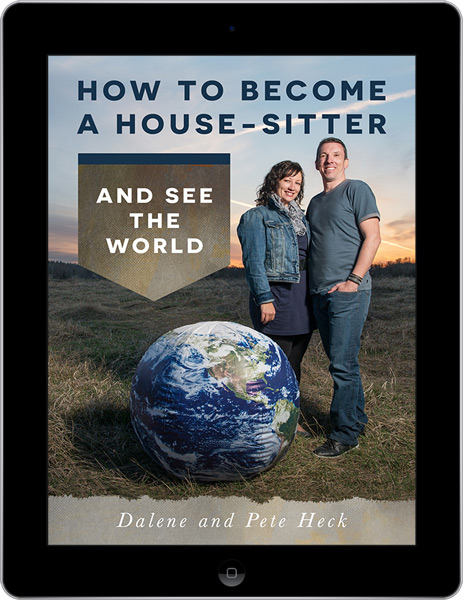 Get your copy now for just $14.99
Kindle Version | eReader Version | PDF Version

"This will open your eyes to a whole new way of life! This book should be THE reference source for anyone considering living in another country. Dalene and Pete give every detail as to how to put your toes in the water to experience different parts of the world before jumping in all the way!"
Lynn C. | Florida, USA