HOT HOUSE-SITS
Here is a sampling of some HOT house-sits available around the world!
(Current as of January 26, 2020)
Dates: February 07 to February 18, 2020
Take care of two cats close to the historic downtown of Riga. The place is located five kilometres away from the city, it's a great place to enjoy both nature and city life. The cats are very independent, you only need to feed them and hug then a couple of times every day. The house is very nice, has a sauna and a shared garden; there are many places, both natural and historical, that you can visit during your free time.

Dates: July 11 to September 12, 2020
Stay in an amazing house surrounded by beautiful beaches, paradisiacal islands and impressive caves. The property is big and comfortable, it has three rooms (one for the cats) a swimming pool and a big garden. The job is to take care of a family of three cats, the mother and her two kittens; they don't require any specific attention, just the regular. During your free time, you can either relax in the house or explore all the amazing places nearby.
"This post is in the owner's first language of French, please use the translate tool."

Dates: February 27 to March 08, 2020
Explore a medieval town in southeast France while taking care of one dog and one cat. The property is located in the countryside and is big and comfortable, with a big garden and a swimming pool is great for a couple or someone who likes peace and quietness. The house is fifteen minutes away from downtown; if you want to visit other cities like Lyon or Grenoble, it will be easier for you to have a car. Nevertheless, the train station is very close.
"This post is in the owner's first language of French, please use the translate tool."

Dates: February 23 to March 02, 2020
Live American History in this very well located property in Virginia, very close to Washington DC. You'll have to keep the apartment clean and tidy while taking care of two Schnauzers. The place has three rooms in total so you'll have plenty of spare time to visit many of historical American landmarks. Alexandria's downtown dates back to the XVIII and XIX century, so it'll worth visiting in case you're attracted to American History.

Dates: February 15 to April 15, 2020
House-Sit a property in the middle of the mountains surrounded by forests and wonderful overlooks of Lake Thun. The job is basically to take care of six cats, feed them, clean the litter boxes and play with them once in a while. You'll also have to water the plants and keep the house clean. In your free time, you can enjoy hiking and biking in the woods nearby.

Availability: March 21, 2020; Long Term: Seven Months
Experience the Spanish traditional countryside in a beautiful XIX century mill-house with a well-equipped gym and a swimming pool. You can enjoy the traditional Spanish culture while working as a host for the people that visit the property on a regular basis. You'll also be taking care of a couple of birds and some fish. There are plenty of gardens and green areas that need to be watered during the summer as well. Notice that this is a paid position.

Dates: March 23 to March 28, 2020
Visit Malta and stay close to La Valeta while taking care of a nice Dog on this gorgeous island. This a short house-sit but you'll have time to explore the historic streets of La Valeta. The dog is a large breed and needs to be fed and walked every day; its better if you have experience with dogs. The house has a traditional Mediterranean style and is very comfortable.
Want to know why we LOVE this method of travel so much?
Then check out this collection of our best house-sits stories!
In order to help you get started…don't forget that we've bundled up
all our best house-sitting tips into a jam-packed eBook…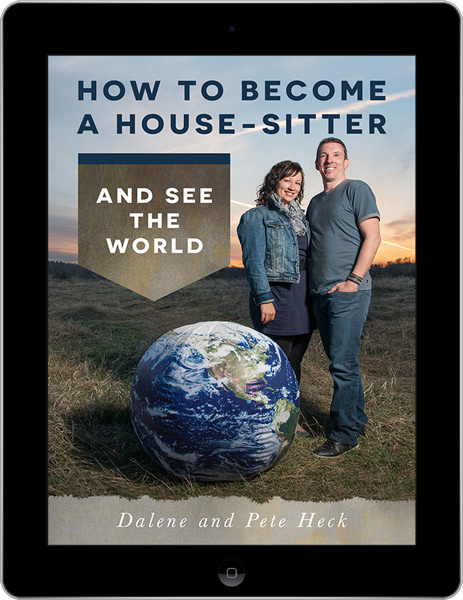 Get your copy now for just $14.99
Kindle Version | eReader Version | PDF Version

"This will open your eyes to a whole new way of life! This book should be THE reference source for anyone considering living in another country. Dalene and Pete give every detail as to how to put your toes in the water to experience different parts of the world before jumping in all the way!"
Lynn C. | Florida, USA