HOT HOUSE-SITS
Here is a sampling of some HOT house-sits available around the world!
(Current as of February 18, 2019)
Dates: April 17 2019 to April 30 2019
Little house in the mountains, full of books and with amazing views. There are two young cats and a lovely 6 month husky, they are all adopted. The owners look for the house sitter or house sitters to go outside with him at least once every three days. The cats are low maintenance, just feeding them and cleaning the sandbox.

Dates: May 01, 2019 to May 15, 2019
This is a beautiful apartment on a fun and familiar area close to the bus stop, shops and restaurants. There are two dogs, Darwin and Freud, and an independent cat, Moustache.  This post is in the owner's first language of French, please use the translate tool.

Dates: April 29, 2019 to June 09, 2019
On this assignment, you will be in charge of a 16 pound mixed breed terrier dog, approximately 8-9 years (rescue). He loves walks and playing ball.  There is also a cat that doesn't like the dog but may seek you out for a few pats once or twice a day.
Dates: July 25, 2019 to August 11, 2019
The house has stunning views of the mountains, a plunge pool, loads of places to relax in the sunshine or shade. There is a lively mixed breed young dog who is incredibly friendly and playful, two affectionate but independent cats who only need feeding and a bit of love, and 20 chickens that need a quick clean out each day, food and water.

Dates: April 20, 2019 to May 04, 2019
The owners are looking for reliable animal lovers who enjoy country life and treat pets & home as if it was theirs. The responsibilities are to feed dogs & cats, cuddle, play, let dogs out (fenced dog run on property), keep the house tidy, welcome to garden if they want to.

Dates: April 14, 2019 for 10-12 days
The owner needs someone responsible and cat-experienced to stay with Harry, a Maine Coon cat mix. Harry is an easy and entertaining companion, but he's an indoor ONLY cat (and sneaky) so you need to be clever and conscientious enough to make certain he stays inside.

Dates: May 15, 2019 to August 31, 2019
This is an amazing opportunity for a writer's getaway or a retreat for those who wish to "disconnect". There is a lovely super friendly Tibetan terrier (small shaggy white dog) who is 8 years old and very calm and quiet, as well as a pair of chicken and turkey.
Want to know why we LOVE this method of travel so much?
Then check out this collection of our best house sitting stories!
In order to help you get started…don't forget that we've bundled up
all our best house-sitting tips into a jam-packed eBook…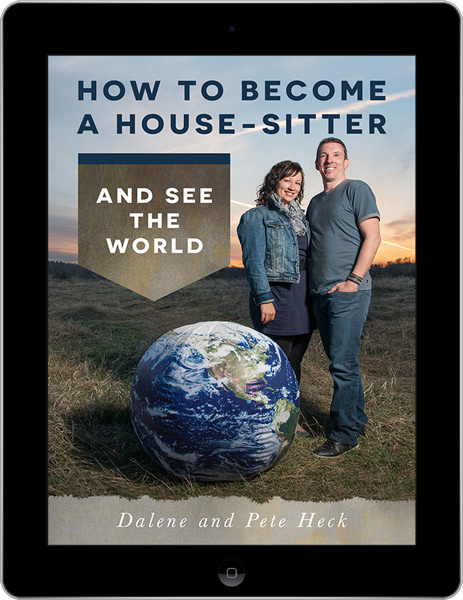 get your copy now for just $14.99
Kindle Version | eReader Version | PDF Version

"This will open your eyes to a whole new way of life! This book should be THE reference source for anyone considering living in another country. Dalene and Pete give every detail as to how to put your toes in the water to experience different parts of the world before jumping in all the way!"
Lynn C. | Florida, USA