HOT HOUSE-SITS
Here is a sampling of some HOT house-sits available around the world!
(Current as of December 10, 2018)
Dates: December 27, 2018 to January 27, 2019
An ideal winter retreat for a writer or artist, or a couple. The house is an old traditional stone house, no TV, plenty of books, and a pottery wheel – ideal for someone who likes being in a quiet place. You can also enjoy the company of 2 dogs and a cat.

Dates: December 02, 2018 to January 01, 2019
Sunny and bright flat with a terrace in Barcelona, perfect for 1 person or a couple. The owner is looking to find someone who can feed his slightly overweight cat with small portions and also water his plants.

Dates: December 28, 2018 to February 28, 2019
What the owners expect from the house sitters is to feed the dogs twice a day, take them out for a walk once a day and allow the to sleep in the house. They're all between 3 and 5 years old and are in perfect health.
Dates: December 23, 2018 to January 02, 2018
Perfect opportunity for a person who enjoys cats, dogs and birds. There is air conditioning in the open plan living/dining/kitchen area and floor fans elsewhere; also a spa. The house is located close to major shops and a wide variety of restaurants and cafes as well as parks and walking trails. Our home is comfortable and clean.

Dates:  February 01, 2019 to Februrary 28, 2019
The owners are looking for mature, non smoking, , single or couple who have horse experience. Must have own vehicle as well to take care of 2 horses.
Dates: February 09, 2019 for two weeks
The owners are in need of a sitter to take care of a 3 story home and 2 healthy ten year old cats. Part of the tasks include feeding 2 cats twice daily and giving them loving attention, keeping litter box and surrounding area clean.
Dates: December 26, 2018 to December 30, 2018
Owners would like to find a reliable person to bring love and attention to their dog and cats for only a few days. You would need a 4 wheel drive.
Want to know why we LOVE this method of travel so much?
Then check out this collection of our best house sitting stories!
In order to help you get started…don't forget that we've bundled up
all our best house-sitting tips into a jam-packed eBook…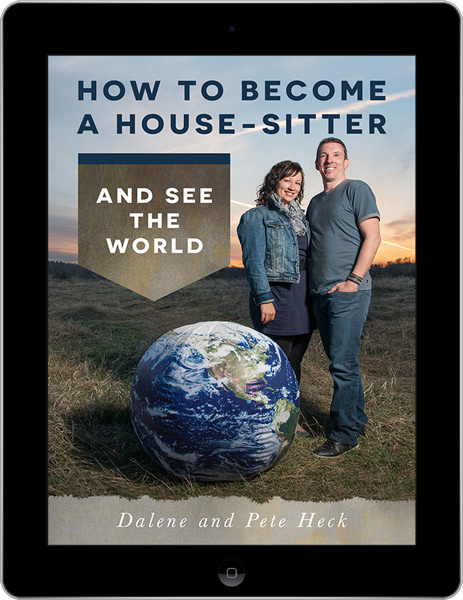 get your copy now for just $14.99
Kindle Version | eReader Version | PDF Version

"This will open your eyes to a whole new way of life! This book should be THE reference source for anyone considering living in another country. Dalene and Pete give every detail as to how to put your toes in the water to experience different parts of the world before jumping in all the way!"
Lynn C. | Florida, USA