HOT HOUSE-SITS
Here is a sampling of some HOT house-sits available around the world!
(Current as of June 17, 2019)
Dates: June 28 to July 02, 2019
Stay at a traditional Portuguese stone house 20 minutes outside Lisbon in a quiet rural area. The owners prefer a single person or a couple since the dog doesn't do well with kids.

Dates: June 26 to August 01, 2019
Stay at a beautiful house in Isla Mujeres with a jungle like garden and a rooftop with ocean view. There is a gardener coming every week so you will only have to keep the house clean and to look after 3 dogs and a cat.

Dates: August 10 to August 17, 2019
The owners are looking for a pet sitter ( preferably a retired/traveling couple). They have two dogs that need a lot of love and food. You will stay in a spacious villa with a garden in a quiet suburb on the borders of Gubrah & Azaiba.

Dates: June 15 to June 20, 2019
During this assignment, you will stay in a  two bedroom modern house located near the city center. In it also lives bob the cat who needs someone to care, food but most importantly medicine every day.

Dates: July 01 to December 28, 2019
The house is situated on 6 acres of land. There is a live-in caretaker on the property in a small casita removed from the main house that will help. Your task as a house sitter will be to take care of the three dogs and cat.

Starts on May 01 and lasts 6 months
The house is surrounded by wood and meadows, under the mountain range. This means that you get a ton of hiking options. The owners have 7 cats and 2 dogs that you will have to care for.

Dates: June 20 to June 24, 2019
The owner is looking for an animal lover who is willing to take care of four dogs at the same time. The home has a large garden and is located in a residential area from where you reach the center of London in an hour.
Want to know why we LOVE this method of travel so much?
Then check out this collection of our best house-sits stories!
In order to help you get started…don't forget that we've bundled up
all our best house-sitting tips into a jam-packed eBook…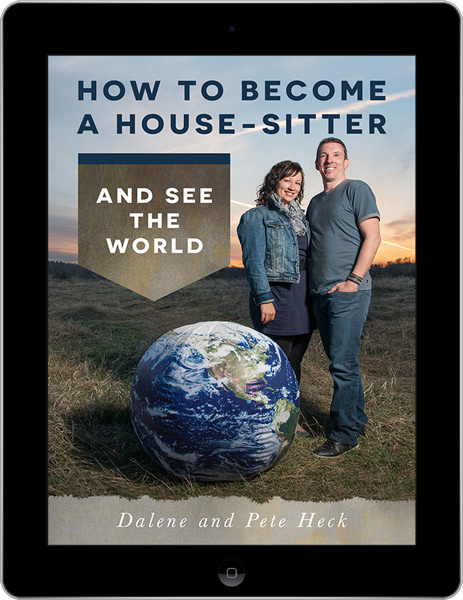 get your copy now for just $14.99
Kindle Version | eReader Version | PDF Version

"This will open your eyes to a whole new way of life! This book should be THE reference source for anyone considering living in another country. Dalene and Pete give every detail as to how to put your toes in the water to experience different parts of the world before jumping in all the way!"
Lynn C. | Florida, USA