HOT HOUSE-SITS
Here is a sampling of some HOT house-sits available around the world!
(Current as of December 09, 2019)
Dates: January 17 to February 02, 2020
Take care of a house cat in Istambul, he needs attention during the evenings but during the day you can enjoy all the History and Culture this beautiful city has to offer. The apartment is close to everything you need: bus terminal, metro station, shops, theaters, etc.

Dates: December 18 to January 08, 2020
Visit the amazing city-state of Singapore while taking care of Franz and Pablo. Both are cats, Franz is very young but Pablo not so much. They need a lot of attention but they may grant you permission to hang out by yourself if you do your job well.

Dates: December 15 to February 29, 2020
Raven is a 3-year-old rescue dog who needs help with all her doggy needs. She lives in a quiet apartment complex with all amenities;  she likes nature, walks, and naps besides the attention and cuddles every dog likes.

Dates: December 21 to January 04, 2020
Take care of two mid-size dogs in the Canadian West-Coast. The place is located in Vancouver's outskirts, close to mountains, forests, and the ocean.  You will have to keep the dogs clean and fed, besides doing some house maintenance as well.

Dates: December 19 to January 08, 2020
Enjoy the traditional villa lifestyle in Spain. You'll have to take care of the owner's two dogs, and the parrot. House-sitting is required as well.

Dates: Starts on Dec 31, 2019, and lasts for 2 to 4 months.
Have a great time in Mississipi gulf coast while hanging around with a 12-year-old English Bull Terrier. She has some special needs due to her age but if you like the Ocean, you will find plenty of cool stuff to do around.

Dates: April 01 to April 07, 2020
Help is needed for a variety of animals: cows, horses, and dogs.  The place is 8 km away from the closest town so its perfect if you like rural life.
Want to know why we LOVE this method of travel so much?
Then check out this collection of our best house-sits stories!
In order to help you get started…don't forget that we've bundled up
all our best house-sitting tips into a jam-packed eBook…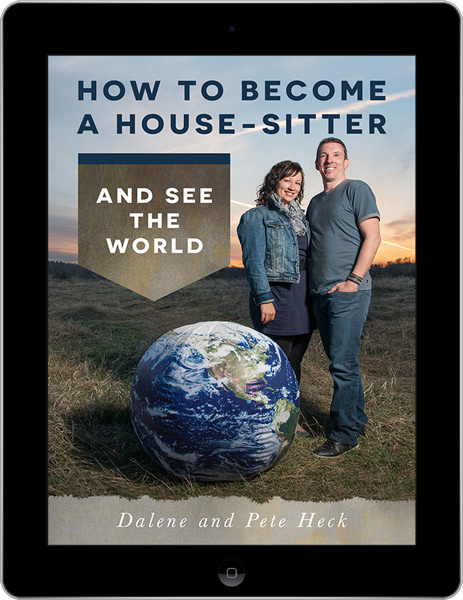 get your copy now for just $14.99
Kindle Version | eReader Version | PDF Version

"This will open your eyes to a whole new way of life! This book should be THE reference source for anyone considering living in another country. Dalene and Pete give every detail as to how to put your toes in the water to experience different parts of the world before jumping in all the way!"
Lynn C. | Florida, USA