Recently I wrote about being a "Human Time Capsule" and how after over two years of traveling, I find myself lost when it comes to popular culture. References to Charlie Sheen "winning" and the latest fashion trends are easily lost on me. So to, is anything related to reality TV, of which I admit to having had some devotion to in my former life.
So when Pete came up with the idea to host our own "Honduras' Next Top Tour Guide" contest, I was all for it. If we can't watch it, why not create it ourselves?
We kept it small in scope, and asked some of the kids at the Sandy Bay Alternative School to wow us with entries on the best thing to do in Roatán. The winner (and a friend) would be taken with us on whatever activity we decided on.
We had entries from several students, but one clearly stood out from the rest as having the chops to make an excellent tour guide. Chakra entered a number of times, each time with appealing reasons as to why he should be chosen:
"How's that for excitement…huh?"
"Wanna feel true testosterone?"
Spoken like a true, cheesy, tour guide. And, how could we not pick the kid that has done not one, but two, Lady Gaga dance routines at school functions. This kid has got charisma!
We had our winner!
A couple of weeks ago, Chakra and his friend Brooklyn joined us at The Pirates of the Caribbean canopy tour, located on the east end of Roatan, and laying claim to the longest single zipline in Latin America, at over 1,800 feet in length. It was a fun afternoon of flying over treetops on a perfect, breezy island day!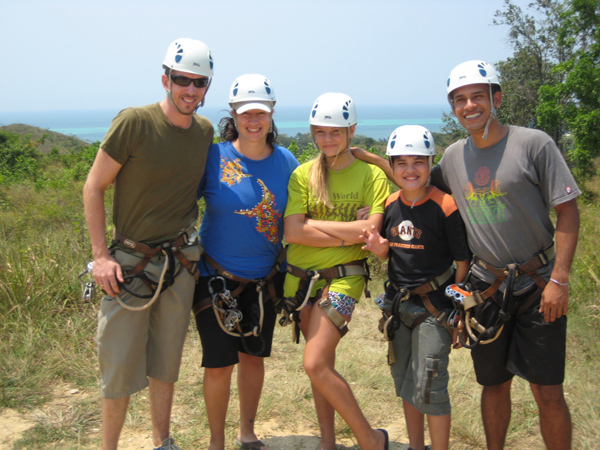 Our fearless jungle swinging crew – Pete, me, Brooklyn, Chakra and Carlos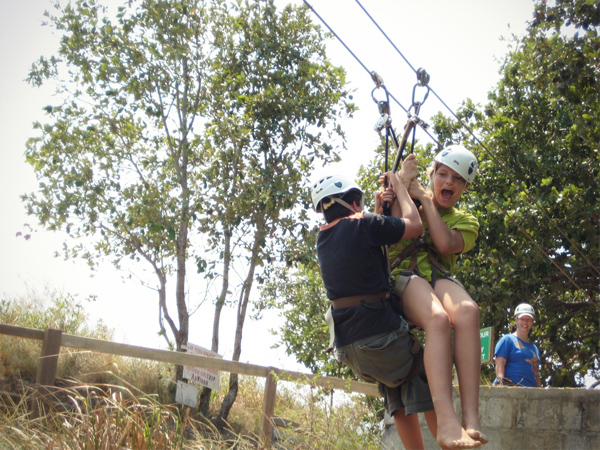 The ziplines were built on an angle such that they would automatically slow you down at the end.  For the first few lines, Chakra and Brooklyn had to jump together to combine their weight to make it to the end.  It was hilarious to watch as they bickered and screamed at each other almost the whole way across.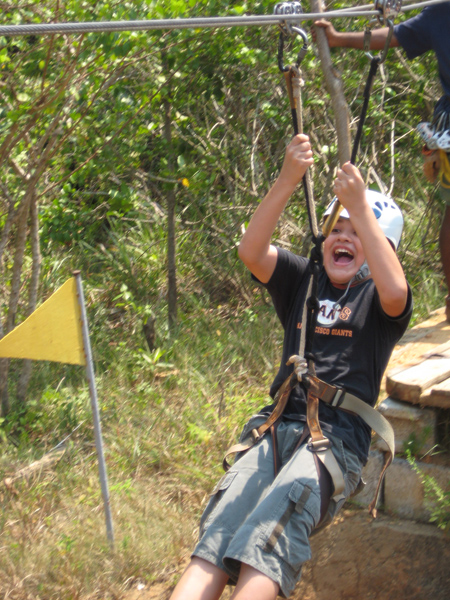 Chakra – the fearless tour guide!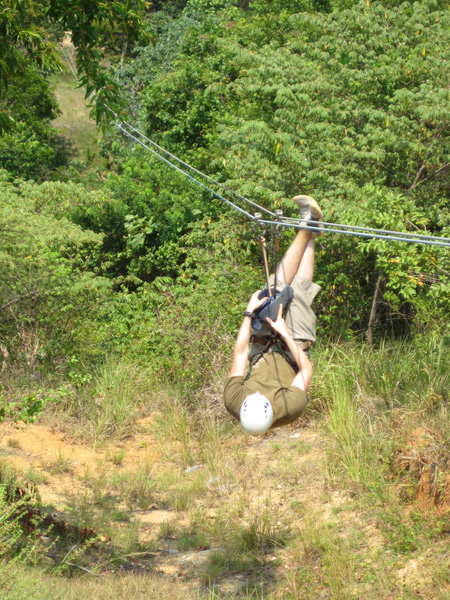 Pete, showing off his skills and flying upside down.
Huge thanks to Carlos Melgar for hooking us up with the canopy tour! Check out this Facebook group –  Roatan Sights and Attractions – for all kinds of info on what to do in Roatan, plus many giveaways!
To see more of our canopy tour photos and other memories of Roatán click on our Facebook Fan Page and become a member.