A quote from the movie In Bruges, about Belgium's sixth biggest city of Bruges…
"It's a fairytale town, isn't it? How's a fairytale town not somebody's f#$@ing thing?"
To answer the question posed so eloquently, a fairytale town is not somebody's f#$@ing thing when it is crawling with too many f#$@ing tourists.
Which is why, when faced with the decision of whether to hop off the train in lovely (and less touristy) Ghent, or continue on to see the fairytale town of Bruges, we got off in Ghent.
********
"Bruges is the belle, Ghent is the rebel," our canal boat captain stated as he careened along the narrow waterway in the center, pointing out his bustling city's small faults on display, as opposed to the pristine Bruges, which has been scrubbed clean of flaws for the many tourists. "But you really should go to Bruges as it is beautiful. It's like an outdoor museum."
While Pete and I were disappointed in the bad weather that precluded us spending a good amount of time in both, sometimes tough choices have to be made when traveling. It was hard to stay too disappointed, however, when faced with the scene before us.
Centuries old, colorful buildings lined cobble stone streets. Animated conversations between patrons at the busy streetside cafes. Old fashioned bicycles whipped by with overflowing baskets. Young adults of the university city sat with their feet dangling over the side of raised sidewalks while they chatted and laughed freely. The sun's rays added some spark to the narrow waterway laid out before us.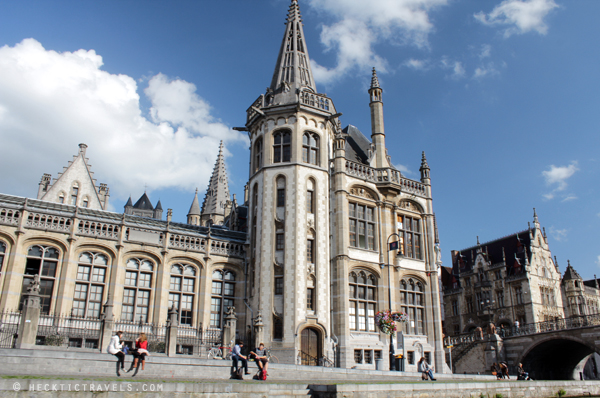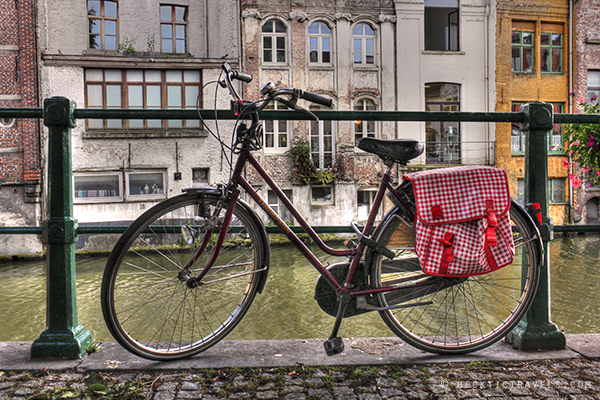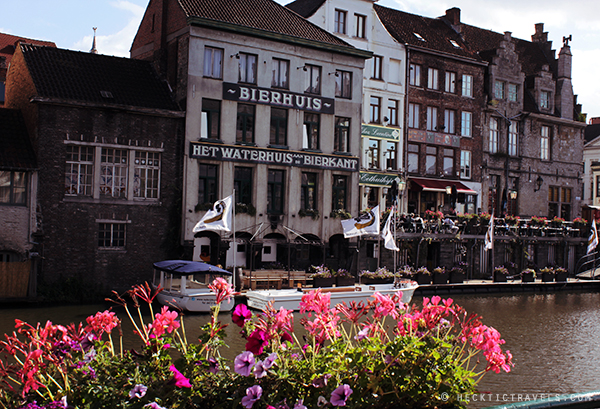 Some plaque somewhere told us that this has been rated as the best canal view in all of Europe.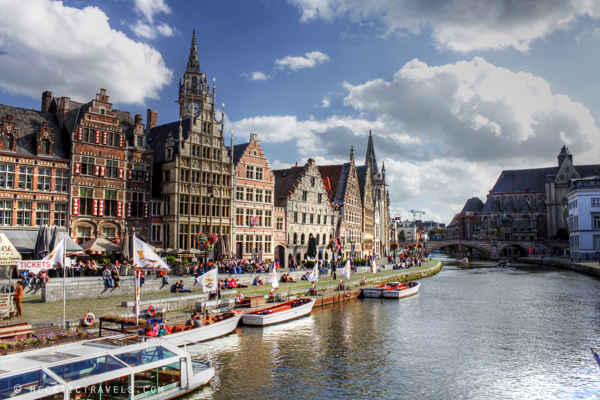 It was clear that our tour guide was in love with his city, even though he told tales of travels to foreign lands, he clearly enjoyed his time back in his hometown. In our tour-for-two, I sat with my head on Pete's shoulder, listening, but not. I chose to soak in more of the atmosphere then the chatter.
It was a lovely way to end our one-day expedition. Below spotty blue skies and spontaneous shocks of warmth from the sun, we had spent the day wandering through the city with a walking tour map in hand.
The map lead us to the magnificent Saint Bavo Cathedral, home to impressive art pieces from Rubens and the van Eyck brothers.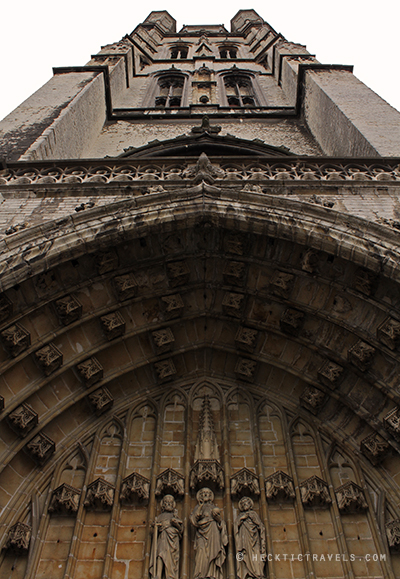 We wound around narrow streets away from the center, each step narrated by music from a local academy that spilled out onto one otherwise deserted street.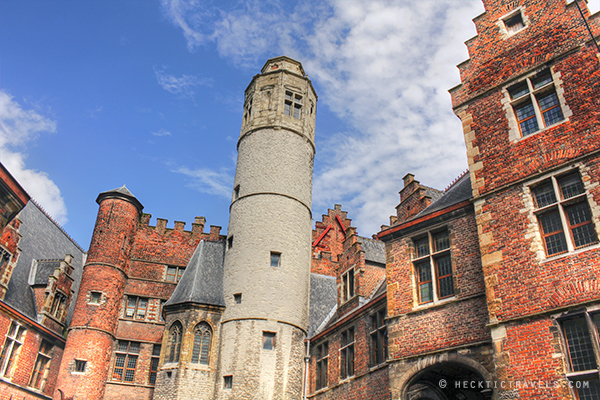 To the Korenmarkt we went, stopping to eat our pre-made lunches in the shadow of a towering statue.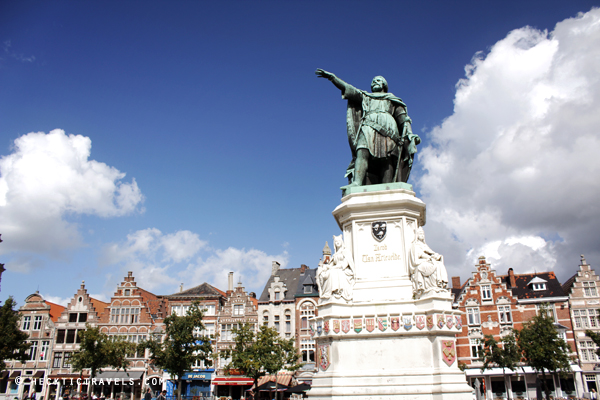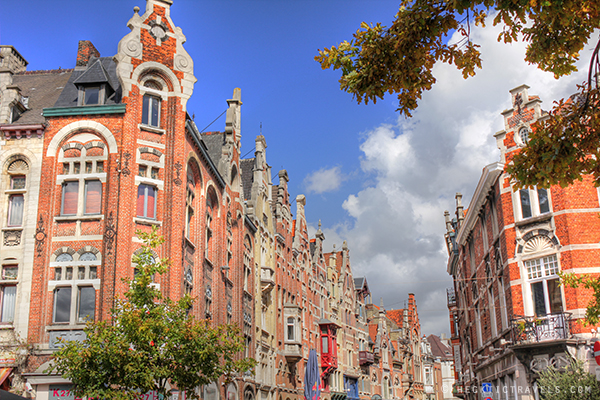 The Gravensteen Castle is now a museum of weaponry and torture which made for an interesting (and spooky) visit.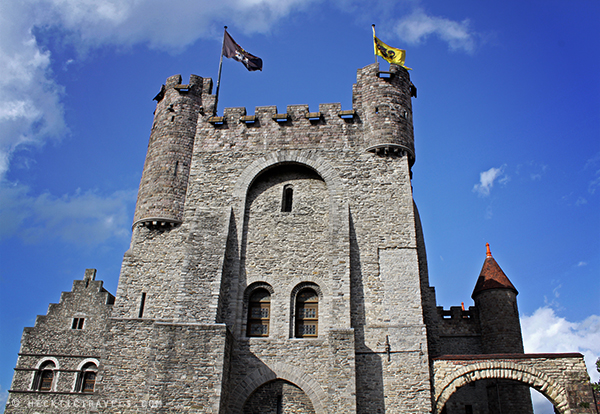 We even got pulled into a sort-of flash mob put together by a group of students working on a school project.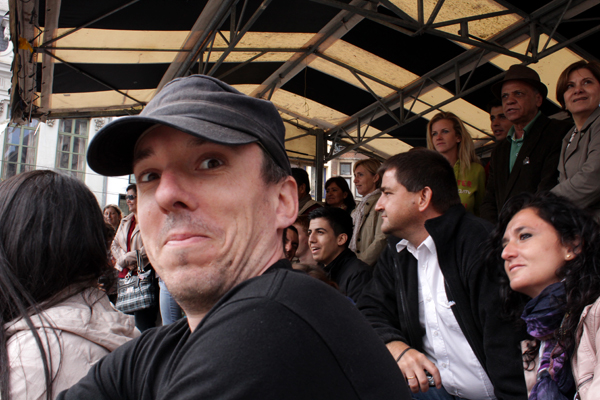 We sampled hot chocolate made from real melted chocolate mixed with steamed milk. We stopped for beer and sangria and enjoyed a good dose of people watching. We followed two foreign, well-dressed tots who hilariously tried to pull their own wheeled suitcases behind them on bumpy streets as their parents sauntered ahead.
It wasn't a tourist-free destination, but it is one of those places that held a wee surprise for us around every corner, without any pushing and shoving to see it.
And for us, that is a f#$@ing fairytale.