I grew up in the Great White North of Canada, which typically meant eight months of winter. And my idea of a *perfect* winter day involved lots of blankets, a roaring fire, and free-flowing hot cocoa. Basically, total avoidance of what was going on outside.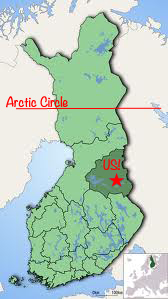 The Finns, on the other hand, appreciate the winter season like none we have ever met. And so when we egged them on, saying: "Give us your best shot, Finland," well, they did.
If you're a fan on our Facebook page and followed along on the trip, you got a taste of the freezing ringer that we were put through. On our flight out of Finland, we counted that we subjected ourselves to being submersed in outdoor bodies of water no less than 9 times.
(Might I remind you that we were in the Kainuu region of Finland, just a few hundred kilometers south of the Arctic Circle. Oh, and it was February.)
It was indeed a lot of fun though, even if said fun was accompanied by several girlish screams, a few scrapes and bruises, and the same long-johns being worn for five days in a row.
Nothing tells the story of extreme activities better than video! Consider the following a "trailer" of some of the things you'll see coming out on the blog in the next few weeks (complete with girlish screams, of course)…
This is: "The Winter Wild, in Finland"
We visited Finland as guests of Visit Finland and Wild Taiga, but as always, all opinions are our own.