Well, Uncle Cal, we brought out the big guns right off the bat.
Meet Dyanne – a 60 something, solo world traveler with an army of Uncle Calvin's to contend with.  She's had to do her share of explaining as she's jetted off to all corners of the world, and is about to embark on her greatest adventure yet that will see her permanently moving to a foreign land.
(If you're wondering who Uncle Calvin is and why he's important – find out here!)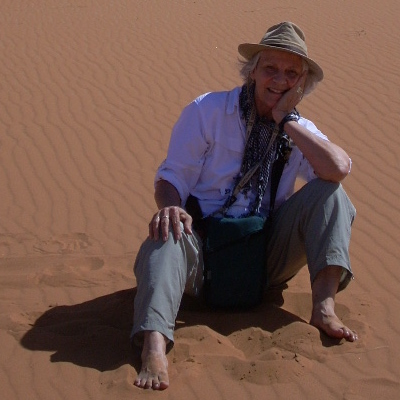 1. Thanks for doing this Dyanne!  Please tell us a little about yourself.
As a child, my family didn't travel much – the most exotic destination I can remember was camping in a forest preserve in Ely, Minnesota.  But my earliest hint that I might carry the wanderlust gene was when I was just 10 years old. Indeed, I trace my travel addiction back to a sappy tune called "You belong to Me" by Patsy Cline.  It was among my parents' favorites, but it was the lyrics that I believe placed a nomadic spell on my pubescent mind:
"See the pyramids along the Nile; Watch the sunrise on a tropic isle…" along with "Fly the ocean in a silver plane; See the jungle when it's wet with rain…"
Yep, it was that silver plane whizzing over that ocean, and those jungles and tropical isles that captured my 10 yr. old imagination, and led me on a lifelong lust for distant lands.
But it wasn't until years later as a single mom of two young daughters, that I was able to begin to fulfill my travel dreams.  For starters, we backpacked a summer in Mexico (when the girls were just 5 and 8 yrs. old).  Then I went back to school and as an undergrad I opted for a study abroad in France and Italy.  Again, dragging the girls along (by then ages 8 and 11), they went to French schools and we traipsed all over Europe for eight months.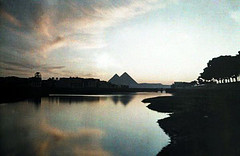 After they were grown, at 40 I tossed aside my Masters degree along with a great job – in favor of starting my own fledgling adventure travel company specializing in Belize (back when few had even HEARD of it) and Costa Rica.  From there it was all downhill. 😉  Dozens of trips throughout Central America, as well as Thailand, China, the Azores, Indonesia, etc.  And more recently, at the tender age of 60, I backpacked solo across South Africa and Mozambique for 6 weeks, rode a camel in the Sahara and… finally touched those "pyramids along the Nile" of my childhood dreams.
2. What are your current plans?
Trust that my many "Uncle Calvins" are surely shaking their virtual head in utter disbelief, 'cuz my next travel adventure will be the zaniest yet:  I'm soon going to MOVE lock, stock and barrel to… VIETNAM!
Actually, I don't know why it didn't occur to me sooner, but after a near lifetime of flitting 'round the globe for both work and pleasure, but of COURSE I'd not be content at 60+ to simply retire to a life of bingo here in the States.  So the next chapter begins in just 6 months, when I move to some g-forsaken rice paddy in Vietnam to teach EFL.  That's what my TravelnLass blog is all about – the dreaming, the planning, the moving and all that lies ahead as a perpetual expat.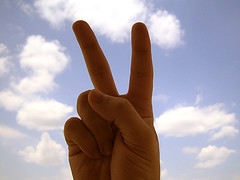 3. Why do you believe travel is important?
Not to sound dramatic, but I honestly believe that traveling can – in some small smidge of a way – foster World Peace. I mean, it seems fear of "Others" and the "We vs. Them" syndrome is what keeps us lobbing bullets at one another.  But the truth is, we all cry the same tears, and grin when we feel joy.  Bottom line, we're all kin of a sort –  equal members of a single family (the human race).  And those of us who travel are ambassadors for each of our native lands. The more we can mingle with our cousins 'round the globe, the less we fear one another, and the more we understand our fellow citizens of the world.  Indeed, I named my "Imagine" travel company after John Lennon's song for good reason: "Imagine all the people; Living life in peace."
4. How has travel changed you, or, what do you expect to gain from your upcoming travels?
Each and every new land that I explore changes me a bit, and happily reminds me once again, how I (and my native land) are but a tiny chunk of the diversity among the fascinating peoples of this wondrous Planet.  A mere speck of sand on the global beach.  My travels have definitely opened my mind to different ways of doing things (incl. political, economical and social policies like education, health care, women's rights, micro-lending, etc.), and bolstered my capacity for compassion. Above all, travel humbles me, and never ceases to put all the big and little worries of life into perspective.
The truth is, once you've looked up at the moon on the other side of the globe, you'll never gaze at the moon in your own back yard quite the same again.  For that same moon likewise shines down on all the peoples of the earth as they sleep in mud huts and skyscrapers alike.  You've been there.  You've chatted with the people under that same moon.  You'll never forget.
5. Tell us about your "Uncle Calvin".
Oh my, I have many "Uncle Calvins" in my life.  Indeed I seem to be ever knee-deep in them!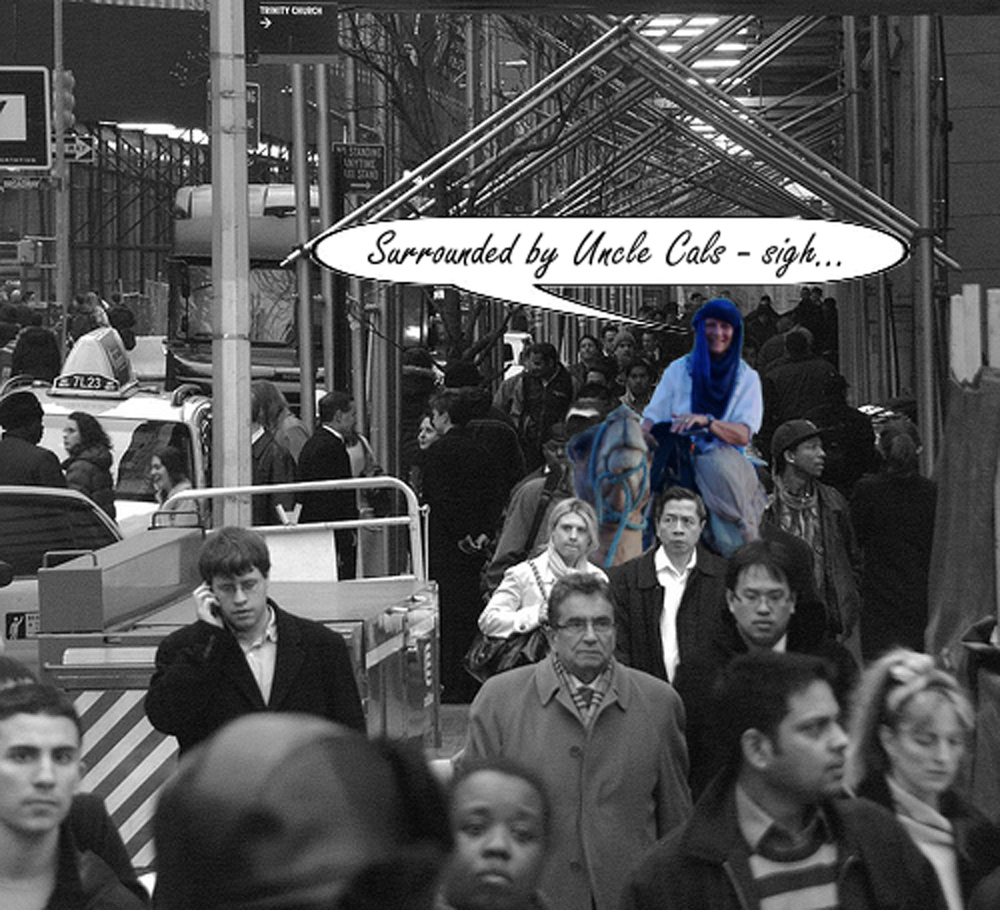 My own family and close friends have long accepted that I'm a tad nuts, and they now kindly humor me in whatever new travel scheme I happen to dream up.  But most every other acquaintance I bump into neatly falls into one of two categories:  Half truly believe I'm certifiable.  Dangerously reckless even.  And no doubt will meet with some g-awful calamity whence I next step off a plane.  Sadly, these folks are hopelessly lost, and nothing I say will persuade them that my travels aren't an irresponsible death-wish.  Needless to say, from this flavor of "Uncle Cal", I steer decidedly clear.
And the other half of my "Uncle Cals"?  The refrain that we travelers so often (confoundedly) hear:  "Oh, you are sooooo lucky!"  To which I can only reply: "Uh, mere 'luck' has nothing to do with it.  Traveling the globe is not based on luck or how rich you are.  It's based entirely on how much you want it (and thus how many lattes and fancy car payments you're willing to trade off to do it.) Ah but the sublime rewards!  The suh-weetest, and most rare rewards of travel – utterly priceless!"
6. Help us draft a letter to our Uncle Calvin.  What do you say to someone who believes you are crazy for your decision to be a perpetual traveler?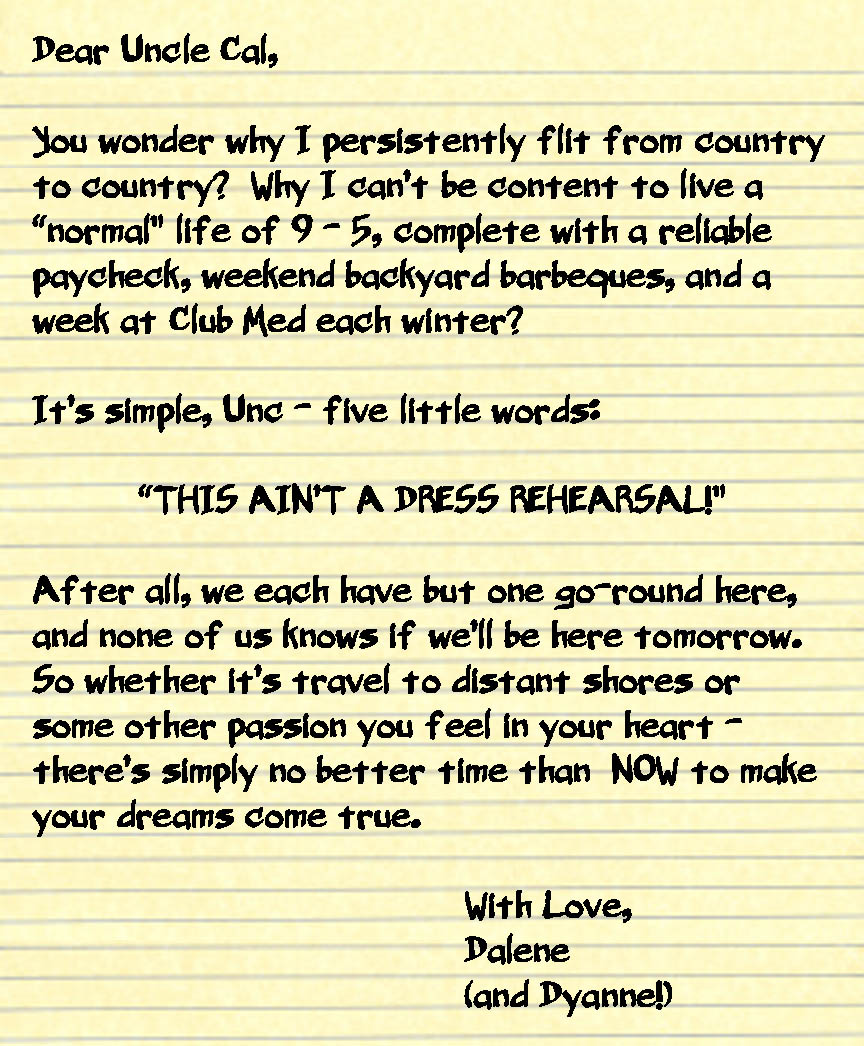 Follow Dyanne as she gets ready to begin her life as an ex-pat in Vietnam!
Her blog: www.travelnlass.com
On twitter: @travelnlass