It wasn't long ago that Pete and I stared at our small foreign car, with the driver's seat on the wrong other side of, and nervously bit our fingernails at the prospect of actually figuring out how to drive it.
Never mind changing gears with the left hand, shoulder checking over the right, and making left turns into the closest lane – the task of driving here is made infinitely more difficult by the fact that the roads are insanely narrow, some completely unmarked, and with horrible signage. For our first few outings we crawled along at a snail's pace, sweating at every turn and cursing every unfamiliar traffic circle (of which there are plenty).
But now, after one overnight roadtrip south to Ireland's second biggest city of Cork, we've got it all figured out.  And let me tell you…
We OWN this country.
Bring it, Ireland. Direct us onto your unmarked roads, hide your signs, even throw a dozen tractors in front of us blocking the view. We can take it. And tolls? We ain't payin' no stinkin' tolls. With Pete behind the wheel, and his eagle-eyed navigator behind the map, we'll just whip around the available side roads to avoid shelling out the few euros. So what if some of the roads are only slightly bigger than a bike path?  Any car coming from the other direction had better move out of our way.
Also, nice try Cork. What, with your twisty canals and one-way streets, you thought you could stop us from getting around, didn't you? We own you, too.
There-and-back in one piece, this road trip gave us oodles more confidence in our abilities to explore this country. Oh, and we happily saw some cool stuff while we were there too!
The Bells of Shandon

I feel sorry for anyone who lives near the St Anne Church in central Cork. For a small fee, annoying tourists (like us) can climb to the top and ring the church bells for all to hear. Despite our best efforts, we ain't musical folk, and also it didn't help that the "Fa" note on the bells was out of order. But that didn't stop us from trying. Our apologies, Corkonians.
St Anne's Church
Pete taking his turn.  He played "Amazing Grace" and "This Land Is My Land".  Kind of.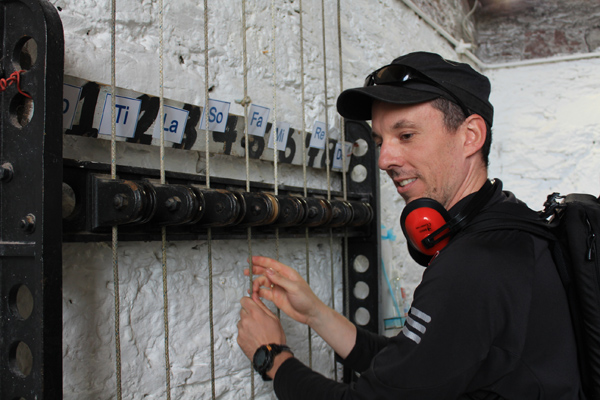 I played "Don't Cry For Me Argentina". Without the "Fa" (#5), it sounded nothing like it.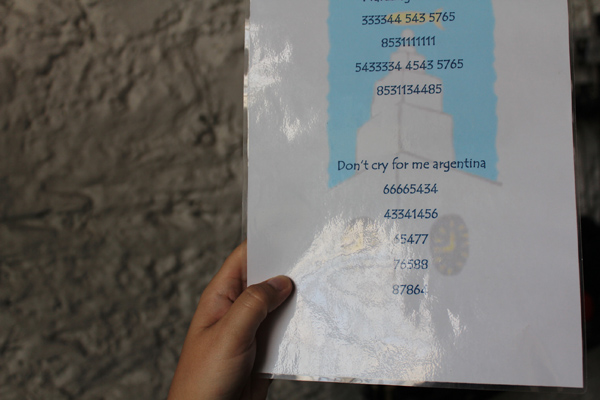 After playing the bells, we climbed to the top of the church and had wonderful views of Cork.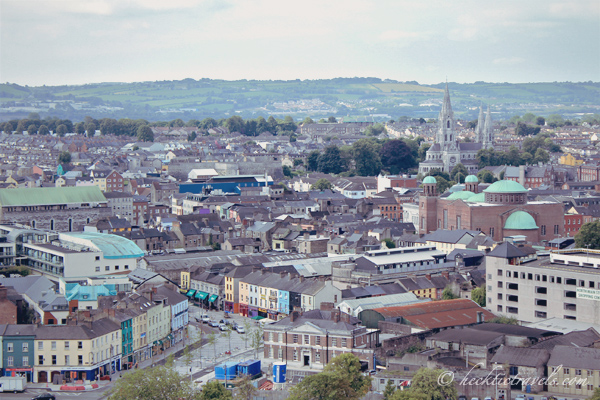 Cobh
Just a short distance east of Cork is an important seaport town that has played a big part in Irish, and world, history.  It served as the port of departure for the Titanic (the famed ship was actually built in Northern Ireland), and was also where many Irish boarded ships bound for North America, fleeing from famine and disease.  Of the 6 million people who emigrated, 2.5 million of them came from Cobh. While it was once a place to flee from, now it is a gorgeous little town to visit. (See these photos of Cobh to inspire you!)
This statue of Annie Moore sits outside the Cobh Heritage Center.  She was the first person processed at New York's Ellis Island when it opened in 1892.
Cobh is a beautiful town with colorful buildings built up the hillside.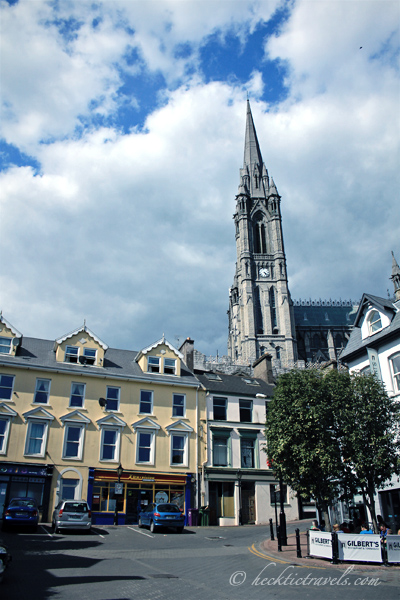 English Market
This popular market is one of the oldest of its kind in Europe, having served on its current site since 1788 surviving wars, famine, revolutions and economic turmoil.