In a Cave, on a Tube
Words and Photography by Dalene Heck
Nas and I joined the line of would-be floaters making their way to the rivers edge. Two stood men stood below us on a small platform at the bottom of a rough ramp, gently setting people out on the river.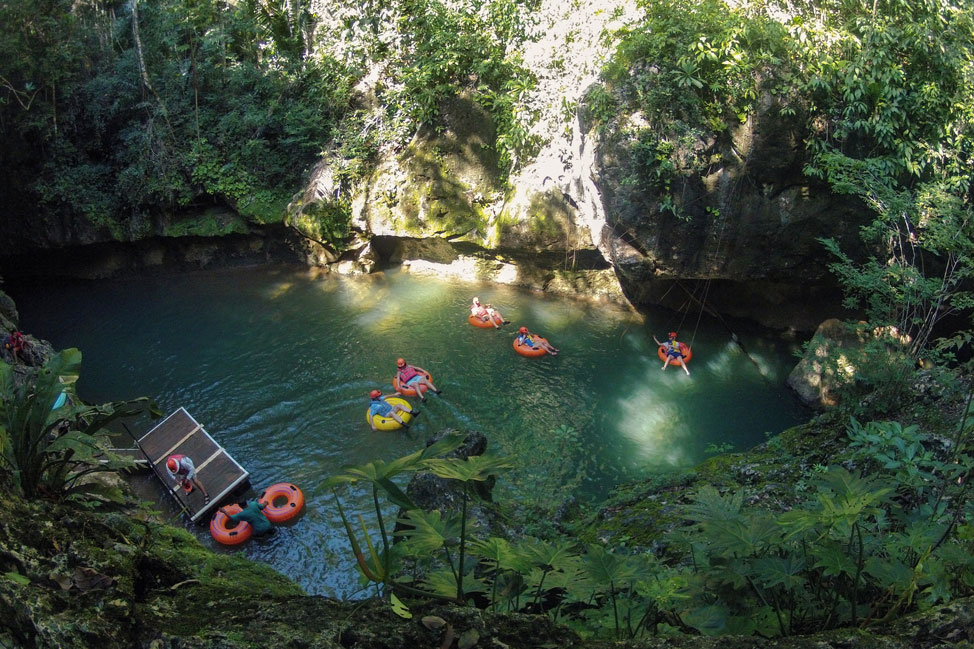 I grimaced. Choosing my activity for this day, unbeknownst to me, meant sharing my experience with hundreds, maybe even thousands, of day trippers from the four cruise ships in port at Belize City. All were being shepherded around in large groups, their tubes attached to one another and a guide paddling in front to move them along. Some were loud, boisterous even, and all were affixed with head lamps that lit up the otherwise pitch dark caves.
I was eager to break from the herd, and immediately accepted Nas' offer to instead paddle upstream in the mouth of another dark cave, one that would be ours and ours alone.
The others watched on quizzically as we began moving in the opposite direction. Soon we were away from their chatter and beams of light, and only our voices echoed in this passage of the Cave Branch River.
There are over seven miles of caves and lazy river, with archeological evidence indicating that the Mayans used it as a ceremonial center. We moved slowly upstream, seeing very little in the darkness. Without Pete to calm my fears of bats, bugs, and all things crawly, Nas had attached our tubes so that I wouldn't be venturing far on my own, and thankfully so. His paddling meant that I could take my time capturing images, and turn upwards to peer at the formations along the ceiling when I was brave enough to gaze upon the nether regions. I breathed a little easier as we crept to the end of that cave, and into an open space where light tucked around corners and shone spotlights on the murky green water.
"The water is so dirty from the recent rain", Nas said. Only at the water's edge could we see the array of colors in the shiny rocks at the bottom. We disembarked our tubes and I used mine as a padded seat while Nas began to tell the history of the Mayans and their caves. Little did I know that at that time, Pete was hearing a near identical rendition on his excursion.
Soon we were away from their chatter and beams of light, and only our voices echoed in this passage.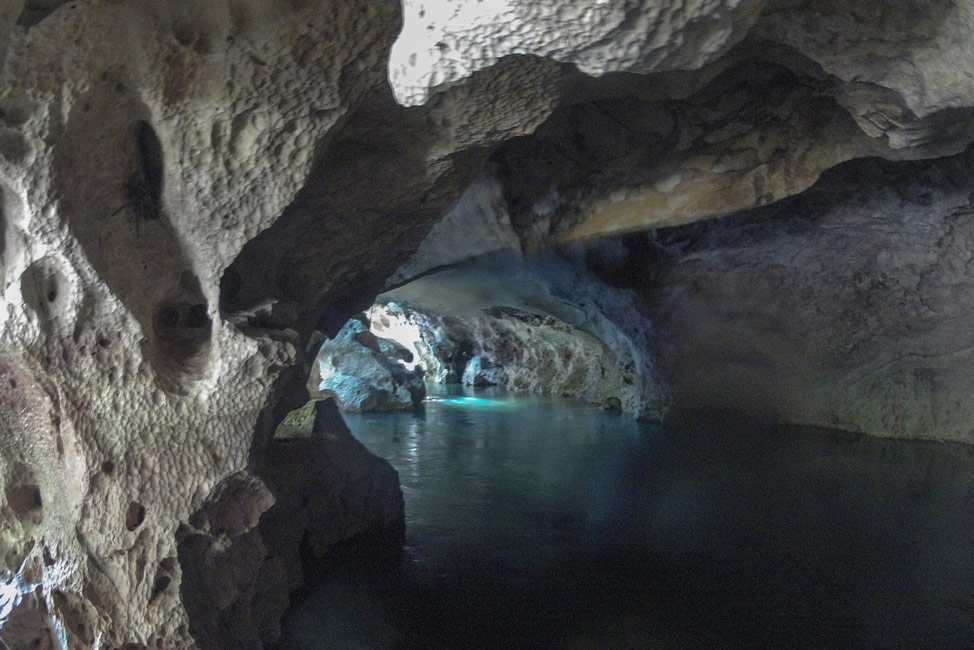 After an hour of being fully captivated by his tales, along with some from his own family, we returned to the tubes and shortly to the crowds downstream. I desired to retreat back to our own little enclave, but we instead managed to find our ways around them, and even made it a game to do so. We slowed down when big crowds were ahead, casually criss-crossing to kill time, or if we caught up, we paddled furiously to get by. Nas pulled over at one ledge and we got out, he helped me over slippery rocks to another small opening. We stood at a tiny cliff's edge with crystal clear water below.
"This is what they would call a cenote in Mexico," he said, while nodding at me to jump into the water. I wouldn't dare. Despite some rays of sun getting past tree limbs above and onto the rocks on which we stood, it was still quite dark. The level of water looked deceptively deep, even though Nas threw a small rock in to show it was just two feet below). Without my own rock (Pete), everything-about-caves-still-scared-me.
Back to our watery road and the many other passengers who crowded it. We didn't have far to go now, and despite the hooting and hollering by the many around us, I wished it was longer.
Without my own rock (Pete), everything about caves still scared me.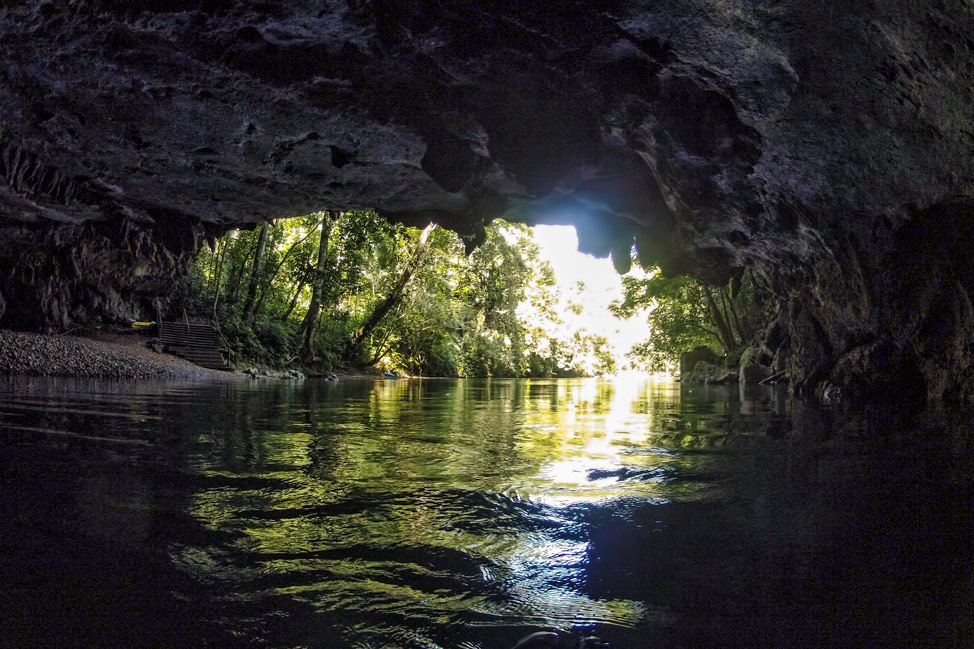 Once we exited the caves, we let the stream freely take us. I drug my hands alongside in the water, indebted to its refreshment in the hot sun. Both Nas and I wished aloud for beer, and I for a tan. In less than a couple of weeks, I would be floating down a winter river in Finland, and I was wondering at that moment which I would enjoy more.
I laid my head back onto the tube and let every limb dangle in the fresh water. I could wonder no more.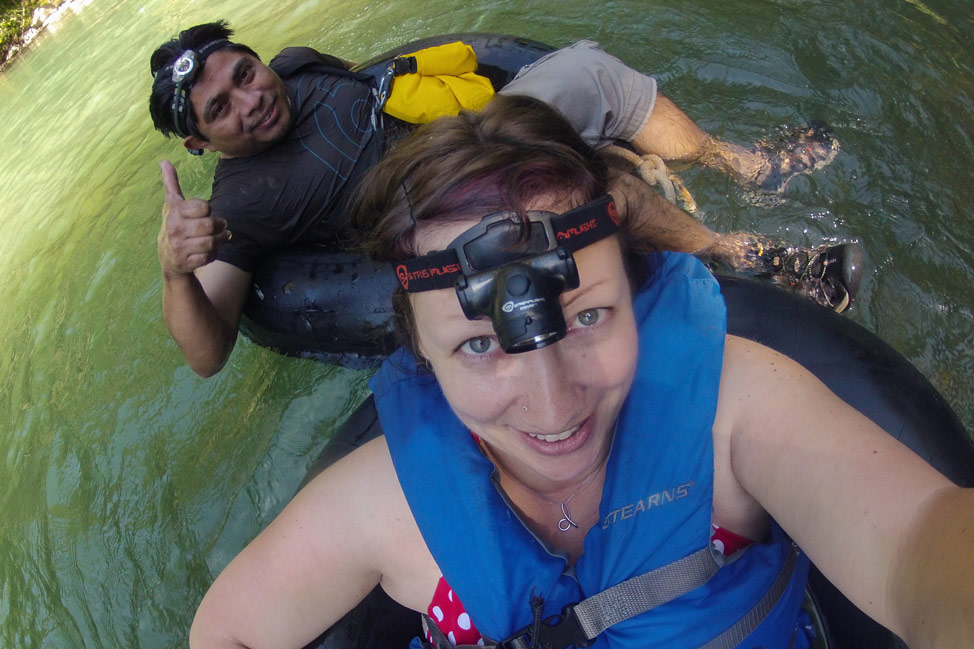 I was a guest of Ka'ana Belize for the cave tubing and as always all opinions are my own. To read all about our stay there, please click here.