Go for the Lagoon, Stay for the Hiking
Words by Dalene Heck / Photography by Pete Heck
After a few days of doing absolutely nothing, we needed a change of scenery. And our first destination, just moments away from our hotel by boat to the island of Comino, was the infamous Blue Lagoon.
It has to be the most touted tourist attraction in Malta. Every advertisement and cooing salesperson offers the same thing: a white sandy shore and crystal clear waters of piercing aquamarine. Malta itself isn't much of a beach-y destination, the shorelines are most often rocky, and any spot of sand becomes instantly crowded.
But the promise of a fairy-tale beach of perfection? Perhaps even with Brooke Shields emerging from the glistening water (that was Pete's dream, anyway, even if the movie wasn't actually filmed here)?
We had to see it for ourselves.
The water is as blue and clear as they say. The sand is as soft as they say.
But what did they not tell us?
That our old backyard was bigger than this beach. That the numerous beach chairs and umbrellas crammed together would make it almost impossible to move. That people claim space on the boat dock even, just to get a piece of it. Oh, and that jellyfish were waiting to sting (two people whimpered off in pain while we were there).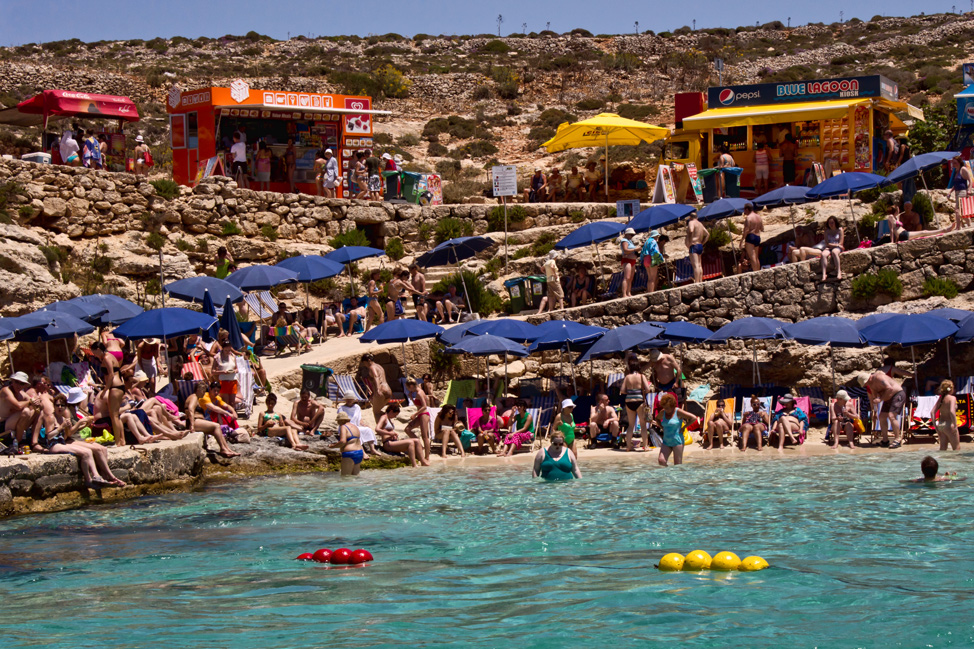 And one last thing that no one talked about…the hiking on Comino is amazing.
Just behind the beach, a rocky path leads up and out. Within minutes the noise of the crowd disappears and a view of the whole island opens up. The walk leads along the jagged cliffs and the lagoon is soon seen from overhead.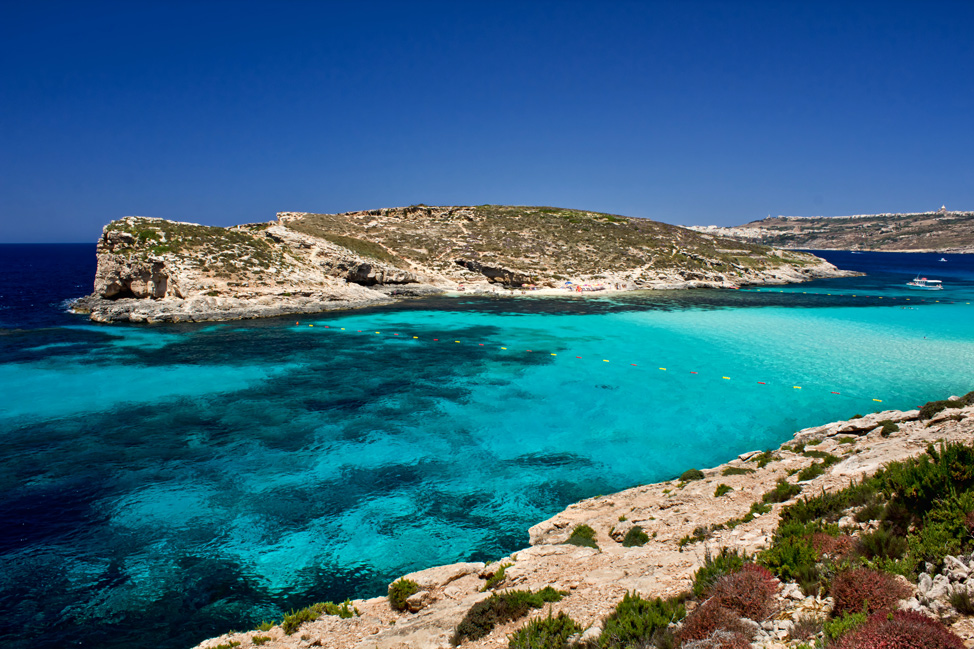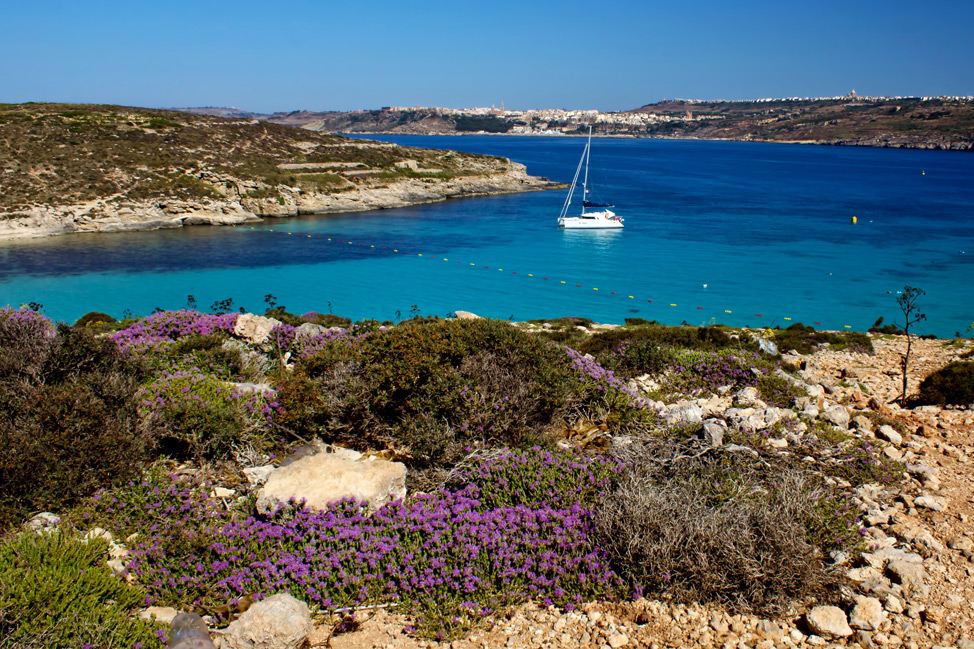 Further up the island are hidden paths back down to the water, where those elusive, desirable moments connecting with nature can be enjoyed. Where you can dip your toes without jockeying for position, and hear nothing but waves lapping against the shore.
(Similar to having founded the "Cliffs of Heck" in Ireland, we have claimed this small piece of paradise as "The Heck Lagoon". Even if it's not really a lagoon.)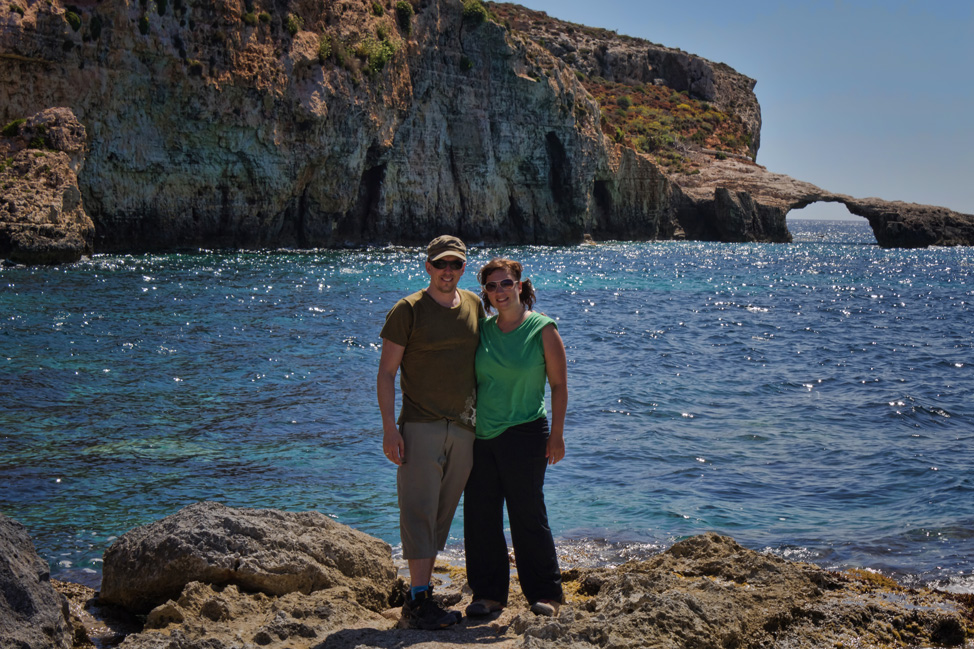 Walking to one side of the island and back takes just over three hours, and we saw very few other like-minded souls. It is a small island without vehicles, only one hotel, and hundreds of people and dozens of boats crammed onto one tiny side of it.
Too bad for them. But great for us.