It's been teasing me since before we got here. Look at any website or open any glossy brochure about Croatia and you'll see it: the piercing aquamarine water of the Adriatic Sea.
Since we left Honduras we haven't seen anything so perfect and pure. At every view of the coast, it was beckoning me.
I had to get in.
But I was determined, and even moreso when Pete said: "You won't do it."
We were at our hostel in Split, getting ready for a day trip to Brac, one of Croatia's 1,100+ islands. I was debating wearing my bathing suit under my clothes or just bringing it with me when Pete interjected with his defiant statement.
Oh really? That was as good as a challenge. Under the clothes my bathing suit went, and we made our way to the ferry.
An hour on the ferry and another hour on the bus and we arrived at the small town of Bol. One of the wonderful things about being in Croatia during the off season is that we weren't crawling over tourists to get where we wanted. The bad thing about being in Croatia during off season is that transportation is infrequent and ultimately limited our time there.
After a quick lunch we had only two hours – one hour at the beach and a half hour to walk each way. As we neared the beach, Pete suggested that I wouldn't have adequate time to dry off in the sun before walking back. And then, under the guise of a giant smile, he muttered "I win" under hs breath.
Shoes and socks off. Leggings off. I kept my dress and jacket on for a minute longer as I walked down to dip my toes in.
Yikes.
"You don't have to do it, I won't think any less of you."
Jacket and dress off and I waded in. The shock of the chill was enough to make me gasp, and I was only knee deep.
A couple steps further, the waves lapped at my waist and my feet sank in the bed of small rocks until the cold water reached my belly button.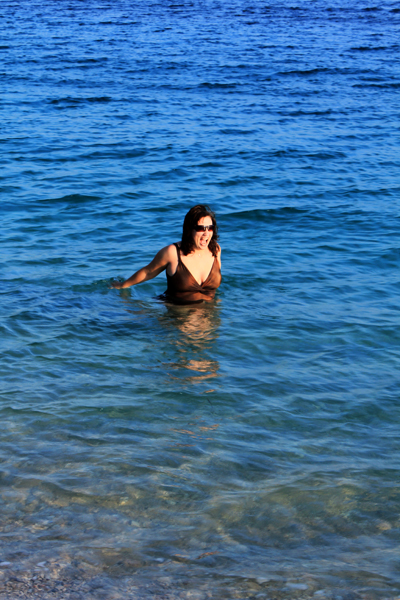 I could hear Pete laughing and the camera clicking. I felt the urge to run out screaming but knew that this was not quite good enough. I was only half way there.
I gulped a few big breaths and made the final submersion. My shoulders were beneath the water and suddenly my heart was racing with a jolt. My legs began to feel numb.
I lingered a millisecond longer and made my exit to the warmth of the sun and my towel. Despite not dunking my head, Pete admitted he was impressed, and defeated.
Because he said I wouldn't, I HAD TO.
(But why didn't I think to bet him at least a foot rub for it?)