One of the first things we look for in a hostel is a good kitchen. Not only does cooking for ourselves help save a tremendous amount of money on the road, but we love to cook!
Hostelbookers.com is running a contest to find the best simple recipes for a hostel kitchen.  Winning entries will be featured in the Hostelbookers Backpackers Recipe Guide that will be featured in many of the 20,000+ hostels they feature.
Here is our entry!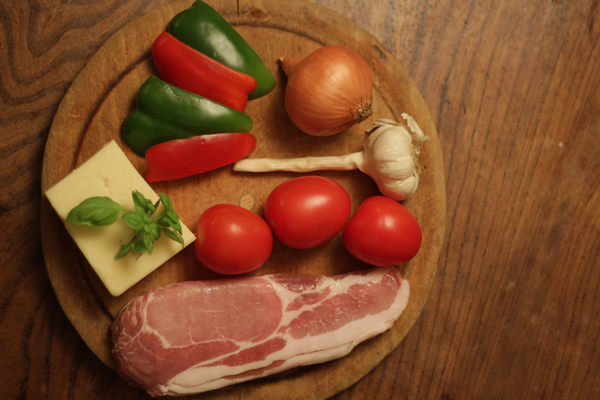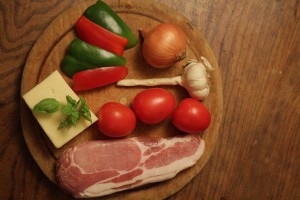 The five main ingredients
6 strips bacon
1 medium red onion, chopped
3-4 roma tomatoes
1 red pepper (or 1/2 red 1/2 green), chopped
2 cups rotini (or pasta of preference)
The extras (oils, spices and garnishes)
3 cloves garlic, chopped
1 tbsp olive oil
1 tbsp sugar
2 tbsp dried oregano
1 tbsp dried basil
Fresh grated Parmesan cheese
Fresh basil
The five steps to bacon and tomato-y goodness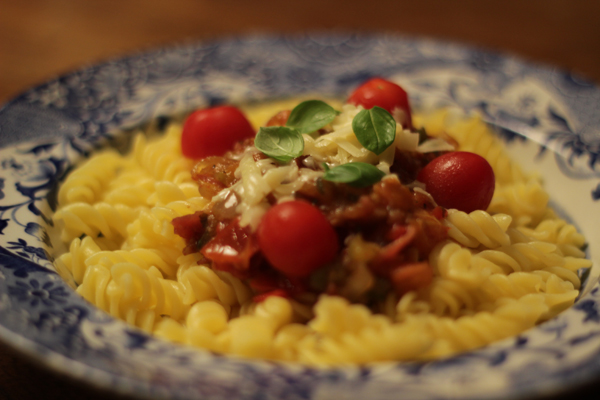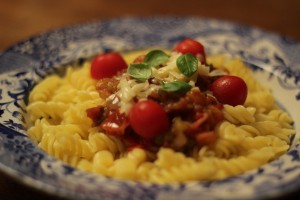 1.  In a large pot, bring water to boil add the pasta to cook.

2. Heat large frying pan and cook bacon until crisp.  Remove bacon from pan and place on paper towel to absorb fat.  When cool, chop the bacon.

3. With remaining bacon grease still in fry pan, add additional olive oil and turn heat low.  Add the onions, peppers and garlic and simmer until soft (approximately 10 minutes).  Add the tomato, oregano and dried basil.  Simmer for another 5 minutes.  Add the sugar and then the bacon.  Stir and simmer for another 5 minutes.

4. Drain pasta when al dente and rinse with cold water.

5. Serve pasta on plates (should be enough for two!) and garnish with fresh parmesan cheese, basil leaves, and any leftover uncooked tomatoes.

BONUS STEP! Drive your hostel-mates crazy with the exquisite aroma!