Alberta is well known for it's beef.

(And even moreso lately, for devastating reasons, thanks to a tainted meat crisis at a local meat packing plant. Shut down near the end of September, it hit Canadians hard, as it represented one third of the entire country's capacity.)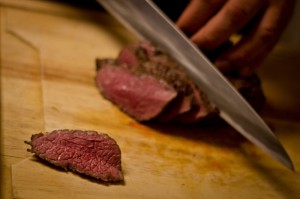 Poisoned meat crisis aside, we found ourselves eating less beef anyways on this visit home. It seems to us that there are just so many other delicious red meat options, whereas we don't remember them being as plentiful in the past.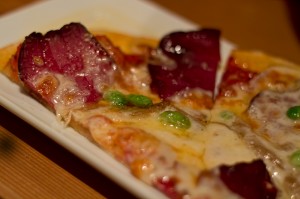 We've had moose sausage, moose pepperoni, elk steak and butter poached bison, all of these just in the homes of friends and family. When we've ventured out we've found a surprising amount of game products on menus, including such delicious things as a smoked bison pizza, and such cheeky things as a 'Blonde Bison' martini (no actual meat included, I hope).
Game meat is all the rage, so it seems. And becoming a hallmark of any 'Canadian' menu.
At The Maple Leaf Grill and Lounge in Banff, we skipped past the likes of the beef rib-eye and New York steak – we went straight for the bison tenderloin and the Chef's creation for the day, elk fillet.
Served on a bed of mashed potatoes, and fresh brocollini and carrots, the elk was bacon-wrapped and seared to perfection. Elk has a much stronger, 'gamier' taste than beef, and is extremely lean in comparison.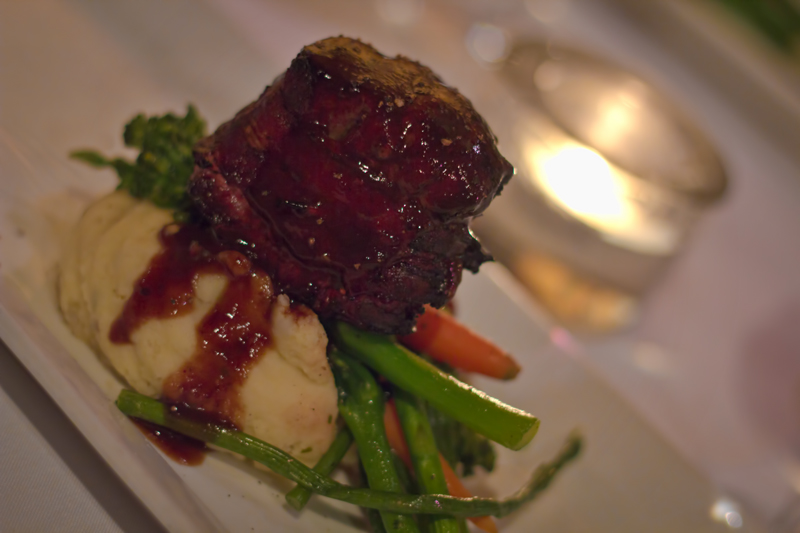 The bison tenderloin, also bacon-wrapped, was served with Benedictine blue cream cheese, and a side of potato gratin. Few things in the world make me happier than a rare cooked tenderloin and strong cheese, this one was no exception. While bison does not have as 'game-y' a taste as elk, it is finely marbled, full of flavour, and also much healthier than a beef alternative.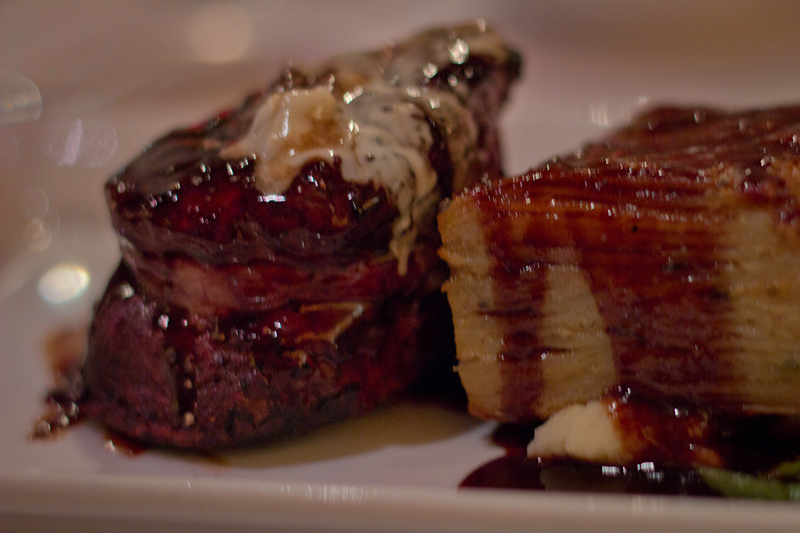 I challenge anyone to try bison or elk and declare that their preference is still non-poisoned beef.
(Or, even if you do decide you like beef better, I really don't care. I'll just eat your leftovers.)
*****
Many thanks to Banff National Park tourism for their assistance on this trip and for this incredible dinner at the Maple Leaf Grill and Lounge. As always, all opinions (and admissions of gluttony), are our own.