Did New York really happen?
Did we really just spend six weeks there?
It's hard to believe we criss-crossed the expansive Atlantic in such a short time span, dabbling in diverse cultures as we went. From the dusty beauty of Morocco to the neon brilliance of New York (complete with familiar comforts of home), and now, the mysterious world of Turkey. Our exhausted minds were awhirl as we landed in yet another new country, hearing strange words, once again adjusting to a different perspective.
"Here is the New Mosque," our taxi driver said as he drove into the heart of Istanbul, pointing out one of the many mosques that speckled the cluttered view outside my window, "it finish in 1665." He rattled off dates for several buildings as we passed them, making him our unofficial tour guide on our first official visit.
"The New Mosque?" I asked rhetorically, "That's older than the whole country of Canada." He repeated my statement with laughter, shaking his head. He continued to point out more landmarks along the way, flexing his English and chuckling at our feeble attempts at Turkish.
We were beleagured from our long journey, but jacked with anticipation. For as impressive as New York was, we were once again whisked away to somewhere new and exotic.
And we were awestruck.
Our brief exploration of Istanbul transported us back many centuries, starting with the stunning Hagia Sophia, which has been many things to many different generations. Since the sixth century it has been an Eastern Orthodox Cathedral, a Catholic Cathedral, again an Eastern Orthodox Cathedral, an Imperial Mosque, and now a musuem.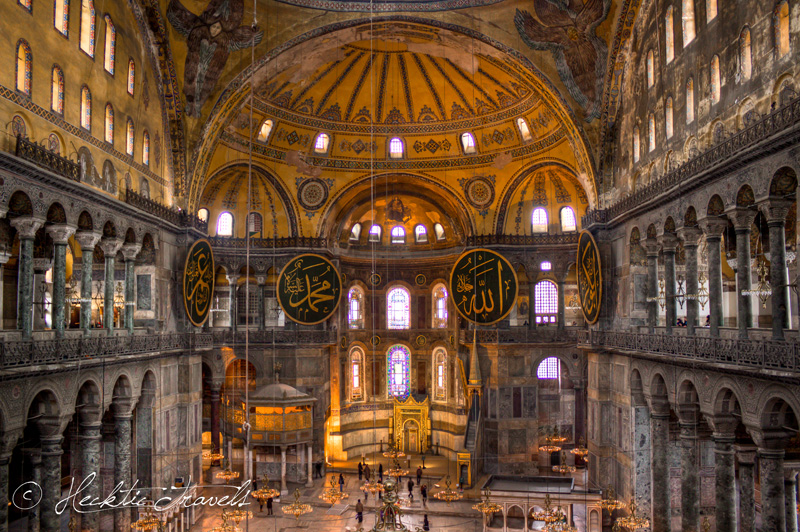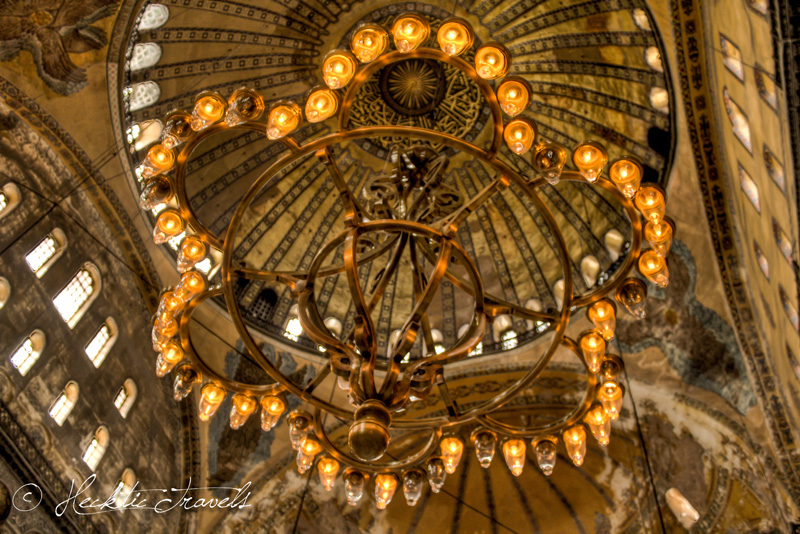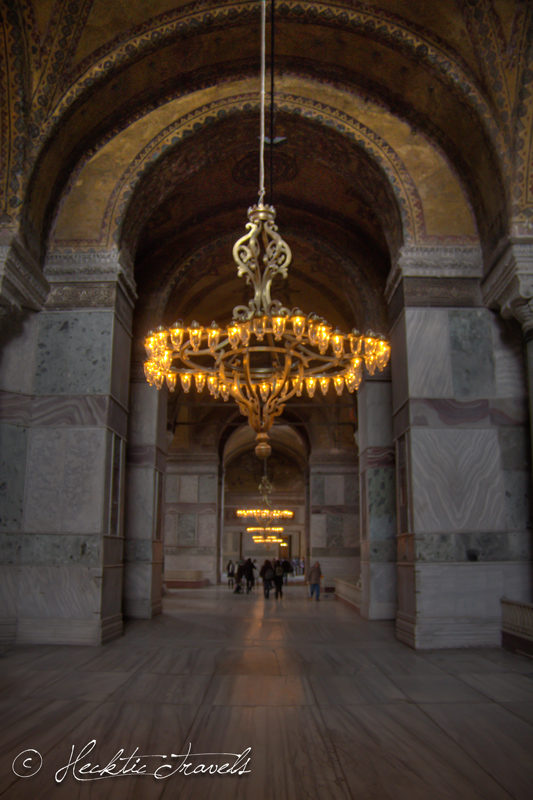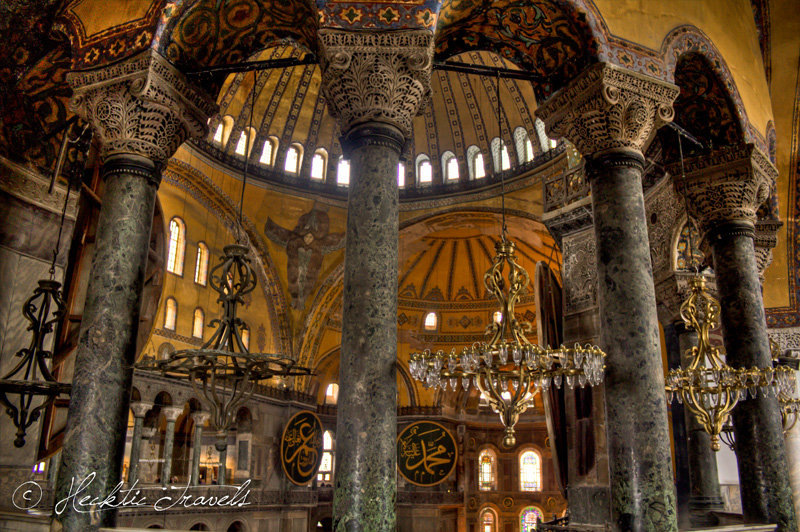 In the heralded Blue Mosque we quietly loitered, taking in every bright color and complex detail. While it still functions as a traditional mosque, it is open to tourists when not in prayer.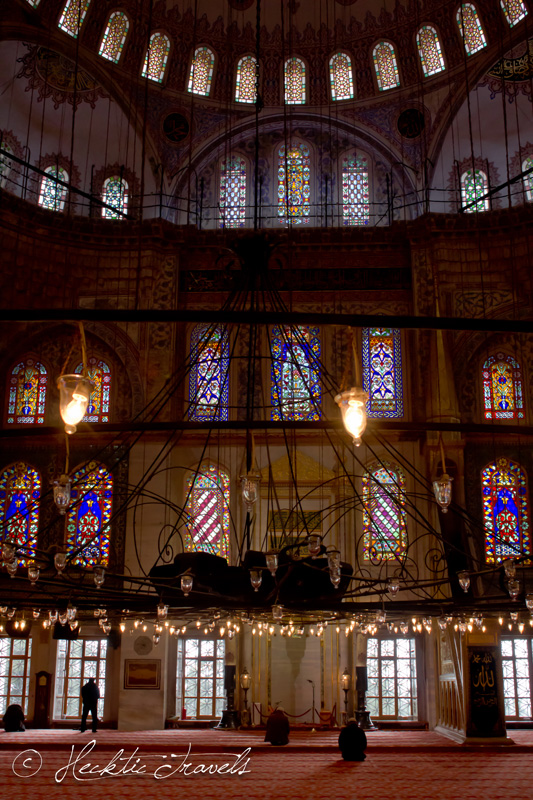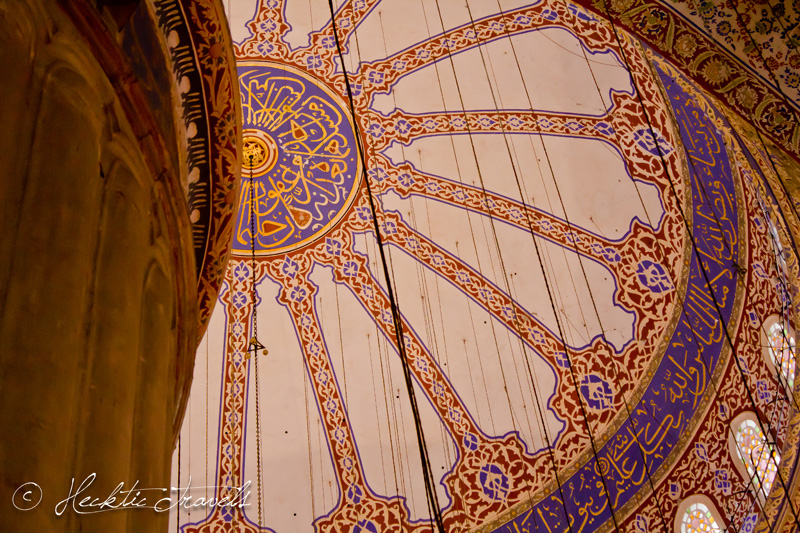 On the streets, snow swirled around us with the bitter wind. We prolonged our wandering as long as possible despite frozen noses and numb feet. Vendors approached us to sell carpets, waiters to guide us into their restaurants, their warm cocoons of unfamiliar smells and lively foreign chat. On the back street near our hotel, we were greeted with friendly recognition of the maple leaf on our backpack.
I remember living in our cozy suburb home years ago, dreaming of such foreign places as Turkey. In those days I was sure that the world was too wide, the space between, impenetrable. But now, our quick jaunts traversing oceans and continents prove that the world can indeed be a small place, if one chooses to make it so.