HOT HOUSE-SITS
Here is a sampling of some HOT house-sits available around the world!
(Current as of November 10, 2019)
Dates: January 14 to February 14, 2019
The property is a modern house in the middle of Sintra National Park and near the sea. The main task will be to look after the owner's dog. This isn't a safe home for kids.

Dates: December 23 to December 30, 2019
The property is an apartment in the center of the city with 3 bedrooms and 2 bathrooms. In it live two dogs who need to be fed once a day and walked two to three times a day.

Dates: December 22 to January 15, 2020
Stay at a new apartment in a private compound with a shared pool. during this time you will have to look after the owner's dog and cat.

Dates: January 15 to December 08, 2019
Stay at a German-style home with 3 bedrooms. You will NEED to be a cat lover because there are around 15 in the house. The owner rescues street cats.

Dates: February 24 to August 08, 2020
Stay at a red little house in the forest, 45 minutes north of Gothenburg. The owner is looking for a house sitter who also can take care of the cats & the plants..

Dates: Starts on December 306 2019, and lasts 2 to 3 months.
The owners are moving to Spain and are looking for someone to stay at their home to look after their 4 young cats while they are away.

Dates: January 13 to February 07, 2020
The owners are trying to find a sitter who is patient with animals and who is reliable. You need to know at least basic Chinese and to be aware of the firewall blocks. Other than that just keep the apartment clean and the pets happy.
Want to know why we LOVE this method of travel so much?
Then check out this collection of our best house-sits stories!
In order to help you get started…don't forget that we've bundled up
all our best house-sitting tips into a jam-packed eBook…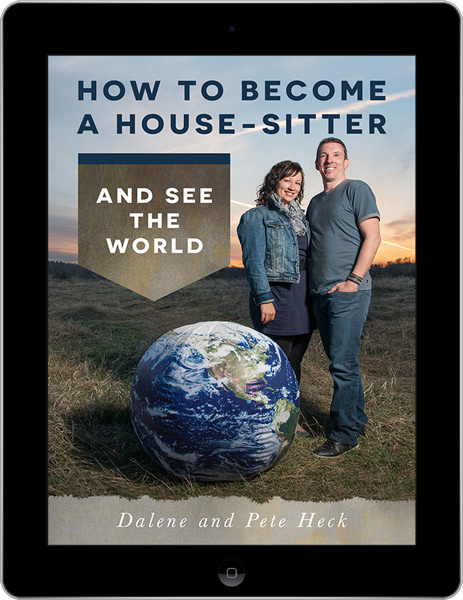 get your copy now for just $14.99
Kindle Version | eReader Version | PDF Version

"This will open your eyes to a whole new way of life! This book should be THE reference source for anyone considering living in another country. Dalene and Pete give every detail as to how to put your toes in the water to experience different parts of the world before jumping in all the way!"
Lynn C. | Florida, USA